Man held in Northern Nevada killings suspected of being in US illegally
Updated January 21, 2019 - 11:20 pm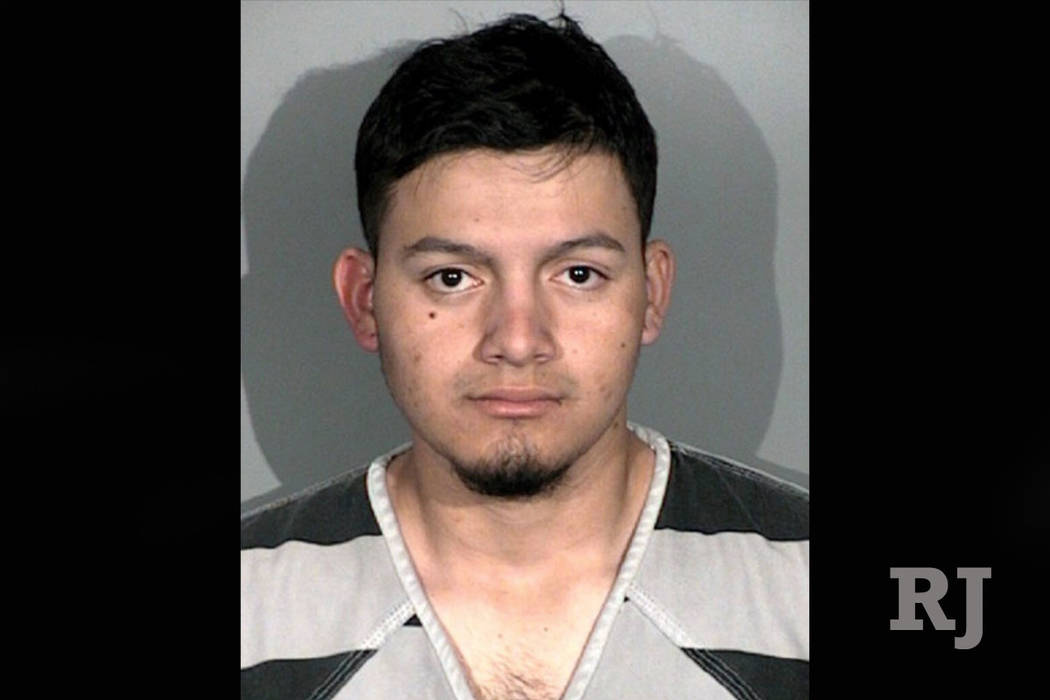 RENO — A 19-year-old man suspected of being in the U.S. illegally was arrested over the weekend in connection with a string of killings in Northern Nevada, authorities said Sunday.
Wilbur Martinez-Guzman was arrested Saturday in Carson City and is being held on suspicion of burglary, possession of stolen property and immigration charges, Washoe County Sheriff Darin Balaam said Sunday during a joint-news conference with other area law enforcement.
An arrest warrant to charge Martinez-Guzman in connection with the four killings would be filed "in the coming days," Washoe County District Attorney Chris Hicks said.
Carson City Sheriff Ken Furlong said immigration officials told his office that Martinez-Guzman is in the United States illegally and that he had been living in Carson City for about a year.
The federal government has been partially shut down since December over U.S.-Mexico border security funding. On Monday, President Donald Trump used the arrest of Martinez-Guzman as a reason for why a border wall should be built.
Four people in Nevada viciously robbed and killed by an illegal immigrant who should not have been in our Country. 26 people killed on the Border in a drug and gang related fight. Two large Caravans from Honduras broke into Mexico and are headed our way. We need a powerful Wall!

— Donald J. Trump (@realDonaldTrump) January 21, 2019
"Four people in Nevada viciously robbed and killed by an illegal immigrant who should not have been in our Country," Trump tweeted. "We need a powerful Wall!"
Connie Koontz, 56, was found dead in her Gardnerville home on Jan. 10. Sophia Renken, 74, was found dead inside her home approximately a mile away on Jan. 13.
Sharon David, 80, and her husband Gerald, 81, were found dead from gunshot wounds inside their home in South Reno on Wednesday. The Washoe County sheriff's office said last week that there were similarities between the Reno killings and the two in Gardnerville, which is located about 16 miles south of Carson City.
"We are confident we have the person responsible for the La Guardia Lane homicides as well as the homicides in Douglas County. Information doesn't indicate that there are any outstanding suspects at this time, but the investigation is still ongoing," Balaam said Sunday.
Furlong said tips they received last week lead them to focus their investigation on Martinez-Guzman. On Friday, a multi-agency coalition worked to find him and place him under 24-hour surveillance.
Authorities are looking into the potential motive and any possible connections between the victims and the suspect, Balaam added. He also said that Martinez-Guzman had not had any run-ins with the Carson City sheriff's office in the past.
Furlong noted that around midafternoon Saturday, immigration officials had verified that Martinez-Guzman is in the country illegally and told Furlong's office that Martinez-Guzman could be detained on immigration charges. He was arrested about 4:30 p.m. and is being held without bail on the immigration hold.
Immigration authorities could not be reached for comment on Monday, the Martin Luther King Jr. holiday.
Authorities also detained Martinez-Guzman's mother on an immigration hold in the course of the investigation, Furlong said when reached by phone Monday. He added that she was given a hearing date and released.
Martinez-Guzman is scheduled to appear in Carson City Justice Court at 1:30 p.m. Thursday.
Contact Capital Bureau Chief Colton Lochhead at clochhead@reviewjournal.com or 775-461-3820. Follow @ColtonLochhead on Twitter.