Man suspected of DUI arrested after crashing into Nevada Highway Patrol vehicle
January 5, 2017 - 3:00 pm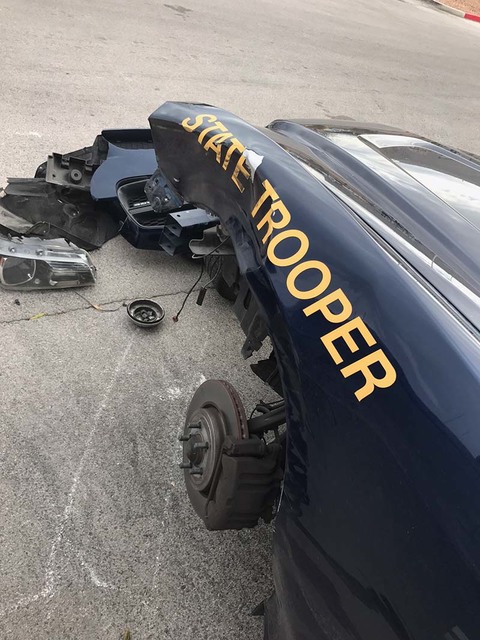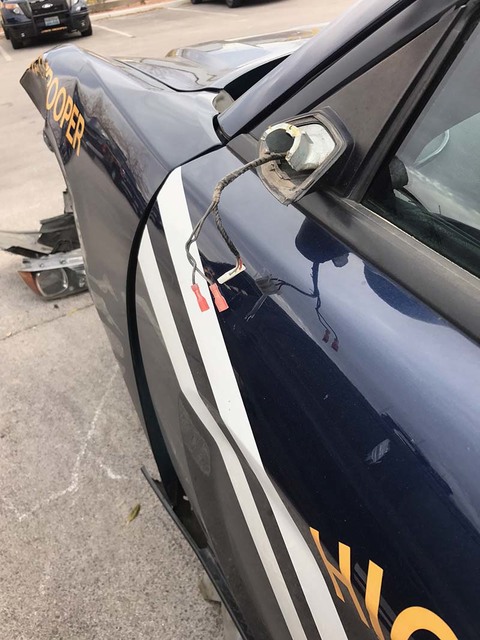 A man suspected of being high on marijuana crashed into a Nevada Highway Patrol vehicle Tuesday night.
The Highway Patrol was called at 9:26 p.m. with a report of a reckless driver near the 215 Beltway and Summerlin Parkway, trooper Jason Buratczuk said. A caller reported a white Ford Excursion driving between 80 and 100 mph and swerving across lanes.
One trooper staged himself at the Beltway and Jones Boulevard with his lights activated. Two other troopers were en route when the Excursion crashed into the front left of the stopped patrol car at 9:39 p.m., Buratczuk said.
The damage from the crash disabled the trooper's Dodge Charger, the Highway Patrol said.
After the crash, the Excursion came to a stop in the left shoulder and the other troopers arrived on scene, according to the Highway Patrol. Arriving troopers noticed a smell of marijuana coming from the vehicle and conducted a field sobriety test, which the driver failed.
Troopers used a machine called a Drager 5000, which tests for 12 controlled substances. The presence of marijuana was confirmed in the test, Buratczuk said.
Devin Ball, 30, was arrested at the scene on suspicion of DUI, reckless driving, failure to maintain lanes and operating a vehicle in an unsafe condition, Buratczuk said.
No injuries were reported as a result of the crash.
While the recreational use of marijuana was legalized for adults 21 and over on Sunday, driving under the influence of marijuana is illegal.
Contact Lawren Linehan at llinehan@reviewjournal.com or at 702-383-0381. Follow@lawrenlinehan on Twitter.