Metro investigates traffic stop that preceded DUI death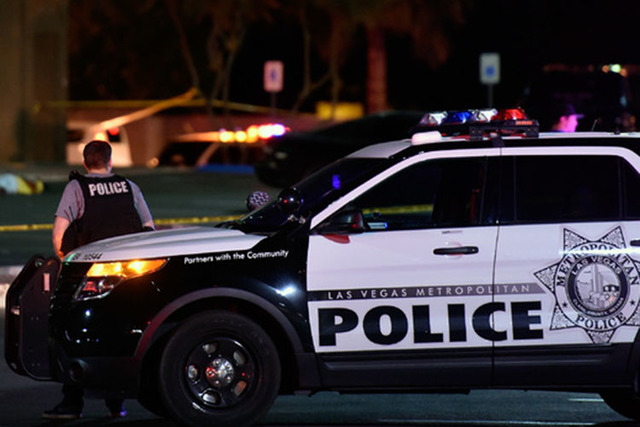 When Las Vegas police stopped Mark Obermeyer for riding an unregistered all-terrain vehicle in the road, they didn't observe any signs of impairment. But state troopers said he fatally struck a bicyclist an hour later, and they arrested him on suspicion of DUI.
Now an internal Metropolitan Police Department investigation seeks to find out why he was let go the first time.
Las Vegan Karl Frederick Vanderwyk, 58, was killed when he was struck by a Polaris RZR off-road vehicle at about 1:30 a.m. Feb. 21 on St. Rose Parkway near Interstate 15, Nevada Highway Patrol has said.
Vanderwyk died at the scene.
The off-road vehicle's driver, identified as Obermeyer, 28, of Las Vegas, was taken to University Medical Center for a possible broken leg. He was later booked into the Clark County Detention Center to face charges of DUI resulting in death, failure to yield or exercise due care to a bicycle rider, driving with a suspended driver's license and operating an unregistered vehicle.
Obermeyer was stopped by a Las Vegas police officer a little after midnight that morning. A Metro spokesman said the officer didn't observe any signs of impairment, and Obermeyer was given tickets, for driving with a suspended license and operating an unregistered vehicle, and let go.
Nevada Highway Patrol records suggest Obermeyer may have been drunk at the first traffic stop.
A trooper reported that after the crash Obermeyer had glassy, watery and bloodshot eyes. His speech was "thick and slurred," and the trooper could smell an "unknown intoxicating beverage" on his breath, according to highway patrol records.
Obermeyer showed all six signs of impairment during a field sobriety test, and a breathalyzer logged his blood-alcohol level at 0.156 — nearly twice the legal limit — according to Highway Patrol records.
But "based on the totality of circumstances," Metro's internal affairs is investigating the incident, officer Michael Rodriguez said.
In a similar incident in October, Las Vegas police let a Las Vegas woman accused of drunk driving leave a traffic stop two days before she was involved in a fatal DUI crash.
A driver and a witness told the Las Vegas Review-Journal that Nicole Johnson, 30, reeked of alcohol and had been driving into medians and onto sidewalks. But Las Vegas police officers who administered field sobriety tests that day said she wasn't impaired and allowed her to drive away from the scene without writing a report.
Two days later, Richard Glen Bryan, 78, was run down and dragged to his death, and Johnson was taken into custody on suspicion of DUI resulting in death.
Johnson pleaded guilty earlier this month and was sentenced to serve eight to 20 years in prison.
Obermeyer is scheduled to appear in court for a preliminary hearing on May 24.
Contact Wesley Juhl at wjuhl@reviewjournal.com and 702-383-0391. Follow him on Twitter: @WesJuhl