Naked, bloody man arrested after homicide, car crash near UNLV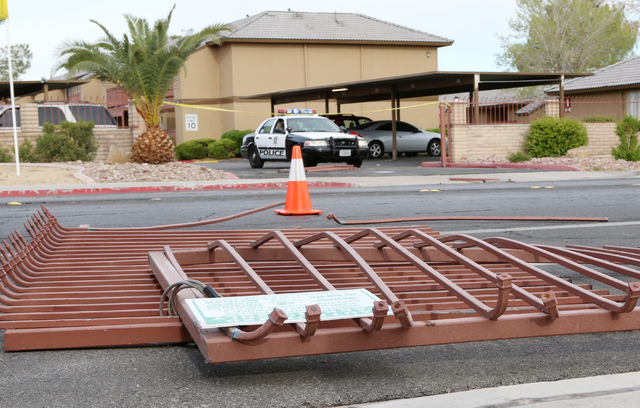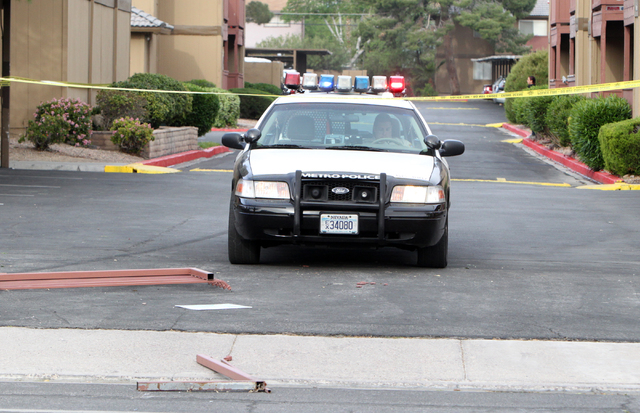 A man was taken into custody naked and bloody late Tuesday after he crashed his car into a convenience store near UNLV following the stabbing death of his girlfriend.
Skyler Fowler, 26, was arrested at the 1730 E. Tropicana Ave. store after the wreck, which happened as police were responding to a welfare check on Fowler's girlfriend at a nearby apartment complex.
Before the crash, officers were headed to the complex because a man had called Las Vegas police at 11:06 p.m. and said he'd "been in a fight with his girlfriend and had hurt her" inside their Enclave-University Town Center apartment, 4801 Spencer St., just north of the Tropicana intersection where the convenience store sits.
Four minutes later, as officers were in transit, another call came in from the same complex, reporting a naked, bloody man knocking on the caller's door, trying to come inside. The caller did not know the man, and at the time police didn't know if the calls were related.
As police continued to the complex, two more calls came in from the 7-Eleven convenience store shortly after, reporting the crash. Fowler had slammed into one of the apartment complex's gates on his way out, dragged it into traffic on Spencer and hit the front of the 7-Eleven, damaging a wall and crunching a pay phone.
That's where police arrested Fowler, who was naked, bloody and had scuffled with a person at the 7-Eleven who rushed to help him after the crash.
As Fowler was arrested, other officers arrived to the Spencer complex, where they found Fowler's girlfriend dead from apparent stab wounds inside the apartment.
While in custody, Fowler was taken to Sunrise Hospital and Medical Center, where he was treated for "injuries believed to have been sustained during the homicide." He was then booked at the Clark County Detention Center, where he faces a charge of murder with a deadly weapon.
It was unclear whether Fowler was on drugs at the time of his girlfriend's death or mentally ill, but the Metropolitan Police Department is investigating. It's also unclear why he was naked.
He is expected in court Thursday morning.
The coroner's office will name the woman who died once her family has been notified.
Las Vegas Review-Journal writer Christian Bertolaccini contributed to this story. Contact Rachel Crosby at rcrosby@reviewjournal.com or 702-387-5290. Find her on Twitter: @rachelacrosby