Nevada Supreme Court hears appeal of Desai's conviction in hepatitis outbreak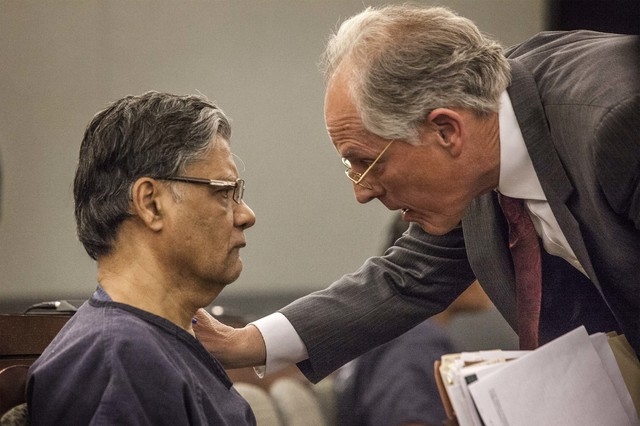 A Clark County prosecutor defended before the Nevada Supreme Court on Tuesday the criminal conviction of Dr. Dipak Desai in the deadly 2007 hepatitis C outbreak.
Michael Staudaher, who obtained Desai's 2013 conviction, told the high court that plenty of evidence was presented at trial to prove Desai directed his staff to "cut corners" and reuse the medical equipment that led to the hepatitis infections of patients.
"Despite knowing the risks, he tells his staff to go forward with this," Staudaher said, adding the marching orders were to "reuse, reuse."
Defense lawyer Franny Forsman, who brought the appeal on Desai's behalf, argued the danger that Desai was unjustly convicted was high because of the community's emotional stake in the outcome of the high-profile case.
She contended prosecutors failed to show Desai's actions caused the hepatitis outbreak and there was little evidence to support a second-degree murder conviction against him.
But Staudaher countered "this was a perfect second-degree murder case" and Desai's actions provided the "foundation for how and why" the infections occurred.
The high court took the arguments under advisement and will issue a written decision.
A jury in July 2013 found Desai guilty of all 27 criminal counts related to the outbreak, including second-degree murder in the death of infected patient Rodolfo Meana, 77.
He was later sentenced to life in prison with the possibility of parole after 18 years.
The charges, which also included criminal neglect of patients and insurance fraud, focused on the cases of Meana and six other patients infected with hepatitis C at Desai's Endoscopy Center of Southern Nevada on Shadow Lane in 2007. Health officials genetically linked the blood-borne virus in those patients to the clinic.
Another infected patient, Michael Washington, 73, died in Texas in August 2013, but prosecutors have not pursued additional murder charges against Desai.
During the lengthy trial, prosecutors argued unsafe injection practices involving the anesthetic propofol led to the outbreak. The combination of double-dipping syringes into propofol bottles used on multiple patients spread the virus from source patients infected with hepatitis C on two different dates in 2007, prosecutors argued.
Desai, who gave up his medical license, has suffered several strokes since the health district disclosed the outbreak in 2008.
He was declared competent to stand trial despite repeated concerns Wright raised about Desai's inability to assist the lawyers on his defense team.
The verdict closed the book on one of the largest and most complicated criminal investigations undertaken by Las Vegas police.
The investigation was launched in March 2008 after health officials disclosed the outbreak and urged about 64,000 patients to get tested for blood-borne viruses.
Contact Jeff German at jgerman@reviewjournal.com or 702-380-8135. Find @JGermanRJ on Twitter.
RELATED
The lives affected by Dr. Dipak Desai
Desai case's aftershocks continue to linger