Parents lied about son running away, admitted dumping body, police say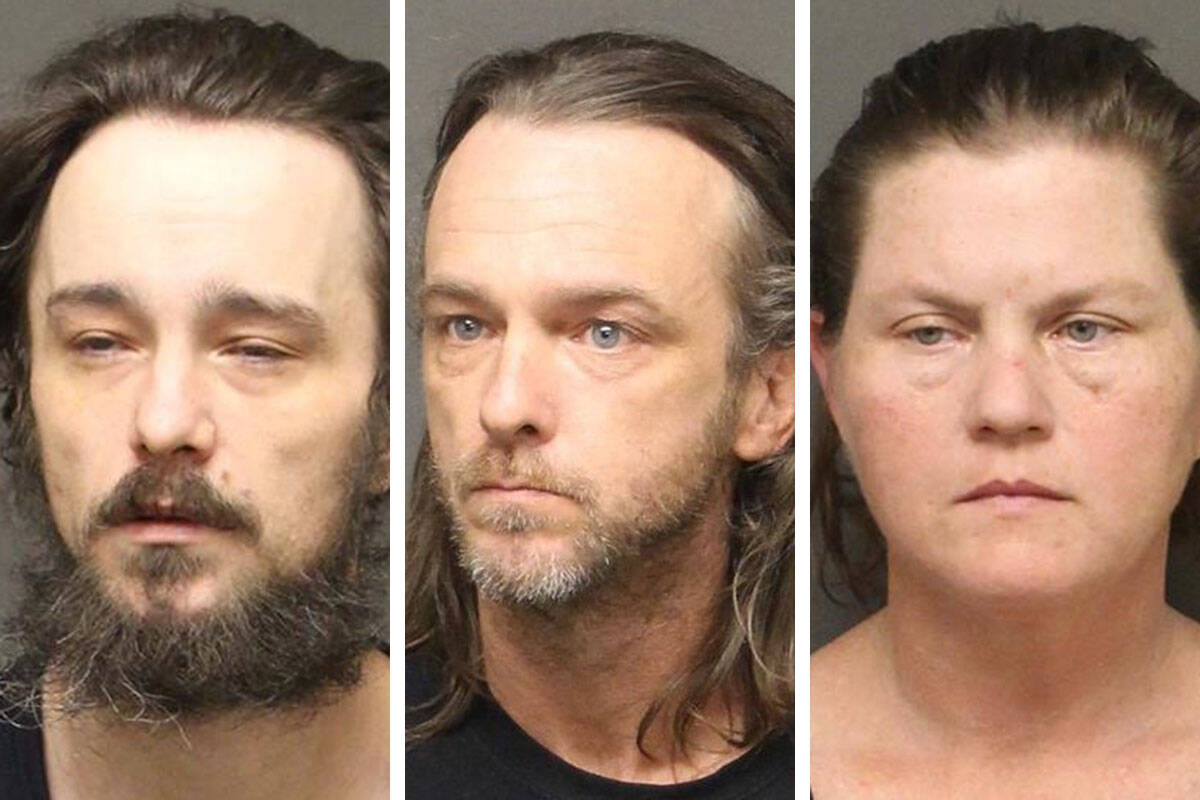 The mother and father of a 16-year-old boy who initially told law enforcement officials in Kingman, Arizona, that their son had run away later admitted that they had lied and that they had wrapped up their son's body in a blanket and dumped it behind a stone wall, according to police.
It was unclear if the two parents killed their son as an autopsy was still pending, according to a statement issued Monday by the Mohave County Sheriff's Office.
The parents, identified as Amber-Leah Valentine, 41, and Jon Imes, 41, both of Kingman, were arrested and face charges.
Richard Pounds, 39, described as Valentine's roommate, was also arrested and faces charges. A 39-year-old woman also described as Valentine's roommate was arrested but was released pending further investigation, deputies said.
Victim found behind stone wall
According to the sheriff's office statement, the situation began to come to light on Feb. 25. That's when deputies were dispatched to the 2300 block of Packard Avenue in Kingman — located about 100 miles south of Las Vegas — to investigate a report by Valentine and Imes that their 16-year-old son had run away from home.
The following information is alleged in the sheriff's office news release:
Deputies were told that the boy was last seen on Feb. 24 at about 10 a.m.
Then, on Feb. 28, deputies were dispatched to a grim discovery: The body of a white male wrapped in a blanket was found behind a stone wall in the Anson Smith and Indian Canyon roads area.
The identity of the male and the cause of his death were not yet officially known, the sheriff's office said, but deputies believe the body is that of the son of Valentine and Imes.
"We do believe the victim is the son of Valentine and Imes based on their statements of abandoning his body," Anita Mortensen, public information specialist for the Mohave County Sheriff's Office, said in an email Tuesday.
An autopsy was completed on Saturday, but those results were pending. When those autopsy results are finalized, it will be up to the Mohave County medical examiner to release them, Mortensen said.
Allegations of abuse at home
Mortensen also said Tuesday that the sheriff's office would not be releasing the name of the 16-year-old victim at this time.
A couple days after the body was found, on Thursday, Valentine called the Mohave County Sheriff's Office and to report that she had just freed her 14-year-old daughter from the captivity of her roommates, who were Pounds and the woman. Valentine asked for medical attention for both herself and her daughter. Both were taken to Kingman Regional Medical Center.
Valentine then said that she and her husband, Imes, had "disposed of their 16-year-old son's body" at the stone wall.
"She admitted that she lied to Deputies when they reported him as a runaway and acknowledged that he was already deceased at the time of the report," the sheriff's office news release said. "During questioning, Jon Imes admitted to disposing of his son's body and lying to Deputies about him running away."
Detectives also spoke with the 14-year-old daughter. She told them Pounds had shot her in the eye with a BB gun and also "provided additional accounts of abuse in the home."
The Arizona Department of Child Safety is now involved, and the girl is getting medical care at an undisclosed location, deputies said.
Valentine and Imes were taken into custody and are facing charges of felony abandonment/concealment of a dead body, deputies said.
A search warrant was executed at the home on Packard Avenue, and Pounds and the woman were taken into custody as well. Pounds faces charges of felony child abuse and aggravated assault, while the woman was released while the investigation continues.
The sheriff's office said additional charges are pending.
Contact Brett Clarkson at bclarkson@reviewjournal.com. Follow @BrettClarkson_ on Twitter.