RJ, other media argue against court secrecy in Bundy case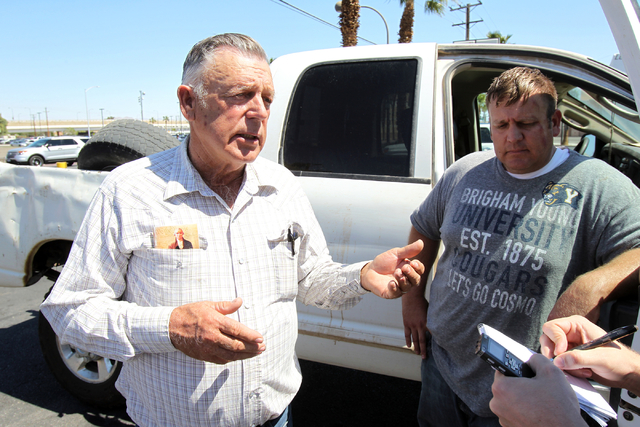 News organizations led by the Las Vegas Review-Journal have filed court papers bolstering their opposition to a government push for secrecy in the Bunkerville standoff case.
Attorney Maggie McLetchie — who represents the Review-Journal, Battle Born Media and The Associated Press — argued federal prosecutors have failed to establish good cause for a proposed "expansive protective order" to withhold their mass of evidence from the public in the high-profile case.
Prosecutors contend a protective order is needed to ensure the safety of witnesses.
In recent court papers, prosecutors cited examples of anti-government "cyber bullying" by defendants charged in the April 2014 armed confrontation involving Bunkerville rancher Cliven Bundy, his followers and law enforcement.
But according to McLetchie, none of the social media examples "constitute actual, specific threats" that justify putting all of the government evidence under an "impenetrable shroud of secrecy."
Last week, U.S. Magistrate Judge Peggy Leen issued an interim order maintaining the confidentiality of the evidence, as prosecutors met a court-imposed deadline to begin turning over documents to the defense.
Leen expects the order to remain in effect for weeks until she decides whether to issue a permanent one barring public disclosure of the evidence.
Prosecutors want to prohibit defense lawyers from making public copies of critical trial evidence, including sworn search warrant affidavits and FBI investigative reports.
Lawyers for most of the 19 defendants, including Bundy and four of his sons, also oppose the government proposal.
One of the sons, Dave Bundy, lost another bid for freedom Monday, when U.S. Magistrate Judge Cam Ferenbach refused to release him from federal custody while he awaits a Feb. 6 trial with the other defendants.
Following a hearing, Ferenbach said Dave Bundy posed a danger to the community and a threat of not making court appearances if released.
His defense lawyer, Cal Potter III, argued that Dave Bundy was a "peacemaker" and a "voice of reason" during the 2014 Bunkerville confrontation.
But Assistant U.S. Attorney Nadia Ahmed countered that Dave Bundy was intimately involved in the alleged conspiracy to assault Bureau of Land Management officers and recruited people to the site of the standoff near the Bundy ranch.
Potter said afterward that he would appeal Ferenbach's decision to Chief U.S. District Judge Gloria Navarro, who is presiding over the case.
All 19 defendants remain in custody.
Contact Jeff German at jgerman@reviewjournal.com or 702-380-8135. Find @JGermanRJ on Twitter.
Previous coverage
Full coverage of the feud between the Bundy family and the BLM