Henderson police need help to identify armed robbery suspect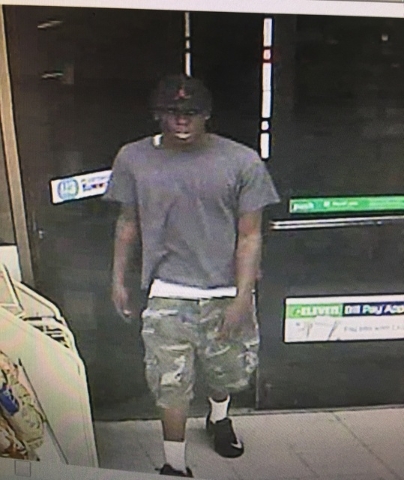 Henderson police are asking for the public's help in identifying a man suspected of robbing a 7-Eleven convenience store Monday night.
At about 11:30 p.m., an employee reported an armed robbery at 1453 N. Boulder Highway, Henderson police said. A man entered the store, took beer from the refrigerator, approached the counter and asked the clerk for cigarettes, the Henderson Police Department said in a statement.
Police said that when the employee turned around, the man pulled out a handgun and pointed it at the employee. The man left on foot with an undisclosed amount of money before officers arrived on scene. No one was injured during the incident.
Police described the suspect as a black man, 25 to 30 years old, about 6 feet tall and weighing about 140 to 160 pounds. He was last seen wearing a black Air Jordan baseball hat, black T-shirt, green camouflage shorts and black Nike sneakers.
Anyone with information is urged to call Henderson police at 702-267- 4911 or Crime Stoppers at 702-385- 5555.
Contact Raven Jackson at rjackson@reviewjournal.com or 702-383-0381. Follow @ravenmjackson on Twitter.
1453 N. Boulder Highway, henderson, nv