Las Vegas police arrest 4 in woman's kidnap, robbery
Updated December 6, 2018 - 4:06 pm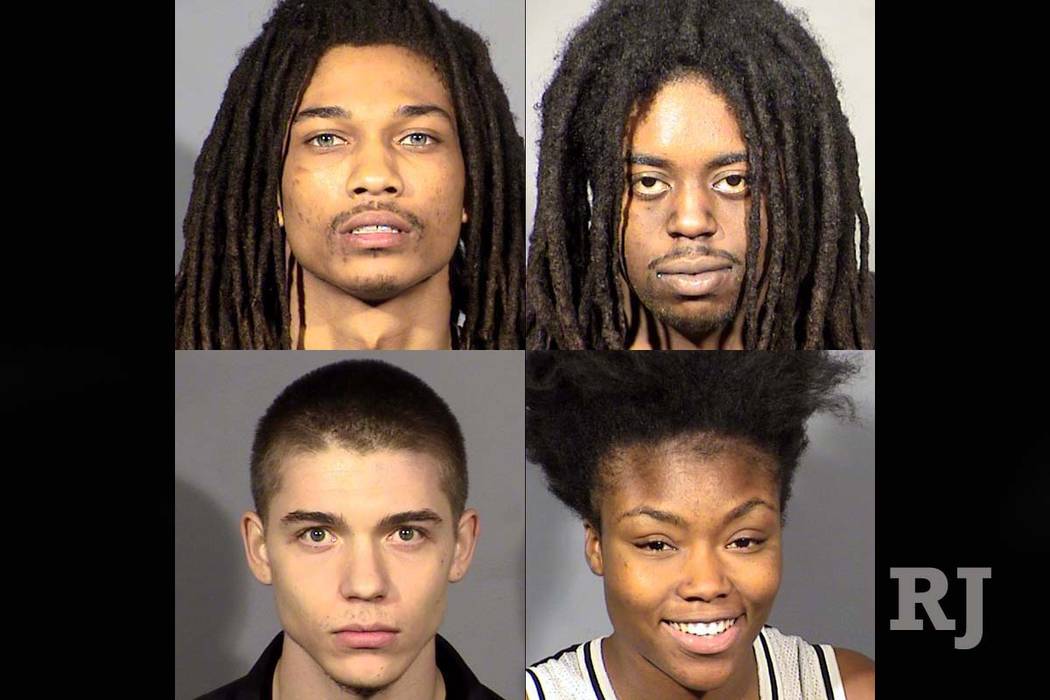 Four people were arrested Wednesday in connection with the kidnapping of a woman who was then beaten and robbed, Las Vegas police said.
Officers were called at about 3:35 a.m. Wednesday to an apartment complex near the 2700 block of North Rainbow Boulevard, near West Smoke Ranch Road in the northwest Las Vegas Valley, after reports of gunshots, the Metropolitan Police Department said Thursday. When officers arrived, an injured woman flagged them down and said she had been kidnapped and beaten by three men and a woman, police said.
An investigation from Metro's vice section showed that before the victim was kidnapped, she met 18-year-old Samya Bailey, who is suspected of taking her to a hotel room near the 3700 block of South Las Vegas Boulevard on the Strip, police said. At the hotel, 19-year-old Shamar Beard entered the room with a gun and demanded the woman's property, police said.
Bailey and Beard are suspected of forcing the woman into a black Jeep SUV, where two other people — 18-year-old Kyle Elkins-Beach and 19-year-old Willie Lomas —were waiting, police said.
The four suspects then drove to the woman's motel room, where they took more of her belongings. They then forced the woman to contact her boyfriend in an attempt to extort money, police said.
The victim's boyfriend was able to use an app that track's phone locations to locate the woman. He drove to the apartment complex and saw the suspect's car, police said.
The boyfriend followed the suspects into the apartment complex, and the woman was able to escape from the SUV, police said.
Police on Thursday afternoon did not say how the woman was injured.
Detectives found all four suspects later Wednesday, police said. They were booked in the Clark County Detention Center, and they face charges of first degree kidnapping, assault with a deadly weapon, battery with substantial bodily harm and conspiracy to commit battery.
All four remained in the jail Thursday without bail, court records show.
Contact Katelyn Newberg at knewberg@reviewjournal.com or 702-383-0240. Follow @k_newberg on Twitter.