Robbery alleged after dispute at singer Trey Songz's Las Vegas Strip hotel room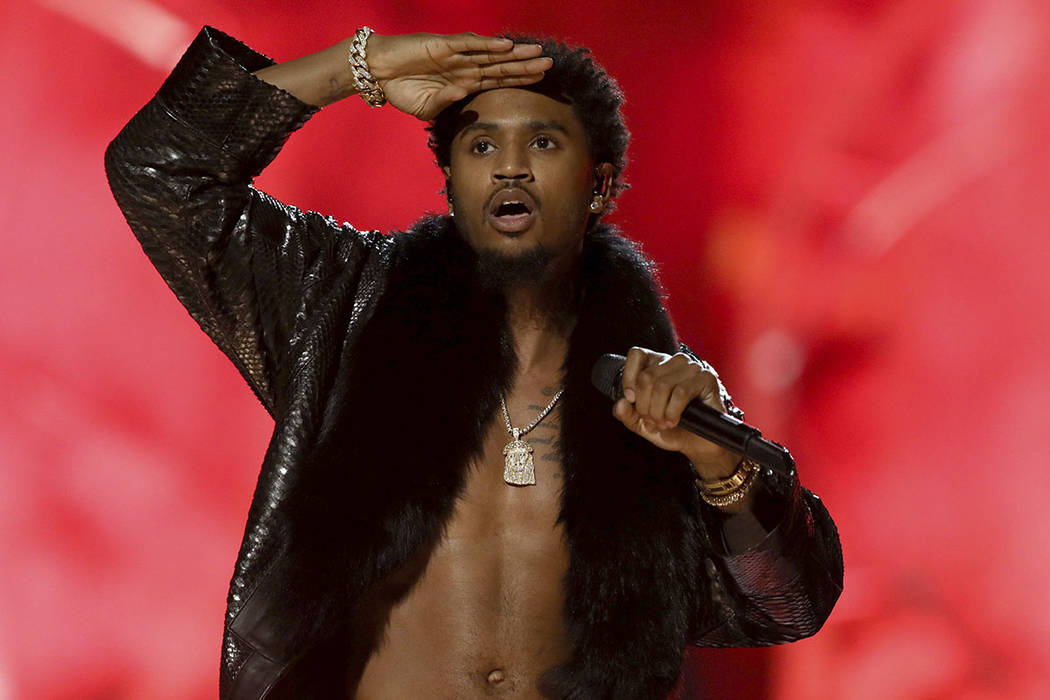 A man reported he was robbed by three men this month after trying to retrieve a cellphone he left while gambling with singer Trey Songz and several others at a Strip hotel, court documents show.
Timothy "T-Dot" Hudson is accused of recruiting Da'Von Vondre Jackson and a third person to rob the man just before 8 a.m. May 7 inside an elevator at Planet Hollywood Resort, Jackson's arrest report said. The third suspect was not identified in the Metropolitan Police Department report, and their ages were not immediately available.
Songz, or Tremaine Neverson, is not facing charges, court records showed Tuesday night.
Prosecutors charged Hudson and Jackson with conspiracy to commit robbery, robbery and battery to commit robbery. Jackson faces an additional charge of battery resulting in substantial bodily harm.
Police learned that the man played craps with Songz, a mutual friend and about a dozen others at Caesars Palace, the report said.
The man had left his phone at a craps table and returned to find it was gone. He called his number and a woman answered the phone, telling him she took it to one of several rooms Songz had rented at Planet Hollywood Resort, the report said.
The man arrived at one of the rooms, where Hudson told him "he had to leave the room as no males were allowed," the report said. They argued and ended up at an elevator bank.
Hudson asked for the man's watch and chain, then threatened to slit his throat, the man said in an interview with detectives. Hudson left, and the man entered an elevator.
Security footage showed Hudson returned with Jackson and another man; the trio entered the elevator as the doors were closing, the report said.
Jackson punched the man in the face, and the unidentified third person took his Rolex watch, police determined in their investigation.
The man suffered a "split in his jaw" and a dislocated jaw. He also lost two teeth and had several others pushed back, the report said. He told police his gold chain, Rolex watch and his wallet were taken.
In an interview with detectives, Hudson told police the argument near the elevator stemmed from a belief that the man took credit cards and gaming chips from people within Songz's entourage, the report said.
Jackson told detectives that he hit the man but didn't take his belongings.
Police arrested Hudson on May 7 and arrested Hudson on Sunday. Both were booked into Clark County Detention Center but have been released, court records show.
Songz often performs at Drai's Nightclub on the Strip. A club spokesperson didn't return a Tuesday night request for comment.
An after-hours call to Jackson's attorney Tuesday was not immediately returned.
Contact Mike Shoro at mshoro@reviewjournal.com or 702-387-5290. Follow @mike_shoro on Twitter.