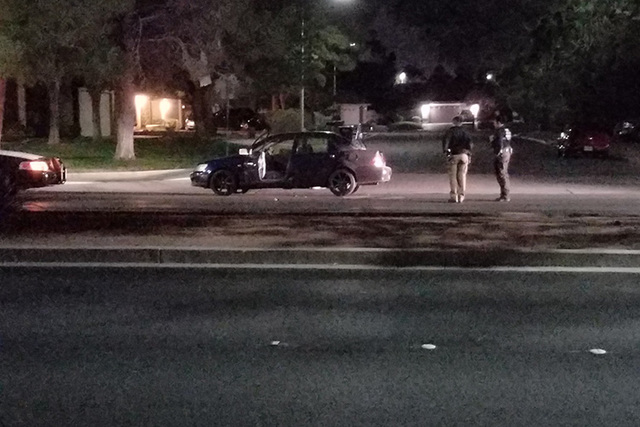 A robbery suspect is in custody after a high-speed chase through the Las Vegas Valley early Thursday morning.
Police said the unidentified man threatened a Subway sandwich shop employee near East Sahara and South Eastern avenues before 12:20 a.m.
Lt. CJ Jenkins with Metropolitan Police Department said the man demanded cash and the worker's car keys. The man asked if the car outside the business belonged to the employee, Jenkins said. After first denying ownership, the man pulled a gun, prompting the employee to admit ownership.
The employee wasn't hurt, but the man took the blue four-door sedan. Police found him near East Charleston Boulevard and North Pecos Road, before he led Metro on a chase southbound on U.S. Highway 95 and onto the westbound 215 Beltway.
Jenkins said the man was driving nearly 100 mph at one point. Police used stop sticks to deflate the sedan's tires on the 215 near Pecos, Jenkins said.
He stopped near Columbia Circle and Warm Springs in Henderson, where police took him into custody after a brief negotiation. The man called Metro dispatch, Jenkins said, and he asked police to back off and give him five minutes before surrendering. A dispatcher forwarded the call to an on-scene supervisor, who was able to coax the man out of the car and into custody.
"We didn't force the action," Jenkins said.
Christina Alex, 19, said she saw police on her way home from work about 12:45 a.m. Thursday.
"I saw about eight cop cars rushing to the same place," Alex said.
She said she turned onto Pecos and saw more police cars before reaching the intersection of Warm Springs and Pecos, where she said saw between 20 and 30 police cars.
"They had Warm Springs blocked off," she said. "No one could get through."
Jenkins said nobody was injured during the robbery or car chase.
Nevada Highway Patrol and Henderson Police Department helped Metro with the pursuit.
Contact Mike Shoro at mshoro@reviewjournal.com. Follow @mike_shoro on Twitter.