Suspect in robbery at Las Vegas animal hospital says police got the wrong man
December 23, 2016 - 2:37 pm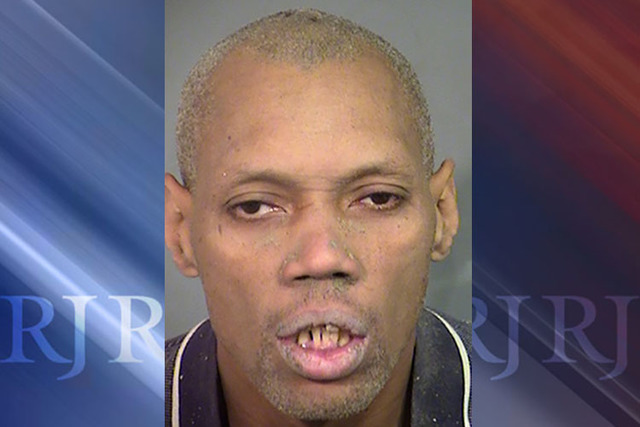 A Las Vegas man arrested in connection with an armed robbery at an animal hospital that became a police shooting told detectives he didn't do it.
Ronald Hassan Clark, 46, is being held without bail at the Clark County Detention Center on numerous charges. The Metropolitan Police Department identified him as the gun-wielding masked man who tried to rob the West Flamingo Animal Hospital at 5445 W. Flamingo Rd. on Monday afternoon.
The armed robbery was interrupted by an off-duty Metro police detective, Lance Spiotto, 43, who fired his weapon three times during and after a violent struggle with the armed crook, whose face was covered by a red bandana. Spiotto is now under investigation for possibly being under the influence of alcohol during the incident.
Clark was taken into custody several hours after the incident in the Wynn Road apartment complex where he lives. A Metro report on the arrest said police went to the apartment after finding Clark's wallet at the animal hospital, where it apparently had fallen from the robber's pocket during the fight.
But under questioning by investigators, Clark denied robbing the animal hospital and fighting with Spiotto.
Instead, he told officers he had been driving around with his friend "Jeff" to score some heroin. He said he stayed in the car while Jeff went in and committed the robbery. "Clark said he was just the driver and he didn't want anyone to get hurt," the report said.
The story one of Clark's roommates told police was very different: Clark came home about 6 p.m. and told a roommate to turn on the news.
"Oh no! Oh no! I feel like I'll be going to jail," Clark said, according to the roommate. "I was trying to rob the Flamingo Animal Hospital and some white dude pulled out a pistol tried to be a hero and tried to stop me."
The roommate asked Clark why he would do such a thing.
"Man, you don't know what it's like when you get desperate. You gotta do what you gotta do," he replied, according to the report.
The report said he could not explain why his wallet was found at the scene.
Clark has an extensive criminal history, with felony convictions in Nevada and Virginia.
In Virginia he was convicted on two counts of larceny in 1995, another count of larceny in 1996, two counts of assault in 1996, and a larceny larceny charge in 2002. In Nevada he was convicted of burglary in 1999 and drug possession with the intent to sell in 2006, McMahill said.
He is due in court Jan. 9 for a preliminary hearing.
Contact Wesley Juhl at wjuhl@reviewjournal.com and 702-383-0391. Follow @WesJuhl on Twitter.