Secret deal was sought between defendant and victim in extortion case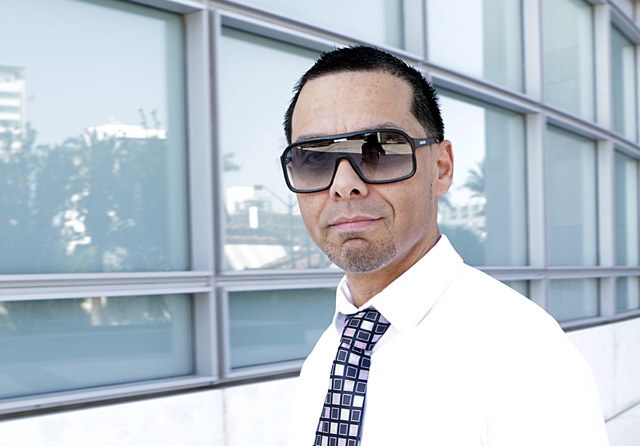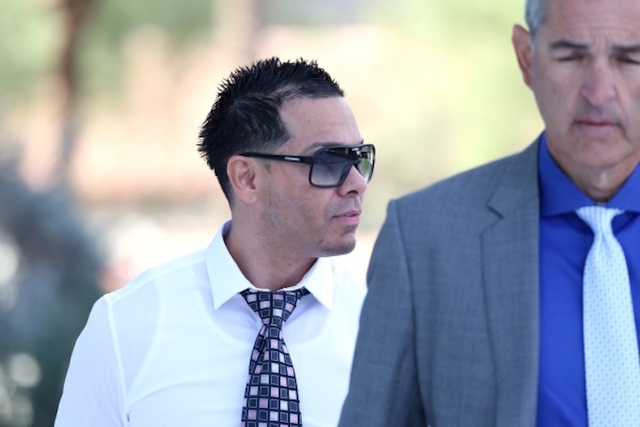 Ernesto Ramos, the Las Vegas man who admitted using sex tapes to extort $200,000 from a wealthy businessman, was sentenced Thursday to 366 days in federal prison.
But not before his attorney revealed in court that the married businessman offered Ramos money to keep the businessman's identity secret for the rest of his life, just days before Ramos pleaded guilty in November.
Defense lawyer Gabriel Grasso told Chief U.S. District Judge Gloria Navarro that he got a call from the businessman's lawyer wanting to strike a separate civil settlement to ensure that Ramos would not disclose the businessman's name after he got out of prison.
Grasso would not say how much cash was offered Ramos, but he explained that there were ongoing negotiations independent of the criminal case until roughly two weeks ago, when Ramos decided he did not want any money and instead sought to withdraw his plea. Grasso said he kept his distance from the settlement talks.
Ramos, who had wavered about pleading guilty, concluded that the civil settlement was part of an effort by the Las Vegas businessman to "grease the wheels," or pressure him into taking the deal in the criminal case, Grasso said.
Last week, Ramos, 38, hired new lawyers who sought to challenge the "validity" of the plea agreement.
Attorneys Kathleen Bliss and Jason Hicks filed court papers asking Navarro to continue Ramos' sentencing to prevent what they called a "grave injustice."
They argued that there was "undue outside influence" over the plea agreement.
In court Thursday, Bliss called the civil negotiations spearheaded by the victim a "reverse extortion" and "obstruction of justice."
Bliss, a former federal prosecutor, said the government was not part of the civil negotiations and had not committed any misconduct.
She asked Navarro for two more weeks to present evidence, but the judge said she saw no basis for delaying the sentencing and said Bliss was free to pursue the matter on appeal.
Federal prosecutors have gone to great lengths to protect the identity of the prominent businessman, including obtaining a protective order that keeps his name, initials and company's name out of court documents.
An FBI complaint identifies the victim only as a married local resident who has two minor children and who is "part-owner of a well-known business" with access to a company jet.
Over a two-year period, the businessman tipped a stripper, who was Ramos' girlfriend, roughly $200,000 to dance and have sex with him in a private room at an adult nightclub, the criminal complaint said.
The dancer secretly used her cellphone to videotape herself having sex with the businessman in a hotel room during an October 2014 tryst outside the country, according to the complaint.
Ramos acknowledged in his plea agreement he later tried to extort $200,000 from the businessman with threats that included posting embarrassing sex photos from the tapes on social media.
The stripper, who Grasso said in court documents worked at the popular Spearmint Rhino nightclub, has not been identified or charged.
Ramos — who has two young children, including a daughter with cerebral palsy — apologized on Thursday for his actions.
"I am truly sorry for the things that I have done," he said with his voice breaking.
Grasso, who sought probation for Ramos, told Navarro that his client had done everything he could since pleading guilty to protect the businessman's identity to avoid making things worse.
Navarro, however, said she did not think probation was appropriate in this case.
"This was a very calculated, organized crime," she said. "It's not the type of thing I can sympathize with."
On top of the prison term, Navarro ordered Ramos to stay away from the victim. If civil negotiations resume, any contact would have to be through the lawyers, she said.
Navarro ordered Ramos, who is free on his own recognizance, to surrender to federal prison authorities on Sept. 28.
Contact Jeff German at jgerman@reviewjournal.com or 702-380-8135. Find @JGermanRJ on Twitter.
RELATED
Extortion defendant wants to challenge guilty plea in case involving sex tapes
Las Vegas man wants probation in extortion case involving sex tapes