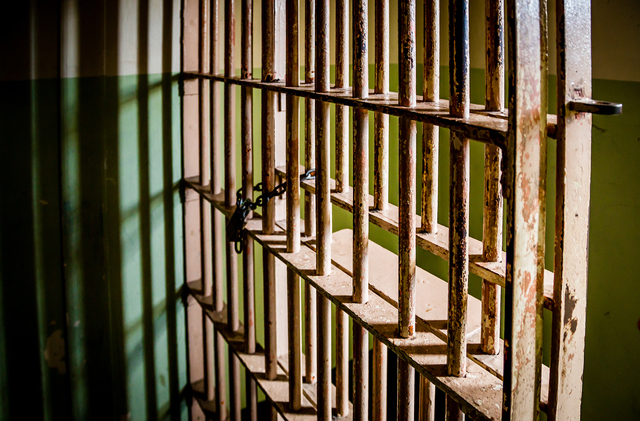 A California man with a lengthy criminal history was sentenced Thursday to 30 years in federal prison on sex trafficking charges involving a teenager.
Daniel Barnes, 33, also faces lifetime supervision after prison with numerous restrictions aimed at preventing him from returning to sex trafficking.
The five-time felon showed no remorse when addressing U.S. District Judge James Mahan and said he would appeal his conviction.
Barnes said the 15-year-old girl he was convicted of exploiting was a prostitute before he met her and that his co-defendant was "coerced" into cooperating against him.
But Assistant U.S. Attorney Cristina Silva described Barnes as a "longtime pimp" who has victimized girls "over and over again."
"There simply is no excuse for an individual like Mr. Barnes to do what he did," Silva told Mahan.
Silva had sought the 30-year prison sentence in earlier court papers.
"While trafficking women is despicable no matter what the age of the victim, the fact that the defendant targeted vulnerable teenagers is reprehensible," she wrote.
A federal jury convicted Barnes in April of several felony charges, including sex trafficking of a child, conspiracy to sexually exploit a child and transporting a minor for prostitution.
Prosecutors alleged that Barnes and his co-defendant, Amber Marquardt, took the Las Vegas teenager to Merced, California, in April 2013 to engage in prostitution. While there, they took naked photos of her and posted them on the internet to solicit more customers and then drove back to Las Vegas to sell her body for sex.
At the time, the girl was destitute, and Barnes "grabbed onto her and used her for his own benefit," Silva said in court.
Marquardt pleaded guilty to a felony charge of transportation of a minor for prostitution and cooperated with authorities, including the FBI. She was sentenced in May to 41 months in prison and five years of supervised release.
The case was put together after the teenager was arrested in Las Vegas in May 2013 for soliciting sex from an undercover police detective, according to prosecutors. The girl ended up testifying at trial.
Contact Jeff German at jgerman@reviewjournal.com or 702-380-8135. Follow @JGermanRJ on Twitter.