Judge won't free ex-Las Vegas Strip illusionist on child porn charges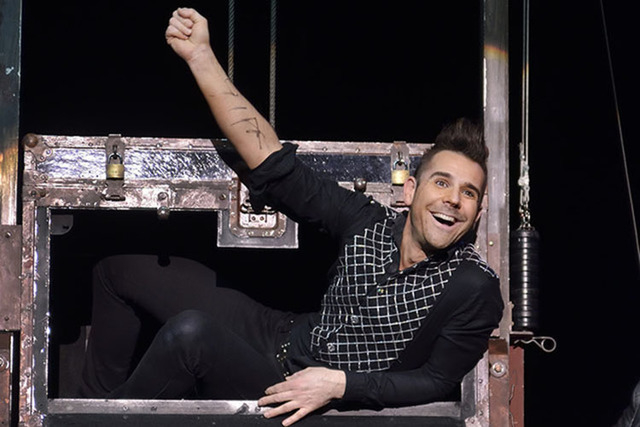 A federal judge Tuesday refused to release former Strip illusionist Jan Rouven on child pornography charges.
Rouven, 38, the former star of the "The New Illusions" show at the Tropicana, pleaded not guilty earlier this month to the four felony charges.
His defense lawyer, Jess Marchese, had sought to overturn a detention order from a U.S. magistrate judge who found Rouven a danger to the community.
But following a hearing Tuesday, Chief U.S. District Judge Gloria Navarro upheld the previous order, concluding Rouven was not only a danger to the community but also a flight risk now that he has lost his job at the Tropicana. He also has a family in Germany, where he was born, and is not a U.S. citizen, Navarro said.
The judge said she was concerned about the graphic nature of the alleged pornography involving "very young children" found at Rouven's 9,000-square-foot home in Las Vegas.
"There's so much of it, all over the place," the judge said.
Assistant U.S. Attorney Elham Roohani told Navarro that FBI agents found 40,000 images of child pornography throughout the home.
Marchese argued that pornographic viewing and file sharing was done by other people who visited Rouven's home, which sits on 1.1 acres. He described Rouven as a "very social man" who routinely hosted people at his expansive home.
The Tropicana dropped Rouven's show and severed ties with him in March after the Las Vegas Review-Journal reported that he was arrested by FBI agents. The case attracted international media attention, primarily in Germany.
Rouven, who was charged under his full name, Jan Rouven Fuechtener, had been a headliner at the Tropicana since November 2014.
According to a criminal complaint, the investigation of Rouven began in August when an undercover FBI agent from Buffalo, N.Y., infiltrated an Internet file-sharing group dealing in child pornography.
Some of the files linked to Rouven, who used the alias Lars Schmidt, had videos of young boys engaging in sex with men, the complaint alleges.
Contact Jeff German at jgerman@reviewjournal.com or 702-380-8135. Find @JGermanRJ on Twitter.