Las Vegas high school student indicted in rapes of classmates
Updated January 18, 2018 - 5:57 pm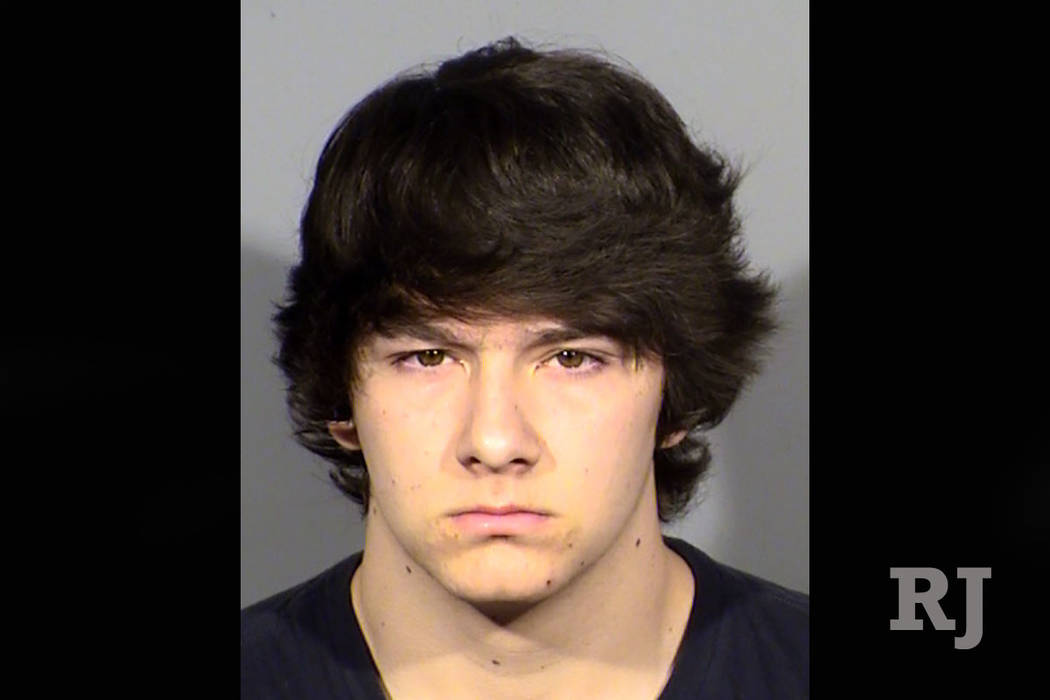 A Palo Verde High School student was indicted Wednesday on sexual assault charges after authorities accused him of raping at least four teenage classmates while he attended Shadow Ridge High School.
Maysen Melton, 16, faces two dozen felony counts, including charges of sexual assault, first-degree kidnapping and battery with intent to commit sexual assault. Some of the charges involve attacks on school grounds.
Chief Deputy District Attorney Kristina Rhoades said the teen was expelled from Shadow Ridge and enrolled as a junior in October at Palo Verde.
"I have some serious concerns for the girls who go to that school," the prosecutor told Chief District Judge Elizabeth Gonzalez in court on Wednesday. "This defendant, honestly, is a predator. It's the same thing over and over. He gets these girls in these intimate situations. He pushes them on the ground, throws them on the ground, trips them onto the ground, pulls their pants down. He does not heed to any of their noes, does not heed to any of their resistance."
Clark County School District spokeswoman Melinda Malone said she could not provide further information about Melton or his school enrollment.
Gonzalez issued an arrest warrant for Melton, who faces the possibility of life in prison if convicted. She also ordered him to have no contact with the victims.
Rhoades said Melton knew each of the victims, whose ages ranged from 15 to 18, and the attacks occurred over the course of about a year, ending in March 2017.
She said that before Melton was charged as an adult, he completed the "strictest" form of a sex offender probation program in Juvenile Court, between 2014 and 2016, prior to the crimes described in the indictment.
Defense attorney Dustin Marcello criticized a $200,000 bail set Wednesday at the prosecutor's request, saying Melton had been free on his own recognizance since June.
"The district attorney is taking the position that punishment should occur prior to conviction, that Maysen's guilty and should be placed in jail and punished before a jury ever hears his case," Marcello said. "He's been out of custody for a year with no issues and in full compliance with every court order and has made all court appearances. The only reason the state would ask for a $200,000 bail from a 16-year-old kid would be to punish him before conviction and to hinder his ability to present a defense to a jury."
Rhoades said Melton has obtained a driver's license since his release last year, and she argued that increases his risk of fleeing prosecution.
Marcello declined to discuss specifics of the allegations Melton faced as a juvenile, as those records are sealed.
"One thing we can all agree on is that the juvenile system was a miserable failure and did nothing to help the community or this young man," the attorney said.
Rhoades said the victims suffered "violent rapes," and Melton took nude photographs of the victims, threatening them if they refused to send him more nude pictures. He also faces charges of use of a minor in producing pornography and unlawful demand in exchange for removal of an intimate image, both felonies.
While some of the crimes happened on campus, at least one of the attacks occurred at his father's home, while his father was away, the prosecutor said.
"At least two girls contemplated suicide based on what he told them," Rhoades told the judge.
Contact David Ferrara at dferrara@reviewjournal.com or 702-380-1039. Follow @randompoker on Twitter.