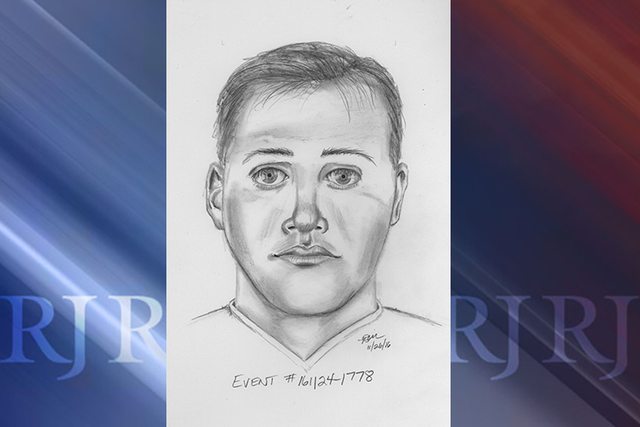 An 8-year-old girl was sexually assaulted near her Summerlin home, and so far all Las Vegas police have to go on is a sketch of a possible suspect.
But they aren't giving up. Metropolitan Police Department Lt. Dave Valenta, of the sexual assault unit, told reporters Monday afternoon that the investigation is a top case for the agency.
"Right now this is absolutely our No. 1 priority case," Valenta said. "We have everybody working this from our patrol officers on the street to every detective and crime scene investigator."
He pleaded with the public for its help identifying the man, saying that every tip or lead will be investigated fully.
Valenta said the girl was playing with her 5-year-old brother Thursday afternoon in front of their home in the gated La Posada Condominiums complex off West Lake Mead Boulevard near North Buffalo Drive.
A man, who is believed to be a stranger to the family, approached the children and told the boy to go inside so he could talk to the girl alone. He then took the girl behind a building and assaulted her.
The man then walked away east through the complex. The girl told her mom, who called the police.
Valenta called the case "gut-wrenching" and said any time a predator targets a child out of convenience, it puts the community on edge.
"At this point, detectives are requesting any and all information," Valenta said. "There are no tips that we are not investigating."
A sketch based on witnesses' descriptions of the attacker was released Sunday. Valenta said police don't know if the man lives in the area or was just visiting for the holiday.
The suspect has been described as a white male with full head of hair and a thin build. He was seen wearing a blue T-shirt and black jeans.
The man could be anywhere from 25 to 50 years old, Valenta said; his hair color could be anywhere from light blond to gray.
Anyone with any information about this incident can call Metro's sexual assault section at 702-828-3421 or Crime Stoppers at 702-385-5555.
Contact Wesley Juhl at wjuhl@reviewjournal.com and 702-383-0391. Follow @WesJuhl on Twitter.