Man accused of fondling sleeping woman on flight from Las Vegas appears in court
August 19, 2016 - 6:46 pm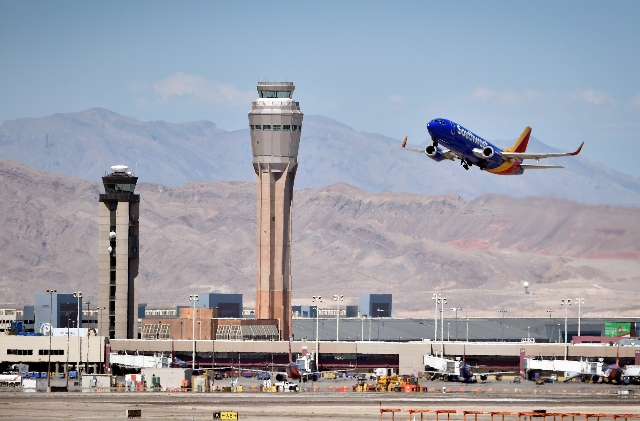 PITTSBURGH — A western Pennsylvania man has been charged with fondling a sleeping woman who sat next to him on a flight from Las Vegas.
Wei-Ming Shi, 58, of Mount Lebanon, ran from the federal courthouse in downtown Pittsburgh to avoid questions following his initial appearance before a magistrate. His public defender declined comment.
Shi is charged with one count of unlawful sexual contact on an aircraft during flight and a second, related count of knowingly engaging in sexual contact without another person's permission.
Shi was returning from Las Vegas on a Southwest Airlines flight on Thursday when he put his hands under the sleeping woman's dress and on her thigh and buttocks, the FBI said in a four-page criminal complaint. The woman woke up during the alleged incident and alerted a flight attendant who had police meet the plane at Pittsburgh International Airport and take Shi into custody.
Shi "committed a sexual assault against a sleeping person in the next seat," U.S. Attorney David Hickton said after the brief court appearance. "It appears that he did not know her."
Prosecutors released little information about Shi, an accountant, who was questioned by a member of the judge's staff about property he owns in Las Vegas. The nature and extent of that property could not immediately be determined Friday.
Hickton said Shi cooperated with the FBI and the criminal complaint said he acknowledged putting his hand under the woman's dress.
Shi was allowed to remain free on bond until a preliminary hearing Aug. 28. Prosecutors must present probable cause for the charges at the hearing that will then grant them another 30 days to bring a formal indictment with the charges.
The sexual contact during flight charge carries up to three years in prison; the nonconsensual contact charge carries up to two years. Each charge also carries up to a $250,000 fine.
Hickton said such charges are "very uncommon" and that his staff had never previously filed them in his six years in office.