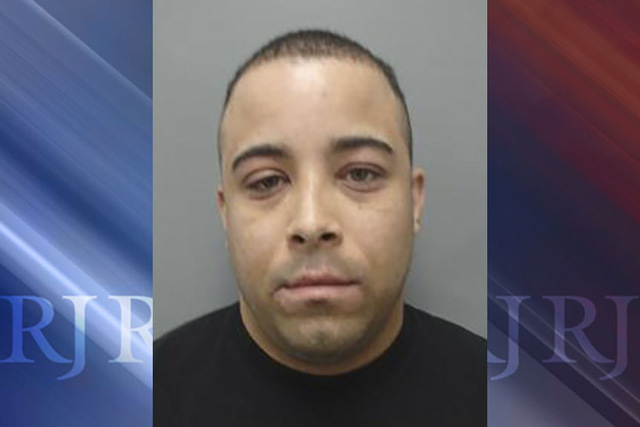 A convicted sex offender has been indicted on kidnapping and sexual assault charges in connection with an incident at the Wynn valet, prosecutors said Wednesday.
Aaron Thomas Berry met a woman inside the Encore in the early morning hours of July 26, slipped her a spiked drink and dragged her to an enclosed waiting area at the Wynn valet, prosecutor Michelle Jobe said.
District Judge Douglas Smith issued a $650,000 warrant for the 32-year-old Berry, who was convicted of a similar crime in California and served nearly four years in prison.
"He's a predator," Jobe told the judge. "And he needs to be in custody."
Berry faces seven counts: sexual assault, attempted sexual assault, open or gross lewdness, first-degree kidnapping, second-degree kidnapping, battery with intent to commit sexual assault, and administration of a drug to aid in the commission of a felony.
Before Wednesday's hearing, Berry had been on house arrest after posting bail in the amount of $30,000 in March, "and there have been no incidents," his lawyer said.
Defense attorney Robert Draskovich said surveillance video also showed that the woman was intoxicated before she encountered Berry, and there appeared to be "no sexual contact" between the two.
"Based upon our review, the video does not reflect what the district attorney's office contends," Draskovich said.
The prosecutor said Berry stirred a shot glass and handed it to the victim, in her early 20s, before she was seen stumbling alongside him.
"In the valet area, the victim looked like a complete rag doll," Jobe said. "Her head gets slammed against the wall multiple times, while the defendant's manhandling her."
She was slumped on a bench "because she simply cannot control herself after she's been at the bar with the defendant," the prosecutor continued.
The woman appeared to struggle as Berry grabbed her and forced his hand between her legs, according to the prosecutor.
"She's so heavily intoxicated or drugged, she simply cannot fight back," Jobe said. "It is so disturbing."
Another man noticed what happened and asked a valet attendant to call security.
"These facts are egregious," Jobe said. "The video is horrific."
In 2008, Berry was accused of drugging and raping a woman in Ventura County, California.
He pleaded guilty to sodomy of a person under 18, rape of an intoxicated person and contributing to the delinquency of a minor, and was sentenced to three years and eight months in prison, according to online court records.
Draskovich said he had no information about the California case.
Contact David Ferrara at dferrara@reviewjournal.com or 702-380-1039. Find @randompoker on Twitter.