Men plead guilty to raping tourist at Fashion Show Mall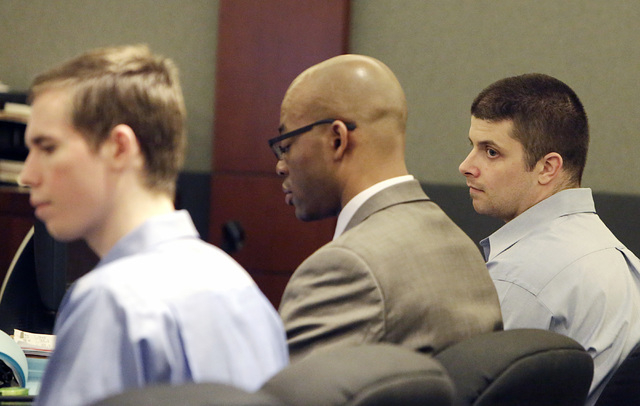 On her first night in Las Vegas in 2011, a California tourist was raped, beaten and terrorized at knife point in the Fashion Show Mall parking lot.
For more than two years, the two homeless men who had attacked her walked free.
On Wednesday, during the second day of jury selection in the case, Matthew Goin, 27, and Sinder Holmes, 20, avoided a lengthy trial by pleading guilty to all charges they faced: six counts of sexual assault with a deadly weapon, conspiracy to commit sexual assault, first-degree kidnapping with a deadly weapon, conspiracy to commit kidnapping and battery with intent to commit sexual assault.
"We hope that they will never get out of prison," Chief Deputy District Attorney Lisa Luzaich said.
Prosecutors said the 28-year-old victim was walking alone on a sidewalk outside the mall in the predawn hours when Goin leapt from behind a bush, threatened her with a knife and dragged her to the parking lot. Holmes followed.
After Holmes was arrested in late 2013, the woman described to a Clark County grand jury the terrifying events of that morning.
The woman and two friends checked into the former Imperial Palace at 5 p.m. on Sept. 5, 2011. They had dinner, and a few hours later they went to a party at the XS nightclub inside the Wynn.
As the club closed around 4 a.m., the women headed toward a taxi line but didn't want to wait. They tried to catch a cab in the street, but when none stopped, the woman's friends suggested walking back to their hotel room.
She was in heels and didn't want to go barefoot, so she hoped she could still catch a ride.
"People were walking," she testified. "It wasn't like I felt not safe."
She started ahead of her friends and wound up on an escalator that took her across Las Vegas Boulevard.
The mall was "all dark and closed," she told the grand jury. "I noticed there is nobody on this side of the street. … I had a feeling: This doesn't feel safe. There is nobody here."
She saw the sign for Treasure Island and walked in that direction.
Just as she was about to step onto another escalator, a man — later identified as Goin — jumped out, clutching a serrated knife with a black handle. With his free hand, he grabbed her arm.
"Shut up, b——," she said he told her. "You're going to die."
He had a "very violent face," like a demon, she said. He told her, "You're going to walk with me, or I'm going to kill you."
He pointed the knife at her face, and she noticed another man walking behind her.
She told herself not to look at him.
"But I could see someone, and I said that person is going to save me," she said.
He turned out to be Holmes, then 15, "making sure that I wasn't going to run to the other side."
She said the men appeared young. Goin was 22 at the time.
"They looked very ugly," she testified, "like homeless people, dirty people."
Prosecutors said Goin and Holmes were drifters who had met riding trains.
They forced her into the parking lot, and again she became hopeful, because the area was lighted.
"Someone's going to walk in," she thought. "It's a parking lot. It's a mall."
They shoved her down the stairs and demanded she remove her underwear. Goin thrust the knife in her face and again threatened to kill her.
The men took turns raping her. The woman noticed a white truck pull toward them and thought, "This is it. It's over."
She stood and waved her hands and screamed before the men climbed on top of her. Holmes wrapped his hands around her neck and squeezed, she said.
"And I see his eyes, and he has the evil eyes, like he liked it," she said. "Every time I try to run, every time I try to do something, they would get more aggressive."
Another five minutes passed, and the truck drove away.
The woman was certain the men would kill her. She couldn't breathe.
"They raped me in every part of my body," she said. "I never let some man touch me that I loved. And they did."
Her friends tried calling her cellphone. One of the men mistakenly answered and then smashed it to pieces.
They dragged her to another corner of the parking lot, pulling her by the hair, hitting her. They found yellow caution tape and bound her hands and feet.
After about an hour in the parking lot, a couple walked up, and the men ran. The victim found a security guard and told him what happened.
Authorities linked Holmes to fingerprints on the caution tape after he was arrested on an unrelated charge in Washington state in late 2013. Goin was arrested in early 2014 in Sacramento, California, and authorities matched his DNA.
The defendants face decades to life behind bars at a September sentencing.
Contact reporter David Ferrara at dferrara@reviewjournal.com or 702-380-1039. Follow him on Twitter: @randompoker