'Operation Heat Wave' leads to 25 arrests in Las Vegas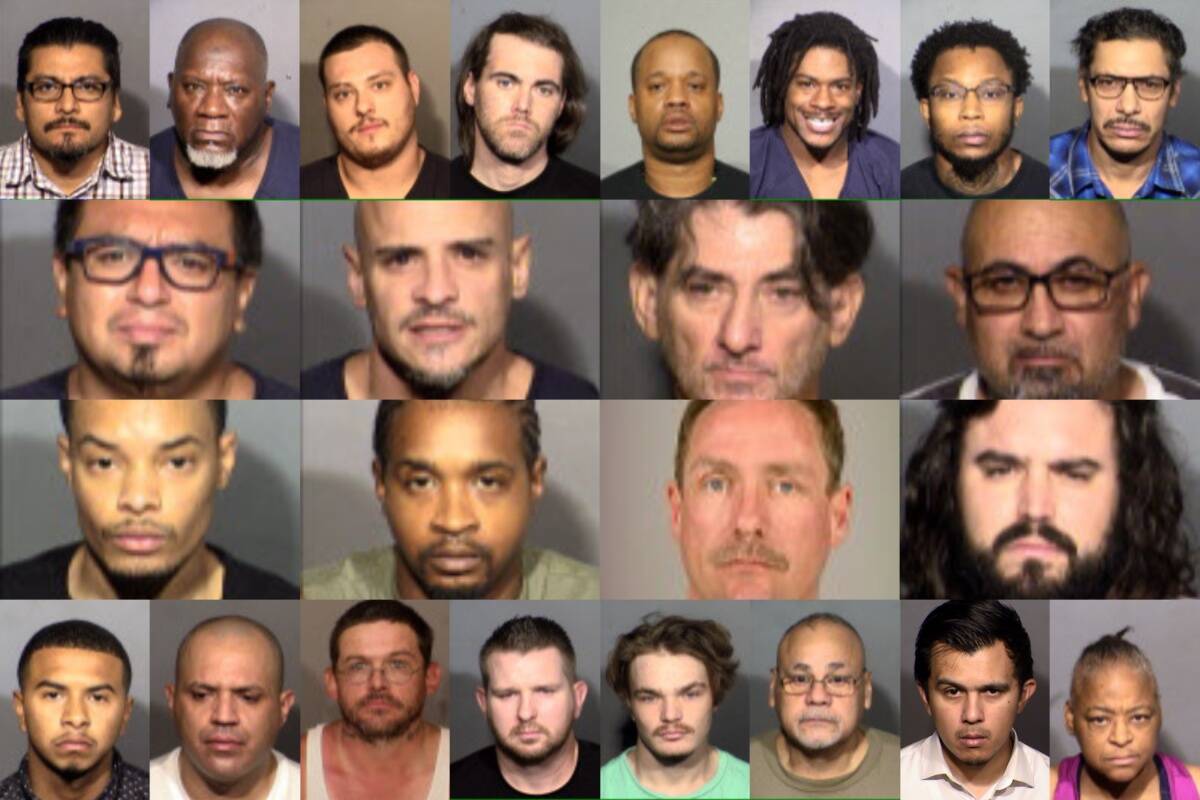 A law enforcement operation targeting people suspected of a variety of crimes resulted in 25 arrests over a more than three-week period, the Metropolitan Police Department reported Thursday.
Known as Operation Heat Wave, the dragnet, held from Aug. 14 to Sept. 8, was a joint effort by the department's Sex Offender Apprehension Team and the U.S. Marshals Service's Nevada Violent Offender Task Force, department officials stated.
The 24 men and one woman were arrested on suspicion of crimes such as battery/domestic violence, sexual assault, abuse of an older person and failure to register as a sex offender, according to Justice Court records.
Those arrested in the sweep included Michael Vargas, 33; Alfredo Cuevas, 59; Juan Cruz-Perez, 36; Nico Perez, 33; Zachary Bolin, 38; Jacob Perkins, 19; Miguel Guerrero, 49; Leonard Robertson, 40; Carlos Ramos, 41; Jules Sharpe, 31; Ervey Alaniz, 39; Kamal Jenkins, 24; Duane Johnson, 30; Ricky Anderson, 60; Michael Sollenberger, 39; Cody Bame, 27; Taiku Boyd, 50; Luis Cuellar, 41; Timothy Lebtich, 63; Carlos Castellon-Talavera, 53; Caleb Stotts, 20; Lisa White, 55; Dante Brown, 33; Randy Carter, 28; and Juan Valentin, 64.
However, according to court records, an illegal drug sales charge against Vargas was dismissed by prosecutors on Aug. 16, domestic violence and other charges against Perkins were dropped on Sept. 7 and White pleaded guilty to misdemeanor domestic violence on Sept. 7.
A half-dozen of those arrested were brought in on fugitive warrants, court records show.
In a news release, the department wrote that actions such as Operation Heat Wave "seek to locate and apprehend individuals who have committed violent crimes within our community and hold them accountable for their actions."
"This effort supports (Sheriff Kevin McMahill's) initiative to reduce violent crime and make our community a safer place to live," the department stated.
Contact Jeff Burbank at jburbank@reviewjournal.com or 702-383-0382. Follow him @JeffBurbank2 on X.