Southern California sex trafficking ring had Las Vegas ties
Updated July 28, 2017 - 4:45 pm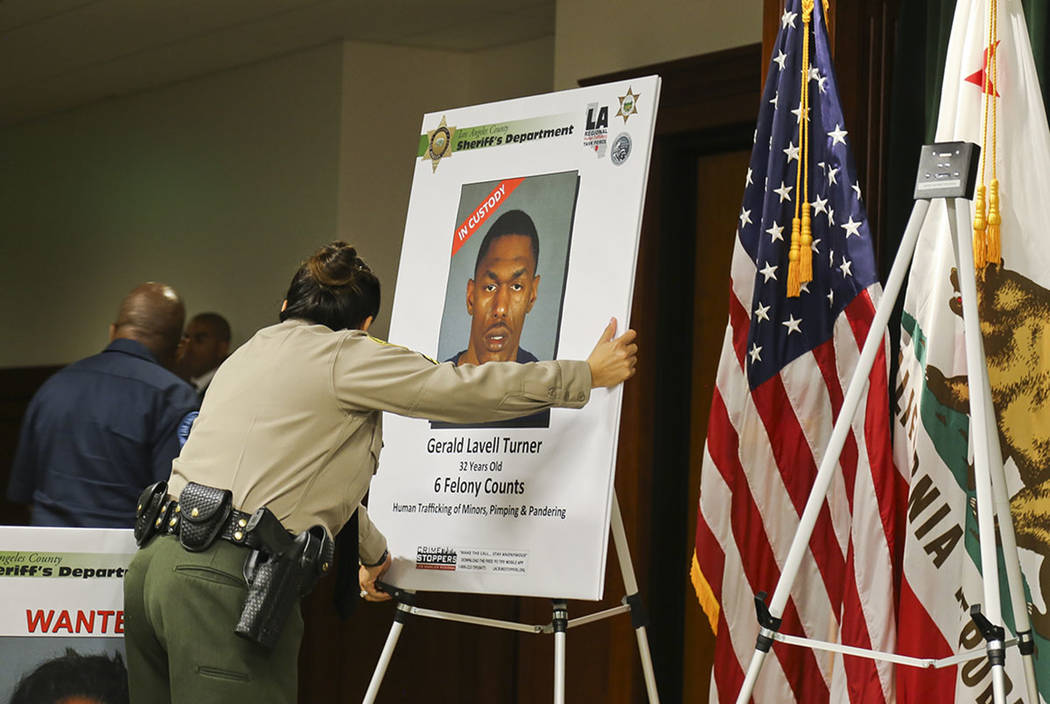 A sex trafficking ring with ties to Las Vegas was busted in Southern California this week, and a Los Angeles detective says it is common for pimps based in the City of Angels to operate in Sin City.
"I would guess a large majority of your pimps originate in this area," Los Angeles Sheriff's Department detective Chris Hicks said Friday.
California authorities announced Thursday that three people were arrested in connection with a sex trafficking ring involving eight teenage victims who were sold for sex in California, Nevada and Texas. The Associated Press reported Quinton Brown, 30, Gerald Lavell Turner, 32, and Mia McNeil, 32, face a total of 54 charges that include sex trafficking, pimping and identity theft. McNeil had not been taken into custody as of Friday afternoon.
Los Angeles County deputies found 13 female victims, including eight between 15 and 17, working out of apartments-turned-brothels and being driven throughout California and shipped to other states, the AP reported.
Hicks provided few specifics when asked about the Las Vegas Valley's role in the case. He said the Las Vegas investigation involved a stolen car, identity theft, and commercial sex acts "may or may not have occurred" in the area.
"We don't want there to be any chance of corrupting our case by releasing information to the media," he said.
Metropolitan Police Department Lt. Ray Spencer would not comment on another agency's investigation.
But Hicks, speaking generally, said Las Vegas is a "metropolis for this type of thing" because of its large-scale events and reputation for debauchery. And many sex traffickers move from city to city to avoid police and capitalize on special events.
"It's like NASCAR," Hicks said. "One day they're in Los Angeles, then in Las Vegas or Texas the next day."
Spencer called it a "circuit."
"We'll see an influx of it (sex trafficking) on the weekends," the Las Vegas lieutenant said.
The link between Southern California and Las Vegas is such that Spencer said he attends the quarterly meetings of the Los Angeles task force.
"It's a high number of cases" with links between the two areas, Spencer said. "We're in constant contact with law enforcement across Southern California."
Hicks said he enjoys working with Metro.
"It really is a collaborative effort," he said. "I would like to see more of a Western United States task force."
Contact Wesley Juhl at wjuhl@reviewjournal.com and 702-383-0391. Follow @WesJuhl on Twitter.