Warrant out for CCSD teacher accused of sex crimes against children
Updated February 18, 2022 - 3:02 pm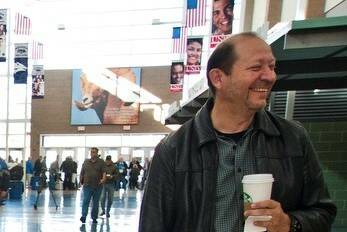 A Clark County School District teacher and a local pastor is wanted in connection with a sexual assault case, according to court records.
Reynaldo Crespin, 59, faces five counts of lewdness with a child, four counts of sexual assault on a child and one count of open and gross lewdness, Las Vegas Justice Court records show.
A warrant was approved on Feb. 9, but Crespin had not been arrested as of Friday afternoon.
The Clark County School District said Crespin worked for the district from July 2016 until this month and most recently worked at Hickey Elementary School, 2450 N. Hollywood Blvd.
Crespin and his wife are featured as the only staff for New Horizon Christian Church, 2167 N. Walnut Road, which Crespin said he founded in 2002.
"It is our deepest desire for people to have a personal relationship with Jesus Christ and a true purpose for their families," Crespin wrote in a biography on the church's website.
No one at the church could be reached for comment Thursday or Friday.
A sign on the door Friday announced that there would be no service Sunday. An eviction notice from Crespin's wife, Marivic, dated Wednesday, also was posted and accused her husband of "suffering, permitting, or maintaining a nuisance" on the premises.
Marivic Crespin is listed as the landlord of the property on the document, but Clark County assessor records indicate that Reynaldo Crespin owns the 1,600-square-foot church on Walnut Road.
The building's windows were boarded up on Friday. Shattered glass covered the doorway, and two white vans were parked near the building.
Family Court records show that Marivic Crespin opened a child custody case on Feb. 10 against Reynaldo Crespin regarding the couple's three sons.
Las Vegas police released a missing persons poster Friday seeking assistance in finding Reynaldo Crespin. Anyone with information may call police at 702-828-3421.
Further details about the allegations were not immediately available from police.
Contact Sabrina Schnur at sschnur@reviewjournal.com or 702-383-0278. Follow @sabrina_schnur on Twitter.