Woman accused of sex trafficking runaway on Las Vegas Strip
Updated June 2, 2017 - 6:58 pm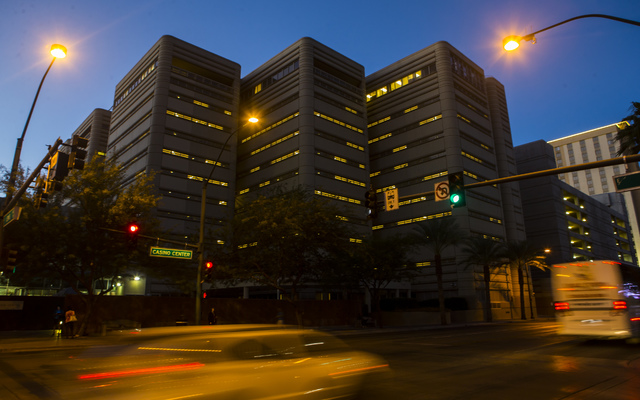 A 22-year-old woman has been charged with sex trafficking of a child after a 17-year-old California runaway was rescued by a Las Vegas police task force this week.
The woman, Micheala Gospel, was booked Thursday into the Clark County Detention Center on charges including first-degree kidnapping, child abuse or neglect and accepting or receiving earnings of a prostitute after the girl told police she was forced to work as a prostitute.
Police were alerted to the situation after the girl called a woman she knew in California last month and said she was being sex trafficked. She "was not allowed to leave and unsure of her exact location," according to a Metropolitan Police Department arrest report obtained Friday.
Police then traced the girl's phone to the Motel 6 at 195 E. Tropicana Ave., just east of the Las Vegas Strip.
The girl, a reported runaway, told police she met Gospel in California in 2016. Shortly after meeting, the girl had been forced to work as a prostitute, she told police.
In May, Gospel "had the idea to come to Las Vegas to make more money in prostitution," the girl told police. The girl was brought across state lines, where she was again forced to work as prostitute, this time at "various streets of high prostitution traffic" and "numerous hotel/casinos" on the Strip, according to the report.
"Gospel would primarily drop her off at the Bellagio," the report reads. "(The girl) would meet customers on the casino floor or on the Strip and commit acts of prostitution in the customer's (sic) hotel rooms."
The girl gave all her earnings to Gospel, she told police.
During a police interview, Gospel said she knew the girl but denied any prostitution activity. The report notes Gospel "has numerous prostitution priors."
Gospel is being held without bail. A hearing is scheduled for Monday.
Contact Rachel Crosby at rcrosby@reviewjournal.com or 702-387-5290. Follow @rachelacrosby on Twitter.