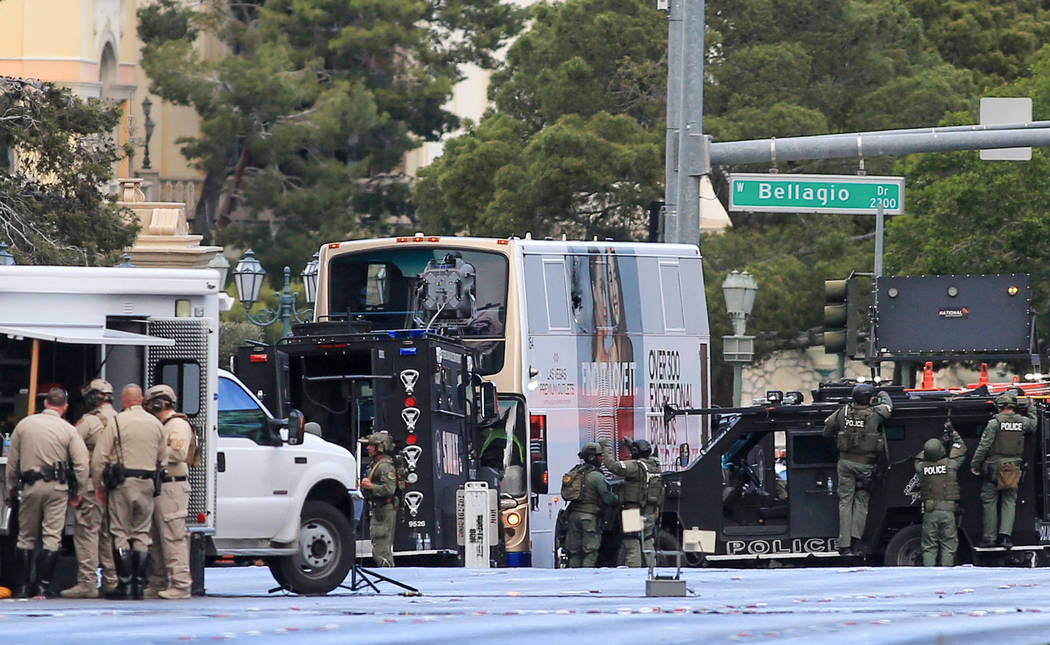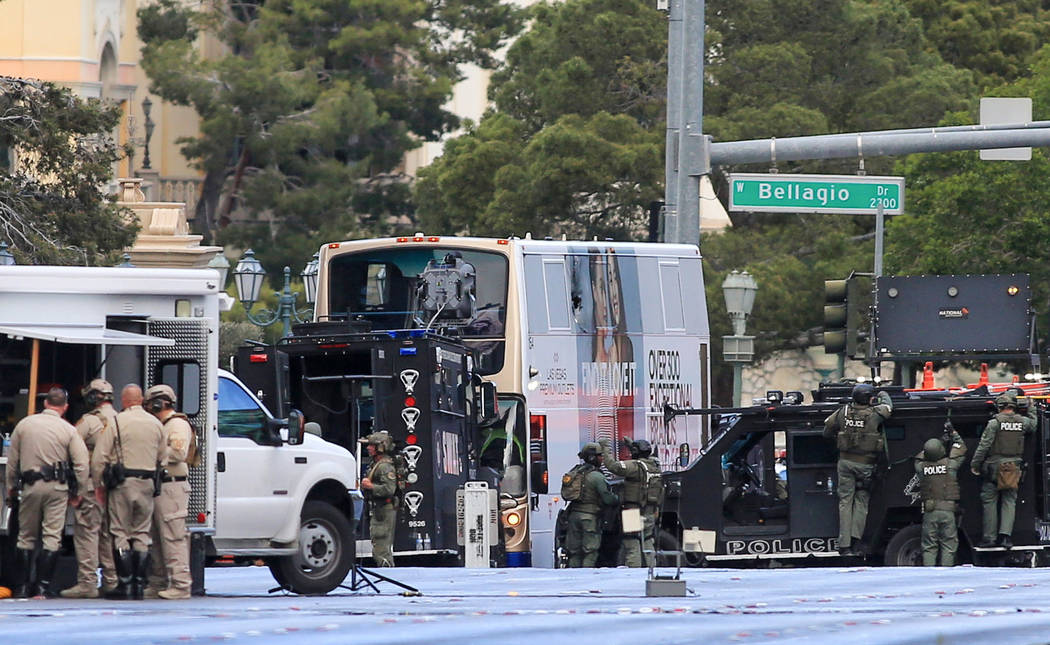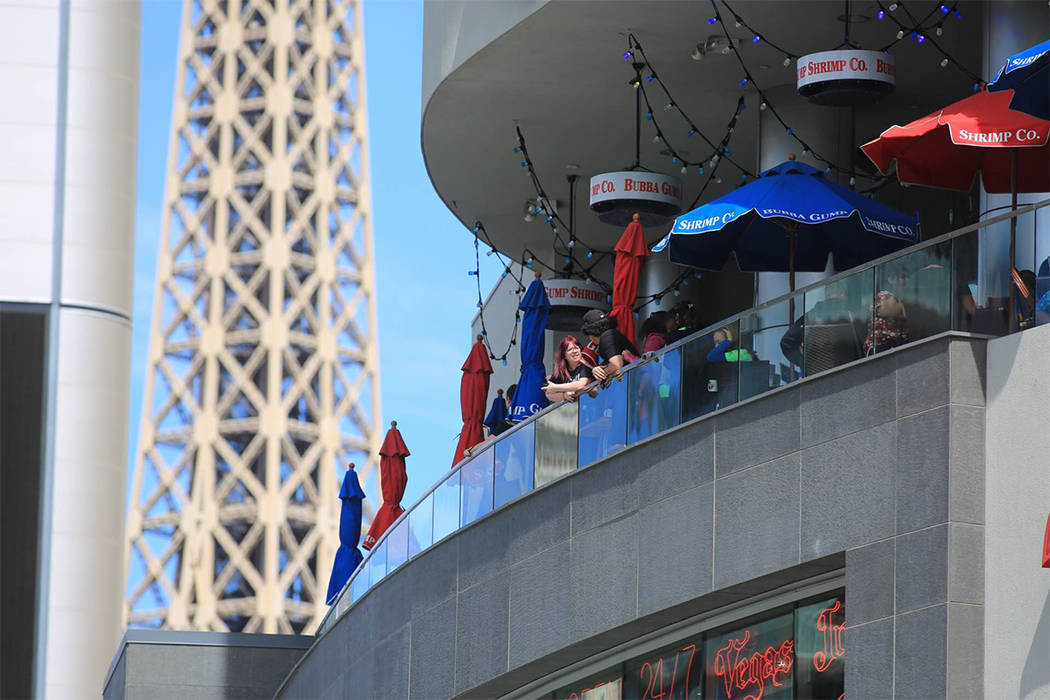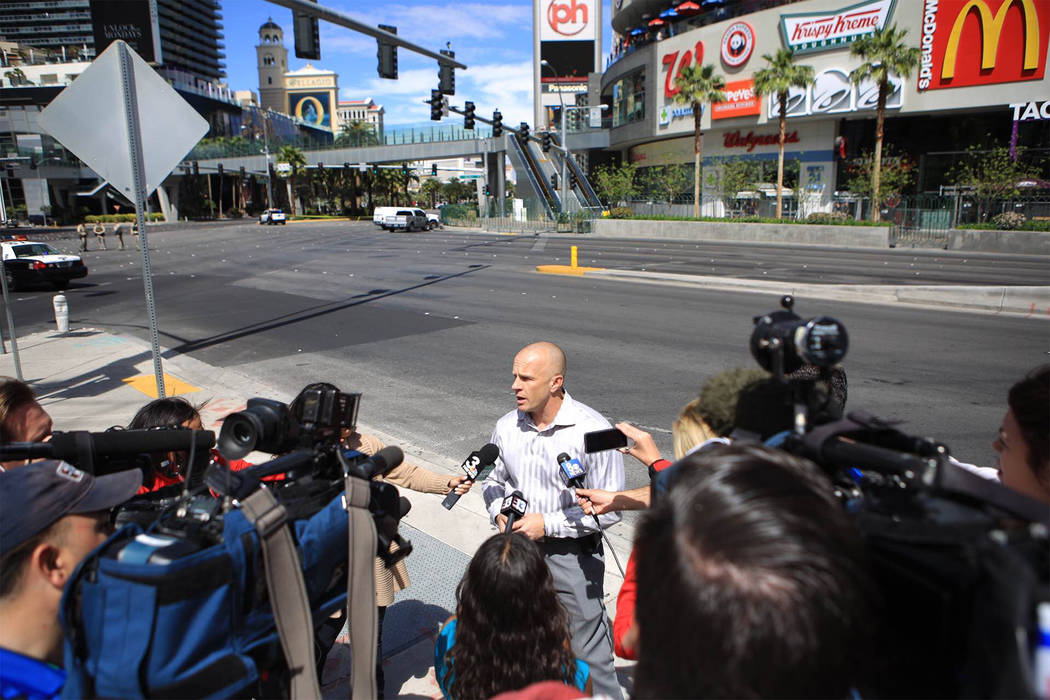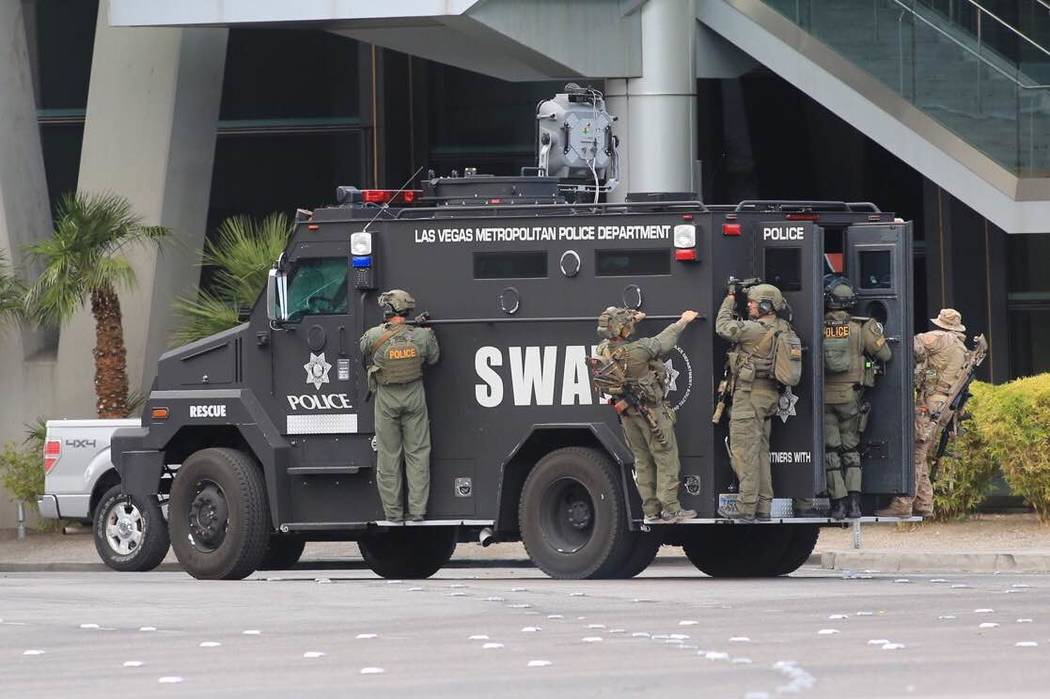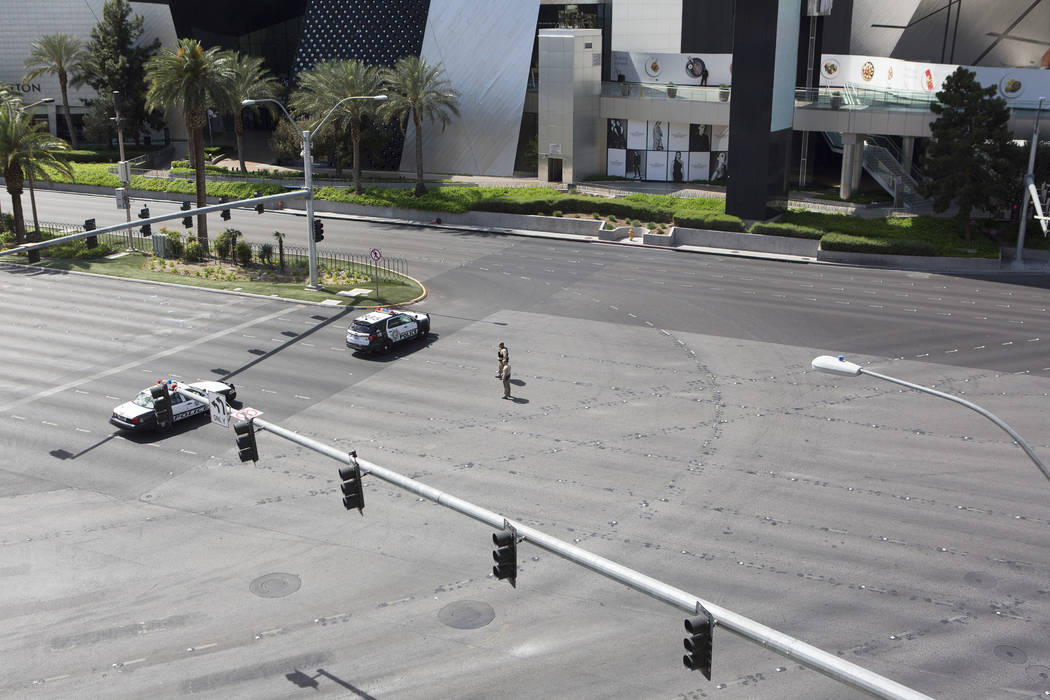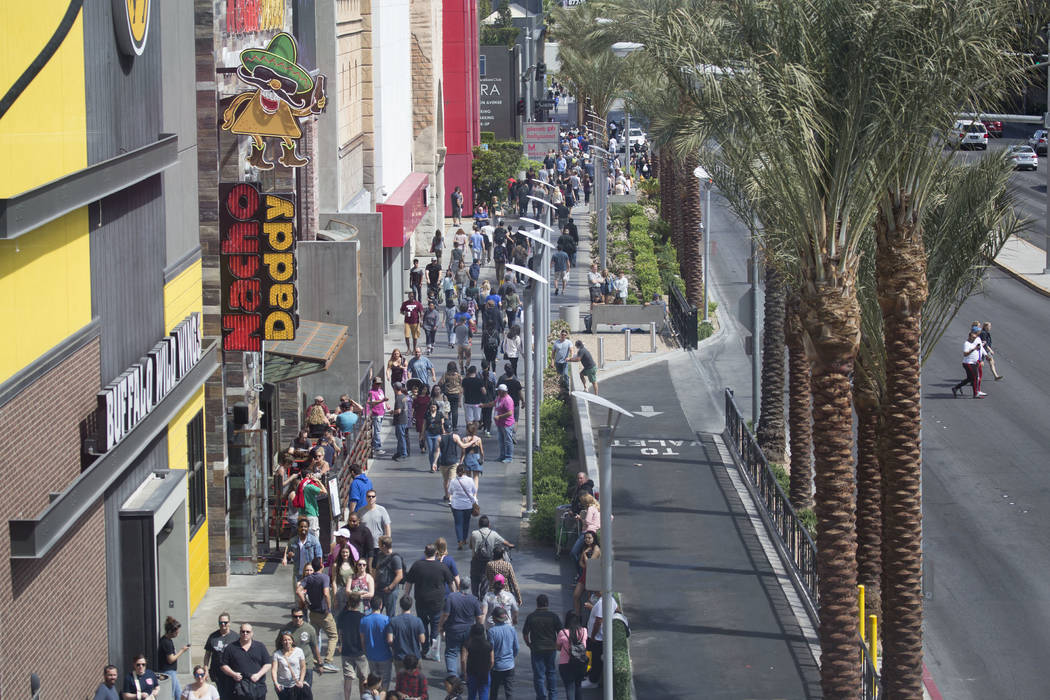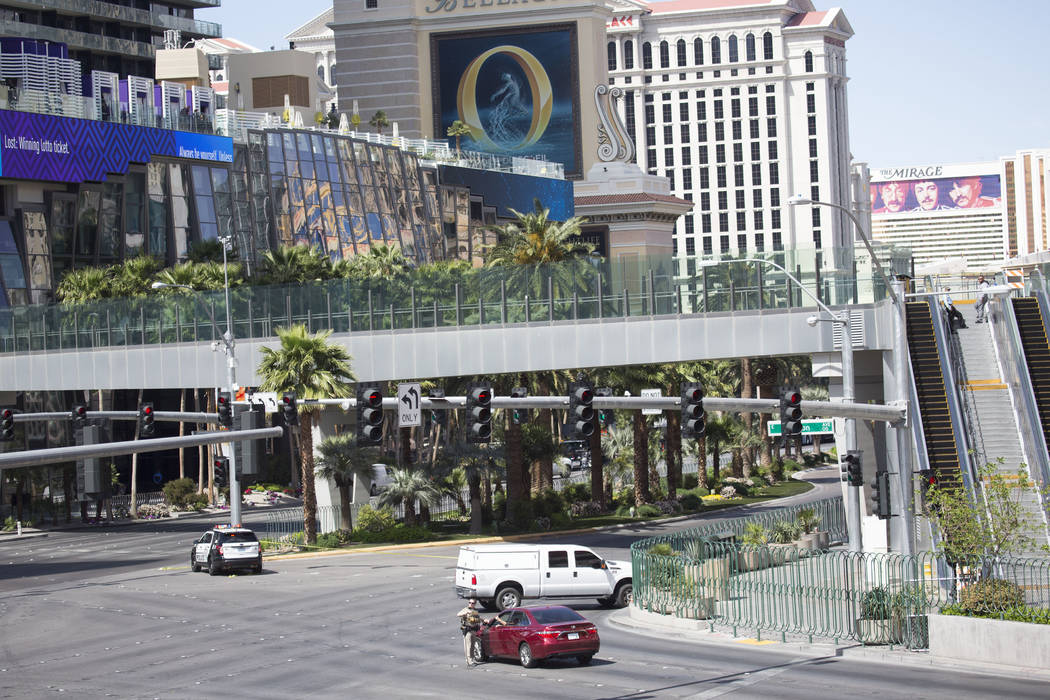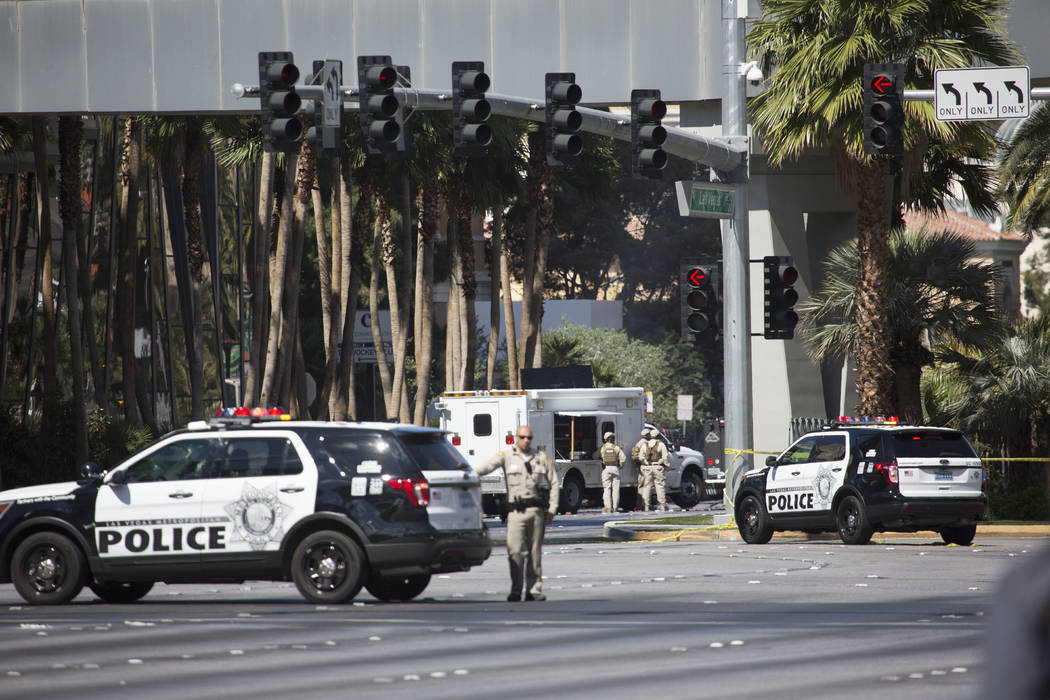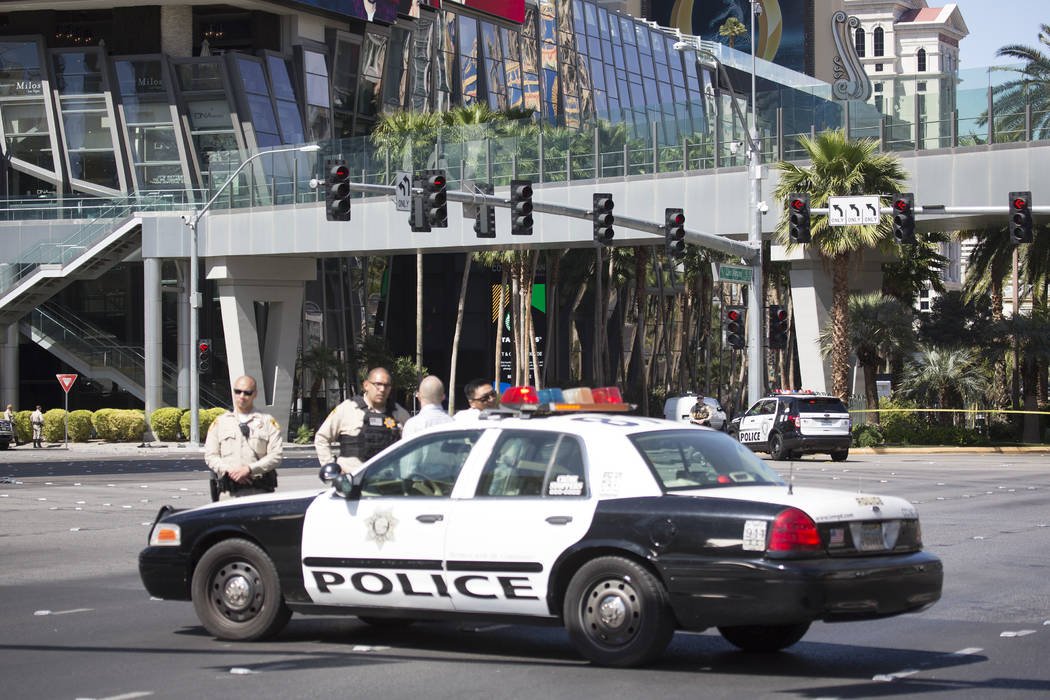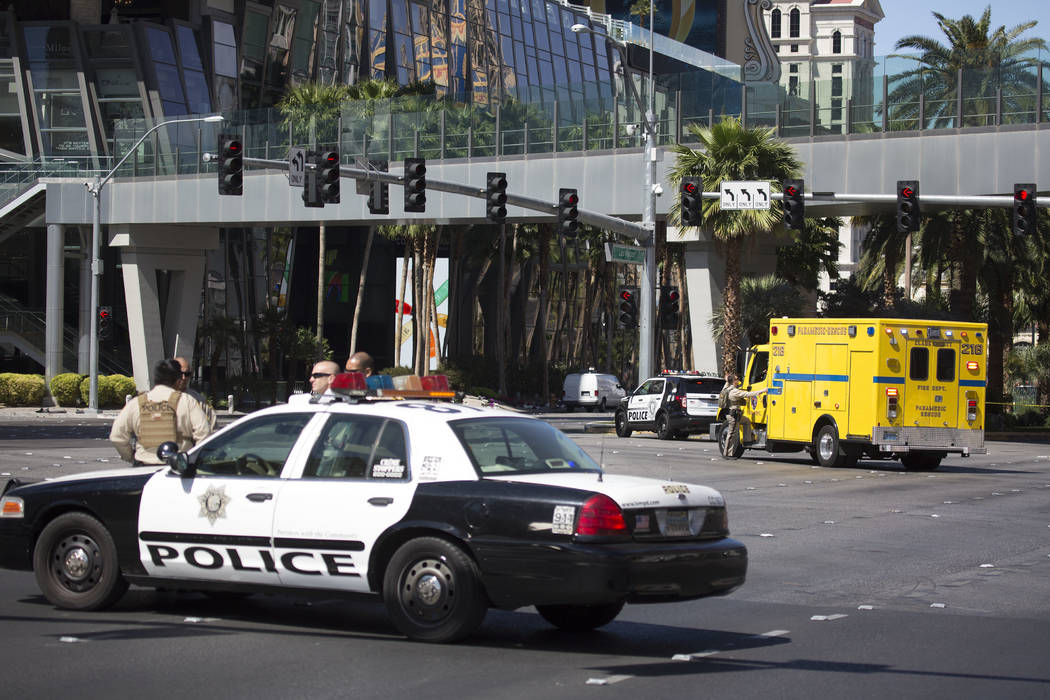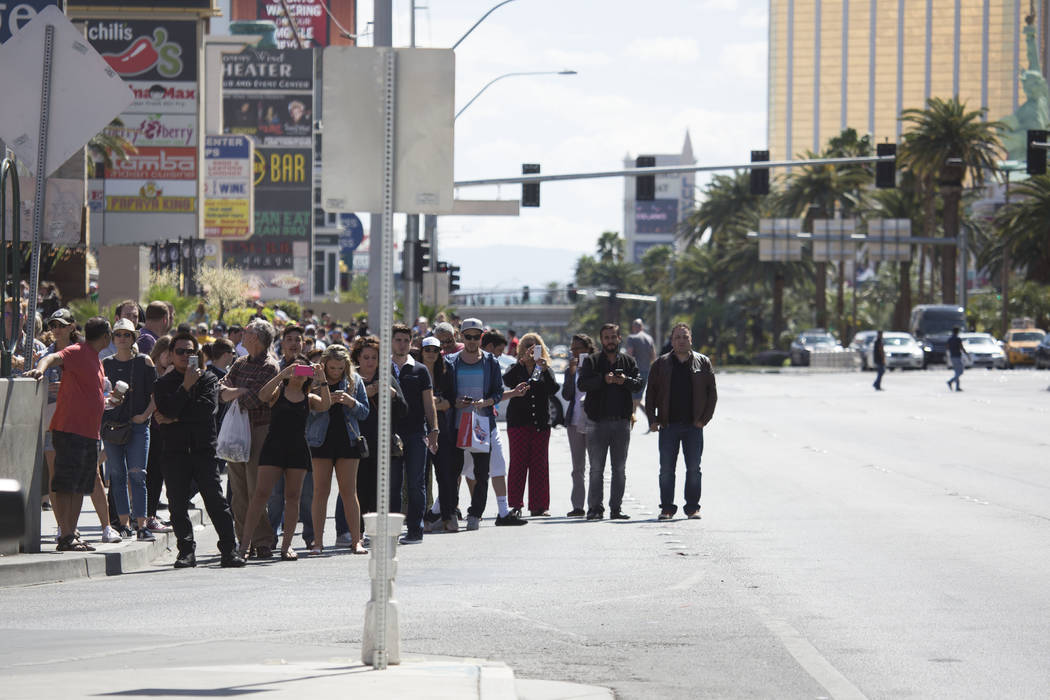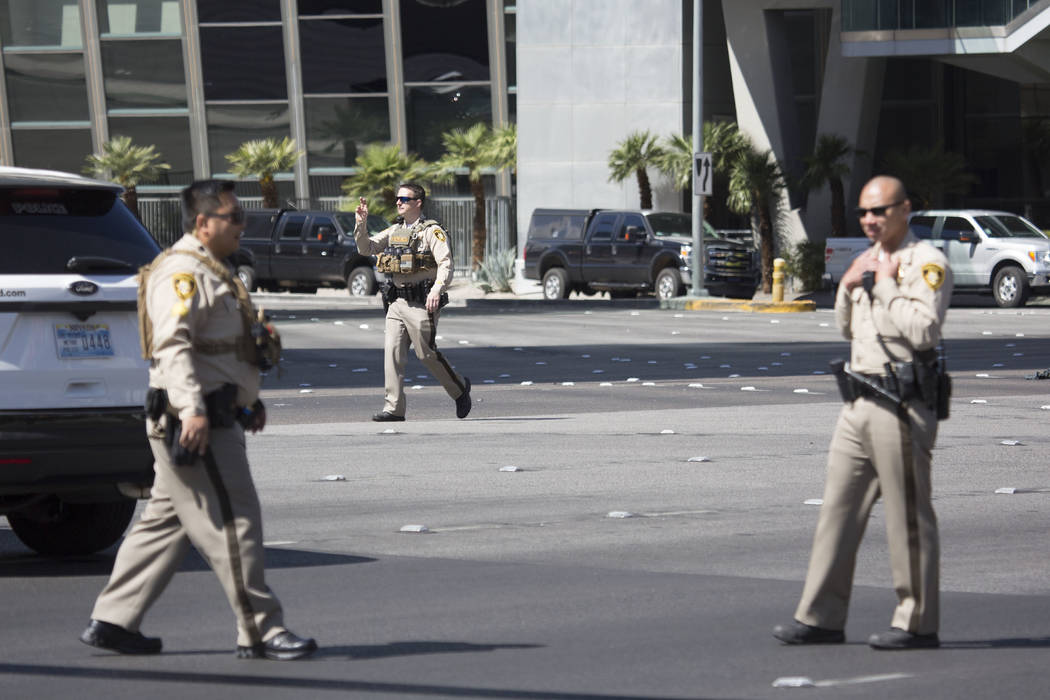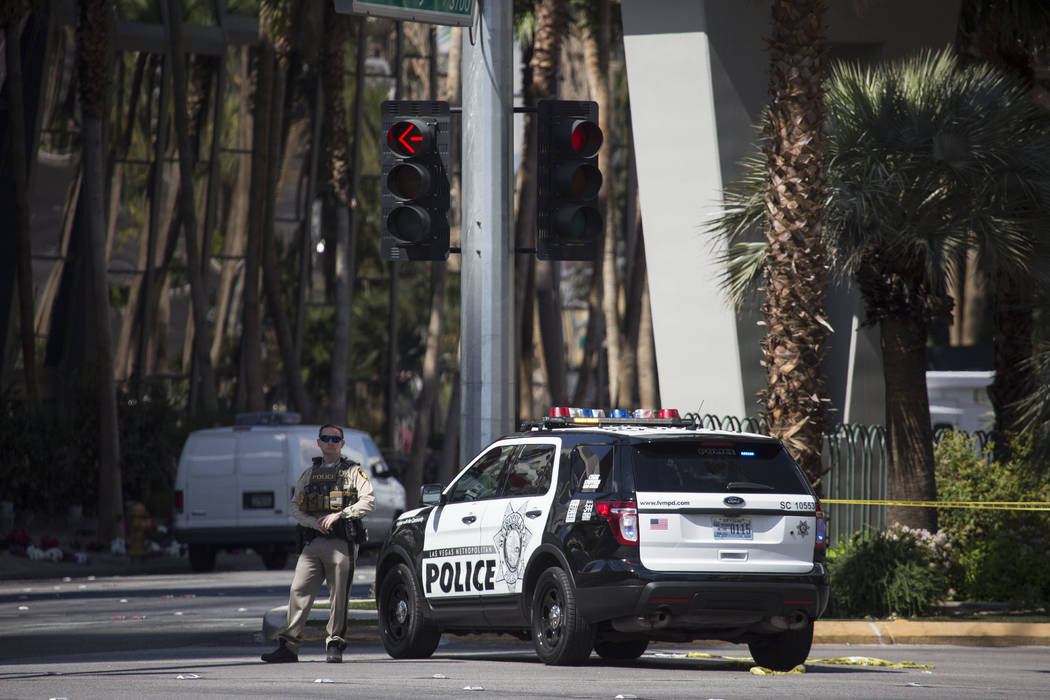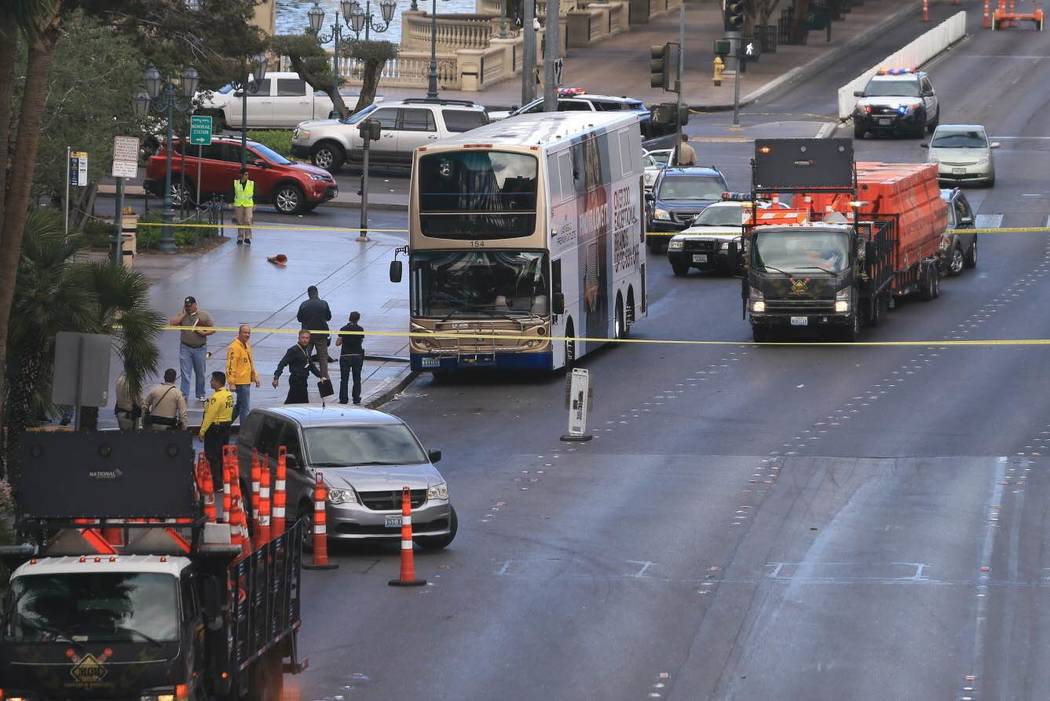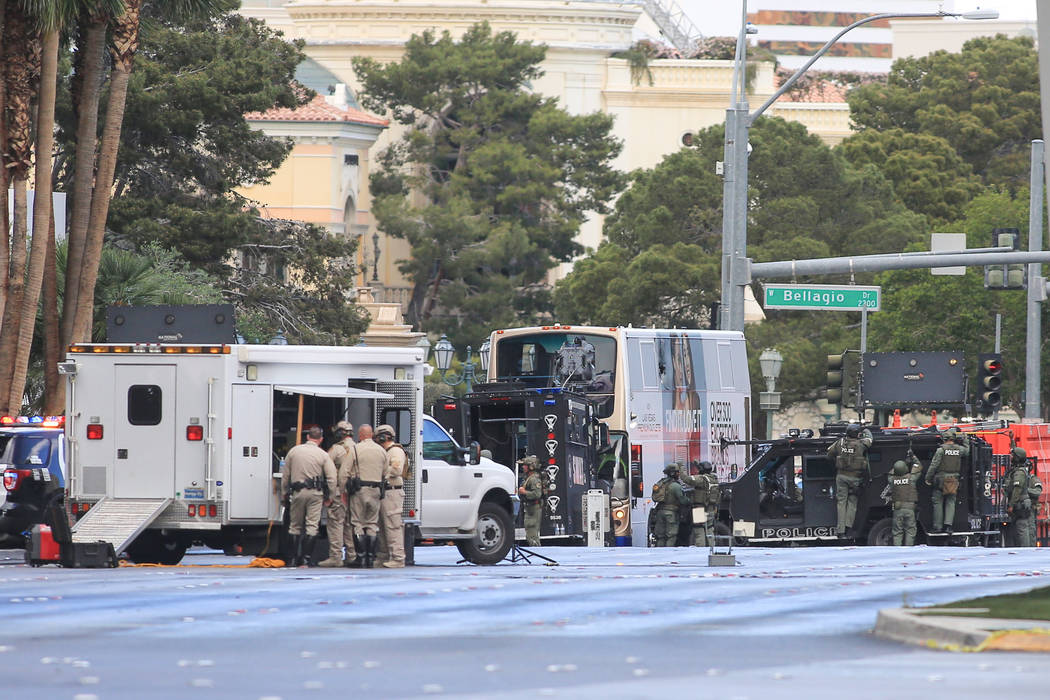 A pair of unrelated Saturday morning crimes on the Strip, seemingly ripped straight from movie scripts, left one person dead, multiple suspects in custody, shut down part of Las Vegas Boulevard and dominated social media for hours.
In the early morning, burglars clad in formal wear and animal masks hit a high-end Bellagio shop yards away and hours later, a deadly shooting and standoff on a bus closed Las Vegas Boulevard well into the afternoon.
The two incidents, which police stressed were unrelated, drew international media coverage and sparked a torrent of social media posts.
No one was hurt in the Bellagio burglary, which led to one person's arrest. The shooting on the double-decker Regional Transportation Commission bus began violently — one person died and another was wounded — but ended peacefully — the suspected shooter surrendered to police and was taken into custody without incident.
Before the suspect's arrest, responding police investigated, and quickly quelled, false reports of a "second shooter" and an "active shooter" situation at any casino. As the situation unfolded, Strip traffic was halted in both directions, and pedestrians were diverted away from the scene. Guests from at least one hotel were asked to stay in their rooms, and other hotels and shopping areas restricted entrances and exits.
At 3:20 p.m., after an hourslong standoff and barricade situation, the suspected shooter, who is male and had a handgun, was taken into custody without incident, Metropolitan Police Department officer Larry Hadfield said.
'ISOLATED INCIDENT'
Metro emphasized this was an "isolated incident."
Metro said there's no evidence the shooting had a terrorism "nexus." Hadfield added the incident, which happened about 10:50 a.m. in front of The Cosmopolitan of Las Vegas, 3708 Las Vegas Blvd. South, near Harmon Avenue, was unrelated to the Bellagio incident early Saturday morning.
Hadfield said two people were taken to University Medical Center, where one died and another was treated for a gunshot wound to the stomach. The second person is expected to survive.
Assistant Sheriff Tom Roberts said the man, believed to be in his 50s, was riding on the second floor toward the back of the bus when he opened fire "indiscriminately."
"He didn't seem to have a motive," Roberts said, adding the man appeared to have "mental issues" and was seeing things.
"He definitely was not really with it," he said.
After the suspected shooter opened fire, Roberts said, the bus driver left the bus where it was, passengers got off and officers responded. The suspected shooter never left the bus.
The man didn't empty his magazine, Roberts said, but fired multiple shots. Police said the man shot at officers during the negotiations, but officers didn't return fire.
The suspected shooter surrendered to police after several hours. At one point, he called 911 dispatch and began speaking with police.
"A lot of times, when you stabilize these, you have time on your hands," Roberts said. "Most instances, we're able to talk them out peacefully. In this instance, we were."
There was a loud bang near the scene about 1:45 p.m. Roberts later confirmed police used a flash-bang to break the bus windows. Units then placed a robot inside the bus. The robot confirmed to officers the shooter was still inside.
Brandon Ingram was on the bus at the time of the shooting and recounted his experience in a Facebook exchange late Saturday night with a Las Vegas Review-Journal reporter.
"I was on the bottom (of the double-decker bus) near the back door and heard 2 shots right when we pulled up to Cosmopolitan. Everybody ran out very quickly, and I noticed one man was shot. The armed security guards that were on the bus with us, secured the area until police came," he wrote. "That's basically it. It's been a real long day."
Police had no immediate information on the suspect's criminal history.
Hadfield said nobody fired shots inside any of the nearby casinos.
Officers went through nearby hotels, Hadfield said, "to ensure that the incident did not spill outside of the actual scene." The hotels cooperated with the investigation and were not letting guests in or out through front doors during the barricade, he said.
Parth Thaker, a visitor from San Francisco who said he was staying at The Cosmopolitan, said guests were asked to stay in their rooms.
RTC spokeswoman Angela Castro said in a statement the organization was cooperating with police.
"Our heartfelt condolences go out to the family of the rider who was fatally shot, and we also extend our sincere sympathies to the injured victim, the bus operator and the other passengers who were aboard during this tragic incident," she said in a statement.
ROOM WITH A VIEW
At the Miracle Mile shops, visitors gathered in front of the glass doors facing the Strip to watch the scene unfold. Others took in the scene from higher floors of nearby hotels.
"First of all, it's my damn birthday," said Derek Hankins of Atlanta, "and we're here to shop, but we can't even do that."
Jose Padilla and Francisco Ramos from Phoenix spent most of their one-day Las Vegas trip trapped inside the Miracle Mile and Planet Hollywood Resort, where they were staying.
"We have everything that we need here," Ramos said, "but it sucks that we can't walk around."
According to Las Vegas 51s Media Relations Director Jim Gemma, the Chicago Cubs are staying at The Cosmopolitan. The Cubs are in Las Vegas as part of Big League Weekend with the World Series champions playing two games against the Cincinnati Reds.
Update on the hostage situation. SWAT team detonates the side of the bus. #Cosmopolitan pic.twitter.com/rUoPuSWL7C

— Jud Seiber (@PuddleOfJud) March 25, 2017
BRAZEN BURGLARY
Earlier Saturday, at the Bellagio, Metropolitan Police Department officers were called about 12:50 a.m. to a burglary at Tesorini, a high-end jewelry and watch retailer.
At least three people entered the Bellagio, 3600 Las Vegas wearing "dark, nice suits" or tuxedos, and animal masks, Metro Lt. Carlos Hank said.
The burglars grabbed several items, shed their outfits and ran off.
"It is like a movie, it's just crazy," Hank said.
Police initially believed shots were fired during the burglary because of witness reports, Hank said, but after further investigation, determined no shots had been fired. Hadfield reiterated during the bus shooting briefings that no shots were fired during the burglary.
What witnesses heard, Hank said, was the burglars breaking through the glass storefront and display cases with a large hammer, he said.
Police detained several people for questioning, according to Hank, and as of 7:40 a.m. detectives had not named or identified any of the burglars.
As of 6 p.m., Tesorini was still closed; a store manager said early in the day that he didn't know when it will reopen.
On Twitter, the juxtaposition of events seemed to have some users scratching their heads.
"Just 9 hours ago there's a robbery at the Bellagio at 2 am & now shots in front of the Cosmopolitan in Las Vegas at 11am," user Vsmack44 tweeted. "What is going on!"
Review-Journal writers Blake Apgar, Matthew Crowley, Rio Lacanlale, Jessica Terrones and Kira Terry contributed to this report. Contact Mike Shoro at mshoro@reviewjournal.com. Follow @mike_shoro on Twitter. Contact Max Michor at mmichor@reviewjournal.com or 702-383-0381. Follow @MaxMichor on Twitter.
3708 S Las Vegas Blvd, Las Vegas, NV 89109