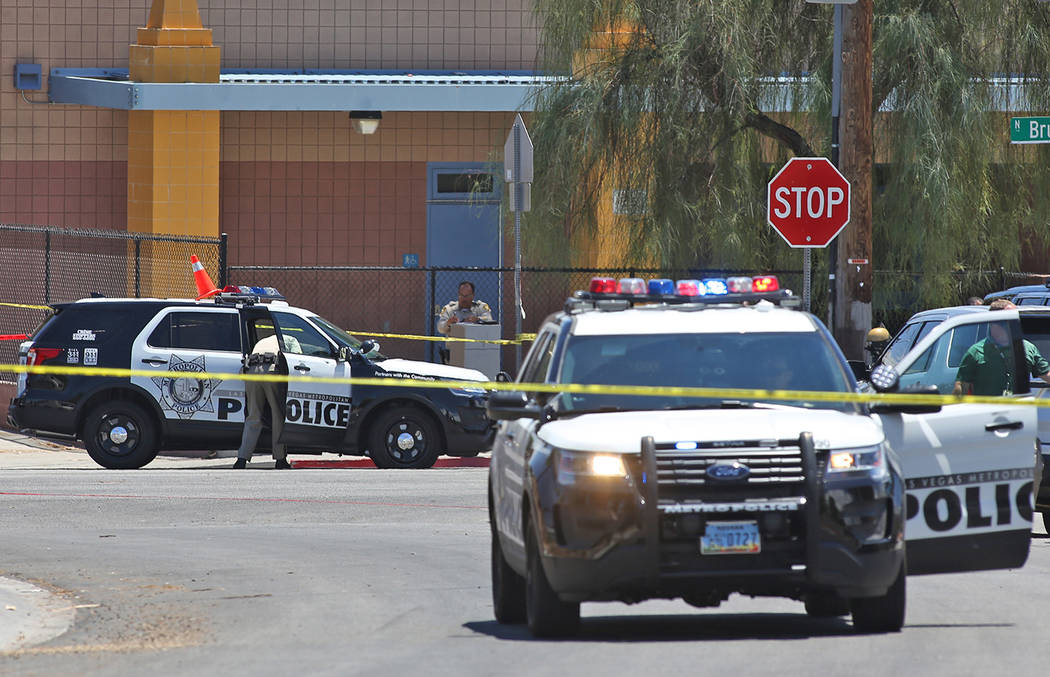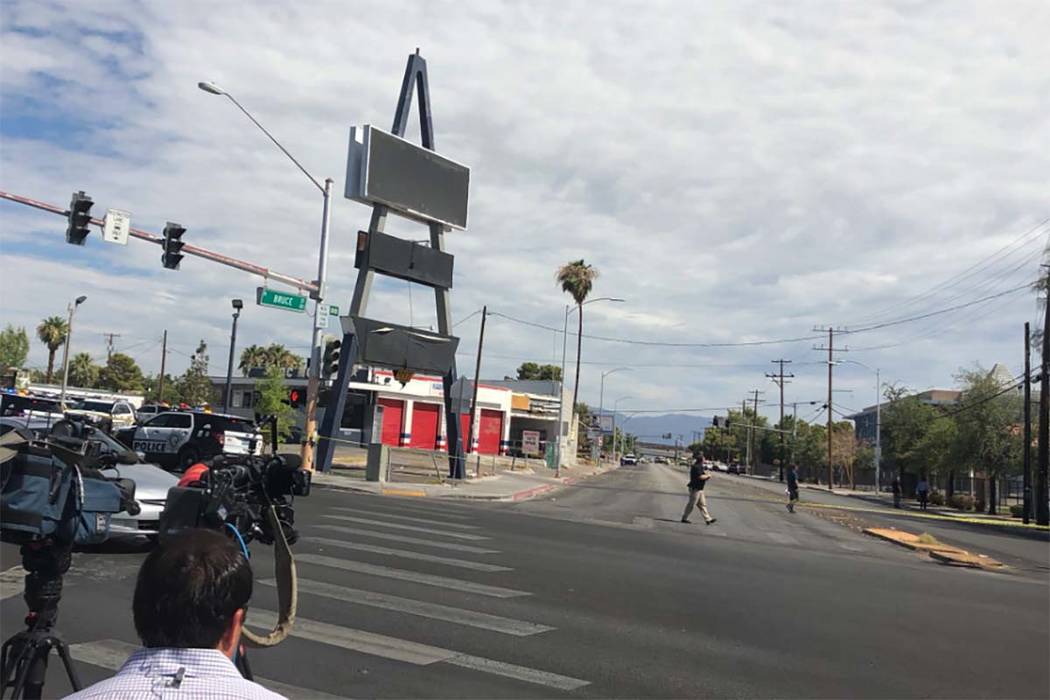 Two people were killed and one man was wounded early Wednesday in Las Vegas when a shooting triggered a police chase and volley of gunfire from officers, causing an elementary school to go into a "hard lockdown" and closing major roads in the downtown area.
The violence began around 7:30 a.m. when officers responded to a shooting at a car wash at 1402 N. Eastern Ave. Calls to police indicated that a man had been shot multiple times in the chest before his attackers fled in a black Ford Expedition, a Metropolitan Police Department news release said.
At about 9:30 a.m., police found a vehicle matching the suspects' vehicle's description near 29th Street and Constantine Avenue, according to the release. When officers attempted to stop the car it sped away, Metropolitan Police Department Capt. Yesenia Yatomi said at a briefing.
The suspects exchanged gunfire with one officer during the pursuit, Yatomi said.
The suspects crashed their vehicle into a wall of Hollingsworth Elementary School, 1776 E. Ogden Ave., according to the release.
Police fatally shot one of the suspects at 18th Street and Ogden Avenue. The other suspect ran onto the grounds of the school before being taken into custody. He was taken to University Medical Center for treatment of a bullet wound or wounds and was listed in stable condition, Yatomi said.
It was not clear if the second suspect was wounded by police or had been shot earlier, she said. The initial investigation shows that two officers fired their weapons during the encounter, according to the report.
No officers were injured.
The victim from the initial shooting was taken to University Medical Hospital, where he died around 10 a.m., Yatomi said.
In a message to parents, Hollingsworth Assistant Principal Mia Nelson said that "there was police activity in our neighborhood and on our campus this morning," but that "students and staff were not involved and are all safe."
About 100 children from kindergarten to fourth grade were on campus attending the school's Summer STEAM Camp, Clark County School District spokeswoman Melinda Malone said.
The school went on lockdown as soon as the disturbance was reported and remained so until dismissal at 1 p.m., Clark County School District spokesman David Roddy said.
Students were escorted out of the school by Metro or CCSD officers, Roddy said.
Police closed several streets in the area as they investigated the shooting, including Bruce northbound to Ogden Street; Fremont northbound to Bruce; southbound Mojave Road to Charleston Avenue; Charleston eastbound to Fremont.
Police will release more information about the officer-involved shooting in 72 hours, Yatomi said. The identities of the officers involved will be released in 48 hours.
It was the 10th officer-involved shooting of 2018 and the fifth fatal shooting. At this time last year, six of the department's 10 police shootings were fatal, according to Las Vegas Review-Journal records.
Contact Katelyn Newberg at knewberg@reviewjournal.com or 702-383-0240. Follow @k_newberg on Twitter. Review-Journal staff writer Amelia Pak-Harvey contributed to this report.