28 percent of mass shooting survivors experience PTSD
October 6, 2017 - 1:22 pm
Updated October 6, 2017 - 5:23 pm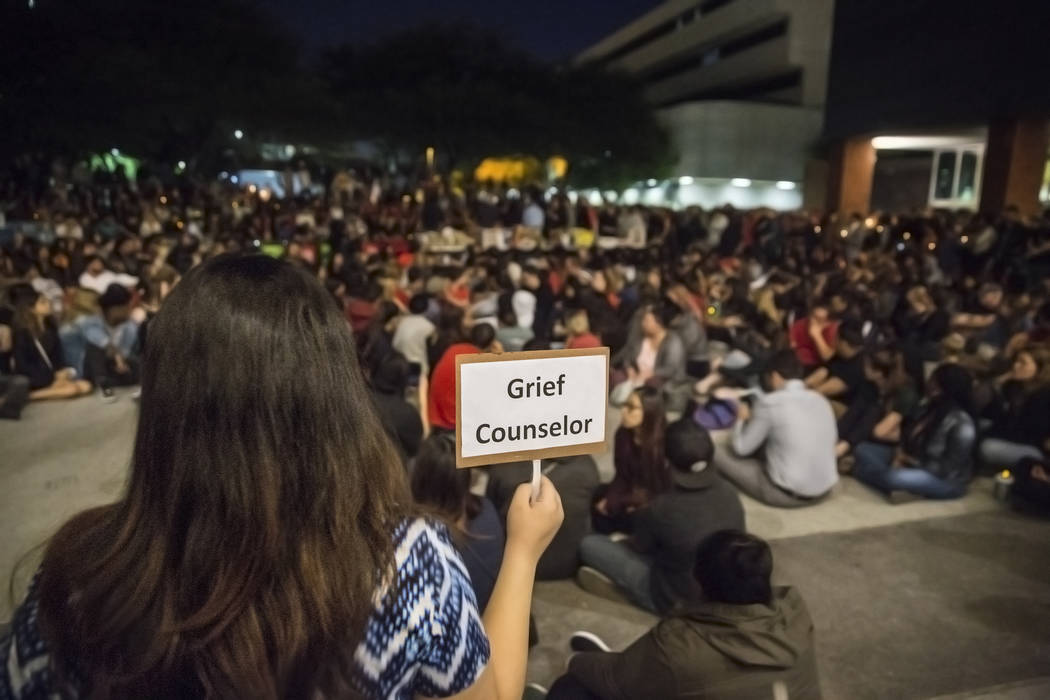 Jill Roberts heard the screaming and crying in the Sunrise Hospital and Medical Center emergency room Sunday night as the families and friends of those killed in the Route 91 Harvest music festival shooting found out their loved ones didn't survive the attack.
"There was a lot of emotion," said Roberts, CEO of the Trauma Intervention Program of Southern Nevada, which mobilized 25 staff members and volunteers within an hour of the attack to provide survivors and family with emotional support at hospitals around the Las Vegas Valley.
Those emotions, for many, aren't going away anytime soon.
Nevada already ranks as one of the worst states for mental health services, according to a March report from the University of Nevada, Reno. The state has about 14 psychologists and seven psychiatrists for every 100,000 people, putting Nevada 38th and 47th in the U.S. for psychiatry and psychology, respectively.
"I'm sure even if we did have ample resources, anything of this magnitude is going to deplete the resources of the city," Roberts said.
While area mental health professionals commend community members for donating their time to provide mental health services for free in the wake of the tragedy, it's unclear what will happen to those needing long-term psychological care for diagnoses like post-traumatic stress disorder and bereavement, said Michelle Paul, a clinical psychologist who directs UNLV's mental health clinic, The Practice.
"The prevalence rate a month from now is going to be higher," she said.
Some counseling services, like the Las Vegas Counseling Center, are filling their group and individual sessions fast.
Despite an overwhelming list of free counseling around Las Vegas, mental health professionals say the need for Spanish-speaking experts — to help hotel or concert employees, for example — has gone largely unfulfilled.
"I was down at one of the casinos on Tuesday night, and that's the first thing they wanted to know," said Karen Anderson, who owns and operates the Las Vegas Counseling Center, one of the few in the valley offering bilingual services.
Without those services, there will be undiagnosed and untreated trauma cases, she said.
What is PTSD?
Research shows that experiencing or witnessing a mass shooting can lead to serious psychological consequences: distress, anxiety, depression, PTSD. Symptoms vary from person to person, Roberts said.
"Where one person might be really emotional and sad, another might have a lot of fear," she said.
Still others might have seemed emotionless Sunday. Those people were probably in shock, she said.
PTSD manifests itself in an estimated 28 percent of people who have witnessed a mass shooting, according to the U.S. Department of Veterans Affairs' National Center for PTSD.
Meanwhile, about a third of mass shooting survivors will develop an acute stress disorder, the center reports.
"Anyone can experience PTSD," said Ramu Komanduri, chief of staff for the VA of Southern Nevada. Komanduri, a licensed psychiatrist, was providing counseling Monday at the Clark County coroner's Family Assistance Center at the Las Vegas Convention Center and met with survivors at Sunrise Hospital on Tuesday.
"We all live in a world where we think it's a safe place, and suddenly, when it's unsafe, we begin to feel overly frightened," he said.
With PTSD, Komanduri said, insomnia, nightmares and isolation are common. People also may lose interest, become angry or be hypervigilant of their surroundings.
Brandon Tulli is already having nightmares after fleeing the moment he heard the first pop.
"I think we were the first people out of the whole festival," said Tulli, 23, from Las Vegas.
He was enjoying the Jason Aldean concert with his brother and girlfriend when terror ensued.
"(Now), it's hard to do anything and get any enjoyment out of anything," Tulli said. "Just knowing other people weren't as lucky."
In the immediate aftermath, counselors provided emotional support through death notifications, family reunions and travel arrangements.
Roberts said a lot of people came to Sunrise on Sunday night saying they had no way of getting in touch with their loved ones. She had employees and volunteers deployed at hospitals, Metropolitan Police Department headquarters and on the scene.
Now, Roberts and Komanduri expect there will be survivors who feel guilt for living while their friends and family died.
"There's a sense of, 'Could I have done more? What could I have done differently?'" Komanduri said.
Tulli has an answer: "I could've gone back in."
Moving forward
As the days since the shooting progress, Komanduri said, "We need to acknowledge and accept these feelings. Even health care professionals and those treating people will have these emotional responses."
The Trauma Intervention Program will provide counseling for its staff and volunteers in the coming days, Roberts said.
It's important to recognize symptoms that might need attention from a mental health professional, like flashbacks, severe depression, substance use and hallucinations, the National Center for PTSD warns.
If any feelings last more than a month, seek help.
"We need to eventually realize this is an uncommon event, and there's a lot of good in the world," Komanduri said.
Still, the memories may last forever.
"I'm sure for a lot of people, they're going to look at life as before and after, and they're going to be changed," Roberts said. "People don't get over tragedies. They just learn how to live a new way."
Contact Jessie Bekker at jbekker@reviewjournal.com or 702-380-4563. Follow @jessiebekks on Twitter.