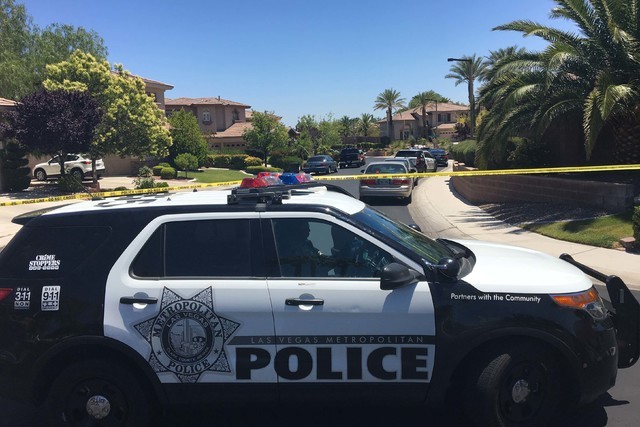 Two parents died after one of their adult sons apparently killed the couple and then himself in their Summerlin home Wednesday afternoon.
The son was in his 30s, and though he had moved around over the last few years, he and his parents most recently lived together at the 10301 Wood Owl Court house where they all died, on the outer corner of a cul-de-sac in the Talon Pointe neighborhood, near Town Center and Anasazi drives.
Neighbors said it was a summer home and that the family was from the Chicago area. Metro reported to the house after at least one Illinois relative called a local relative, who then called police at about noon.
In the hours afterward, and in the heat, detectives filed in and out of the house as neighbors stood under the shade of their trees and talked.
Two teens on skateboards whizzed by, enjoying the last day of school and the promise of summer, as a few families chatted in fear, given that there was a home invasion a few streets down in the same community last week.
"This is a great neighborhood," Metro Capt. Rich Fletcher said. The apparent murder-suicide Wednesday was shocking but isolated. "We are not currently looking for anybody in the neighborhood; we have no suspects that we're looking for."
Homicide Lt. Dan McGrath said the son had a history of mental illness but no criminal record. McGrath did not name the family, but property records show the home belonged to a couple in their 60s whose main address is listed in Chicago: Arthur Wulf and Jan Morgan-Wulf.
A source later confirmed the son involved was Aaron Wulf, a 36-year-old who once had a small acting role in an episode of "Monk," a crime show, where he played a "young officer."
Though the murder-suicide was apparent, it's unclear how the three people died. McGrath said the bodies had gunshot wounds and stab wounds, so the coroner's office would have to determine the official cause of death. The Clark County coroner's office will also confirm their identities.
"What we have is a family tragedy," McGrath said.
The parents' deaths were the 72nd and 73rd homicides that Metro has investigated this year. Because the son's death was initially considered a suicide, it was not included in that tally.
Jim Carollo, vice president of the community's homeowners association, said he'd known the couple about seven years.
Carollo said the last time he saw "Art" Wulf, he "was sitting on his driveway, reading the paper on a lounge chair probably three, four weeks ago."
Review-Journal reporter Lawren Linehan contributed to this story. Contact Rachel Crosby at rcrosby@reviewjournal.com or 702-387-5290. Find @rachelacrosby on Twitter.