5K, portrait events honor victims, survivors of Las Vegas shooting
Updated October 1, 2018 - 12:16 am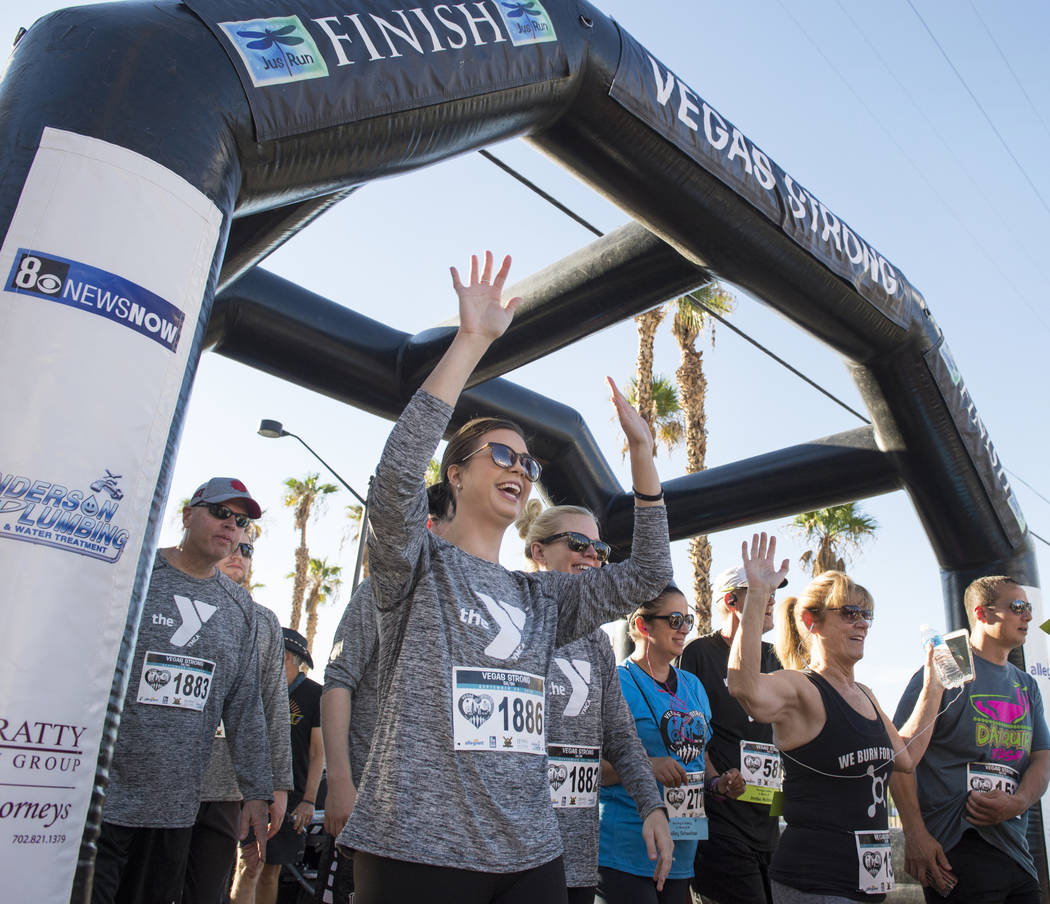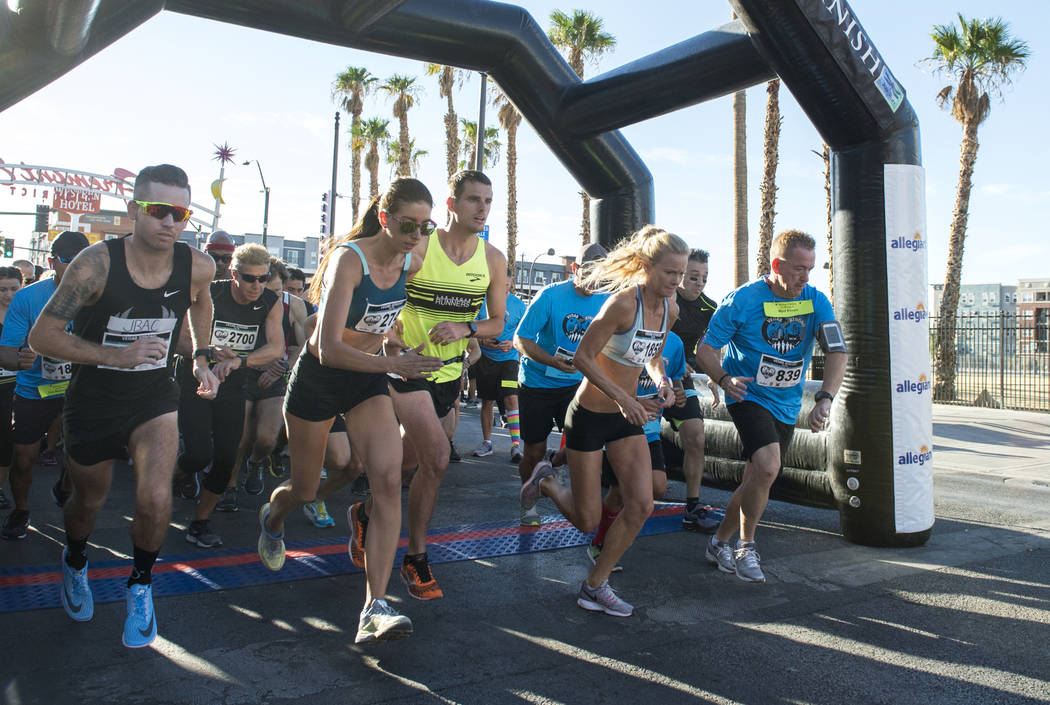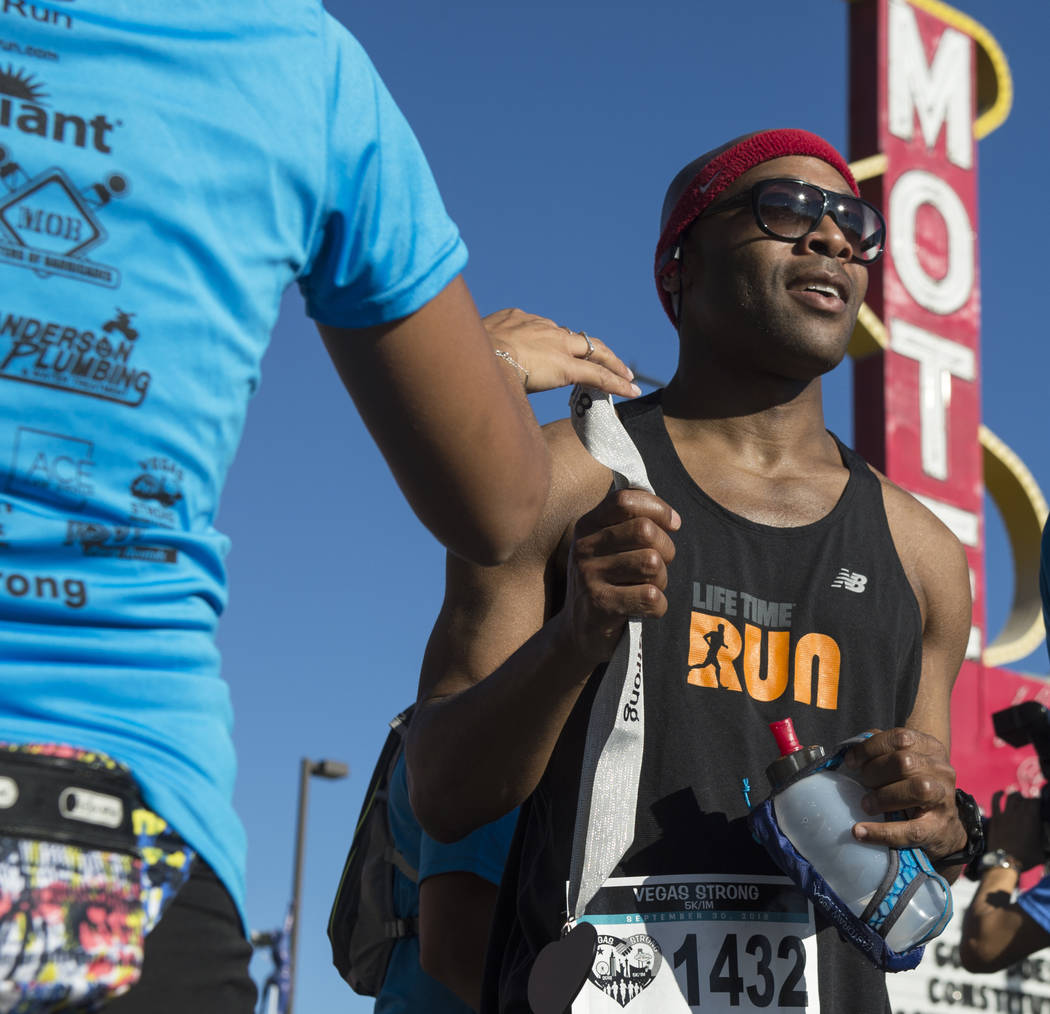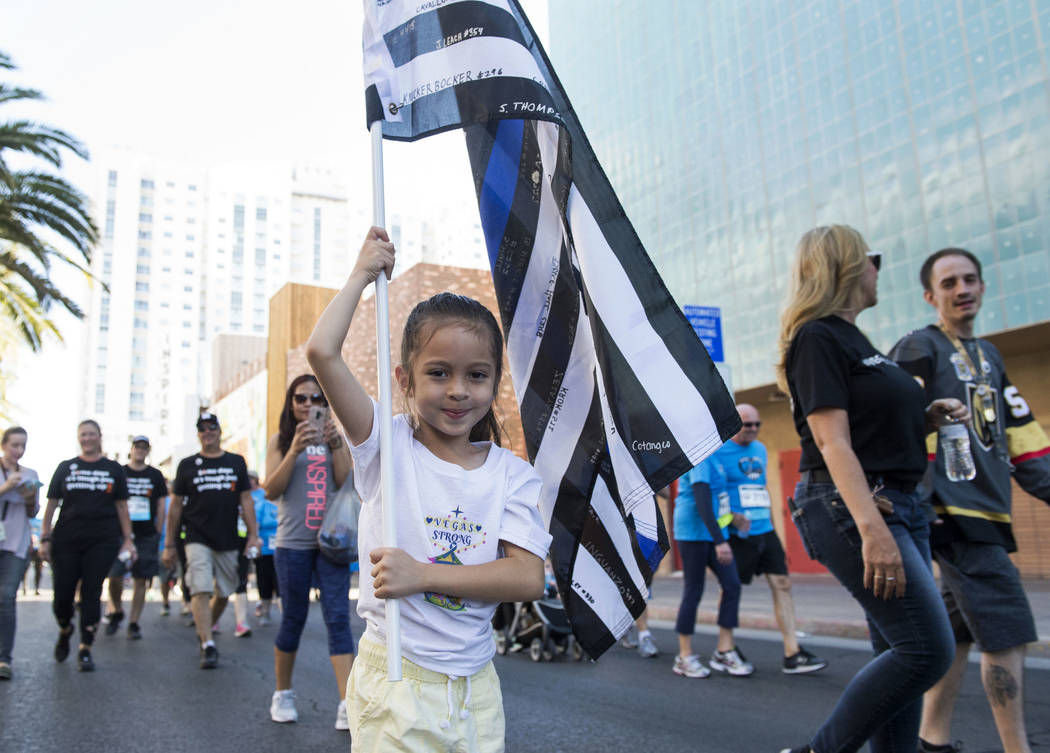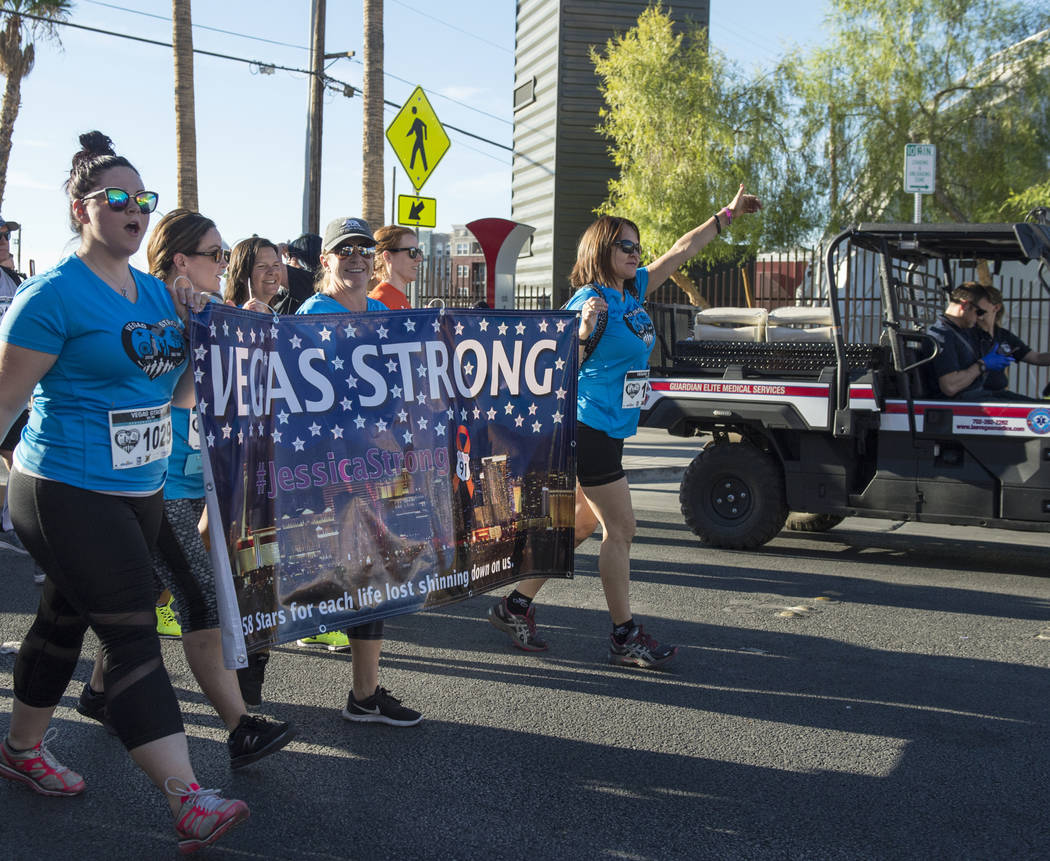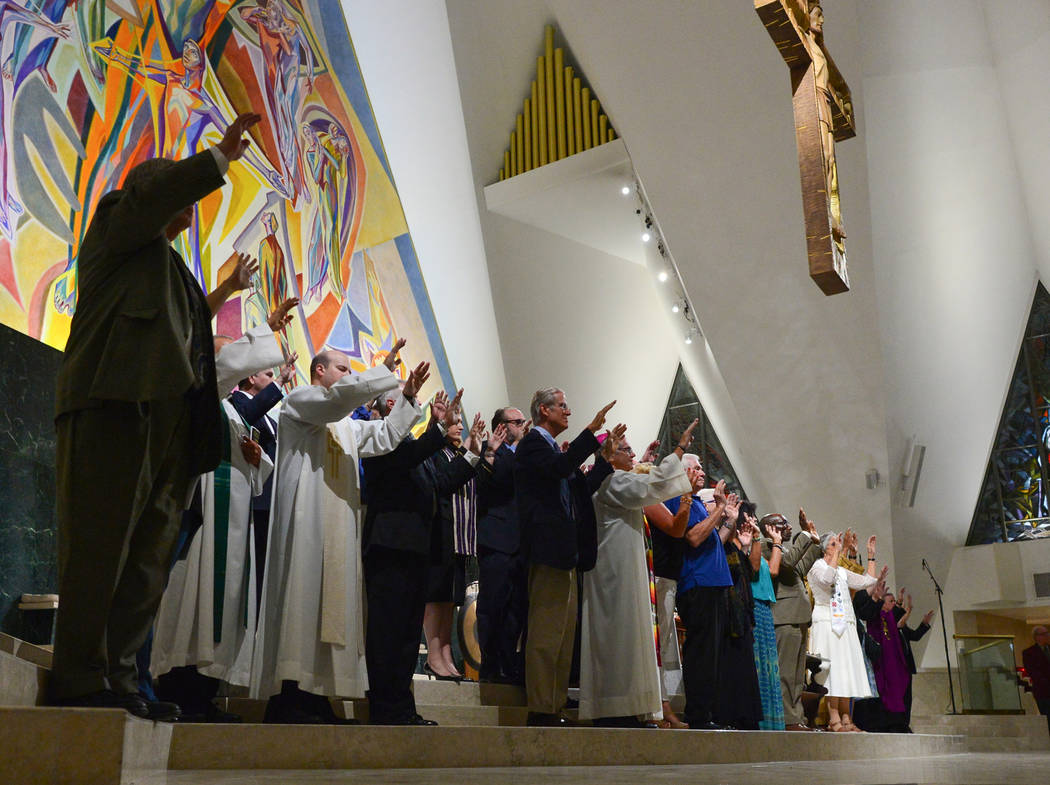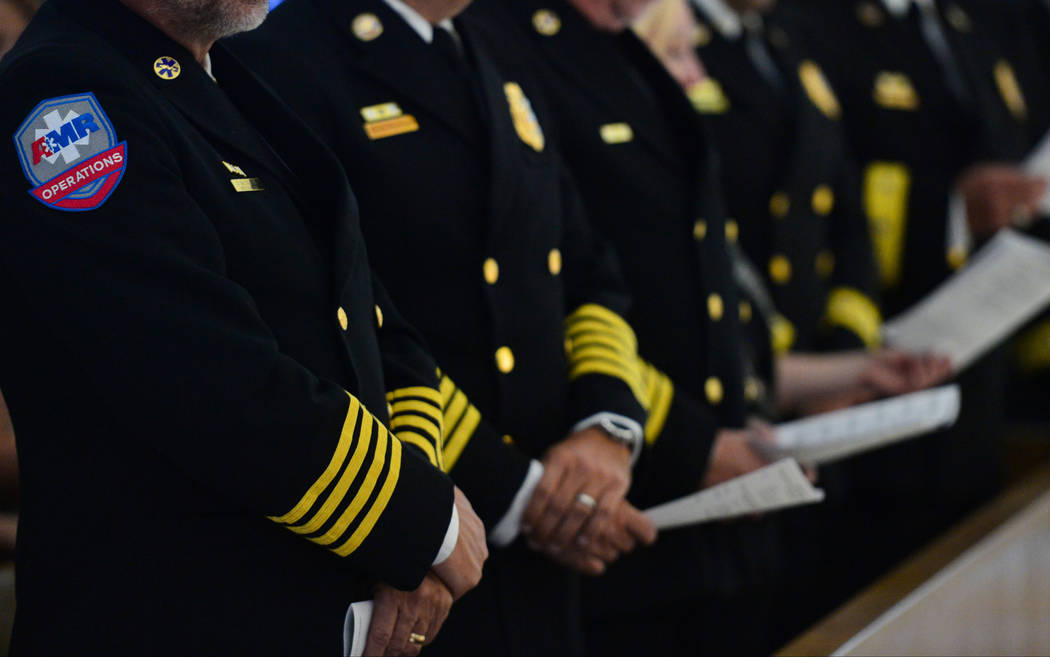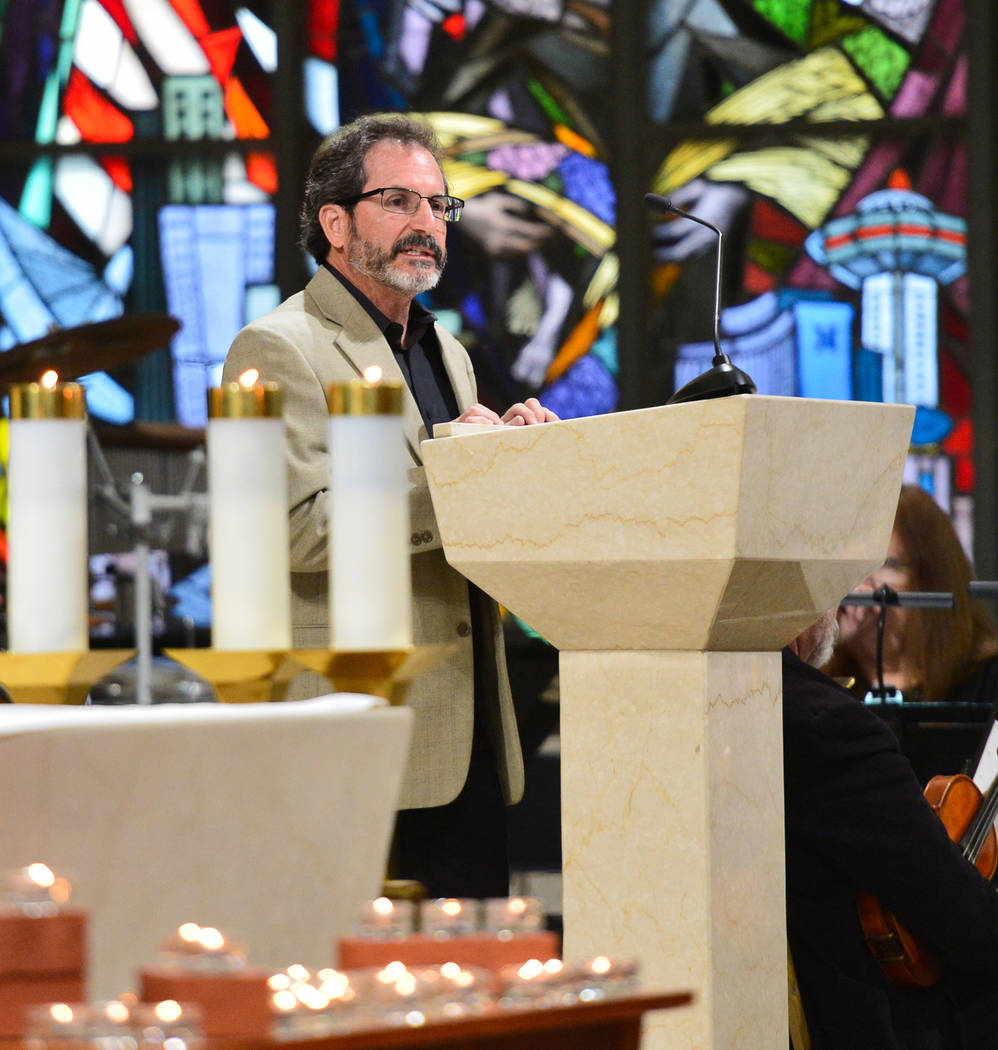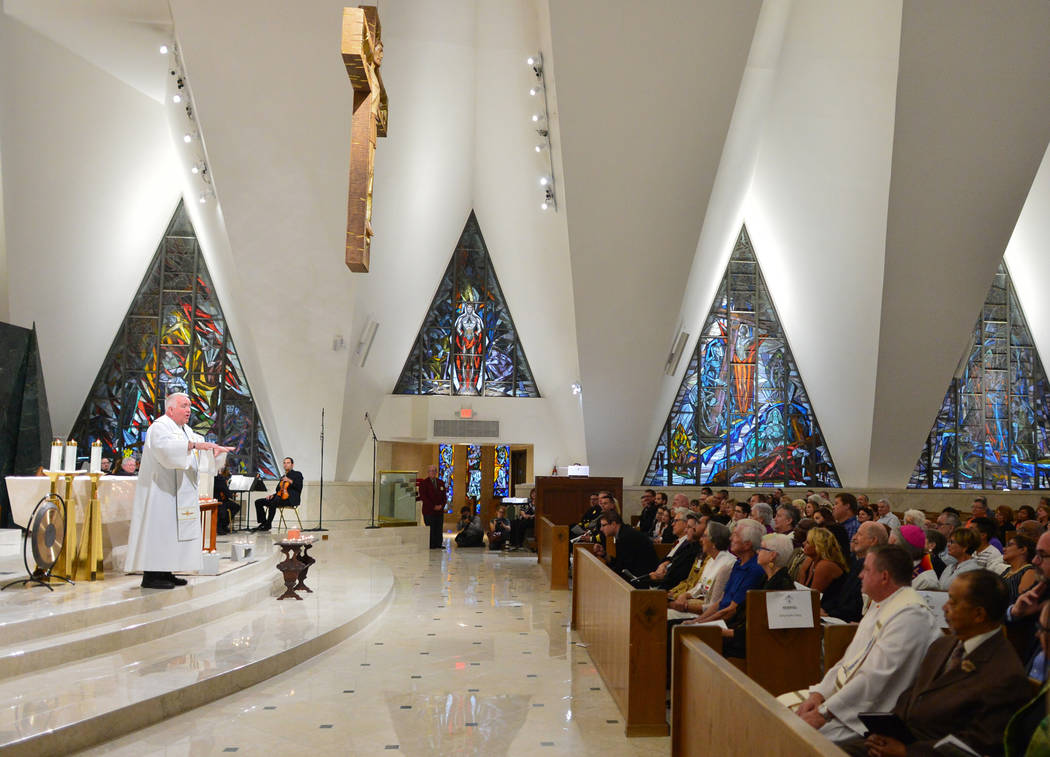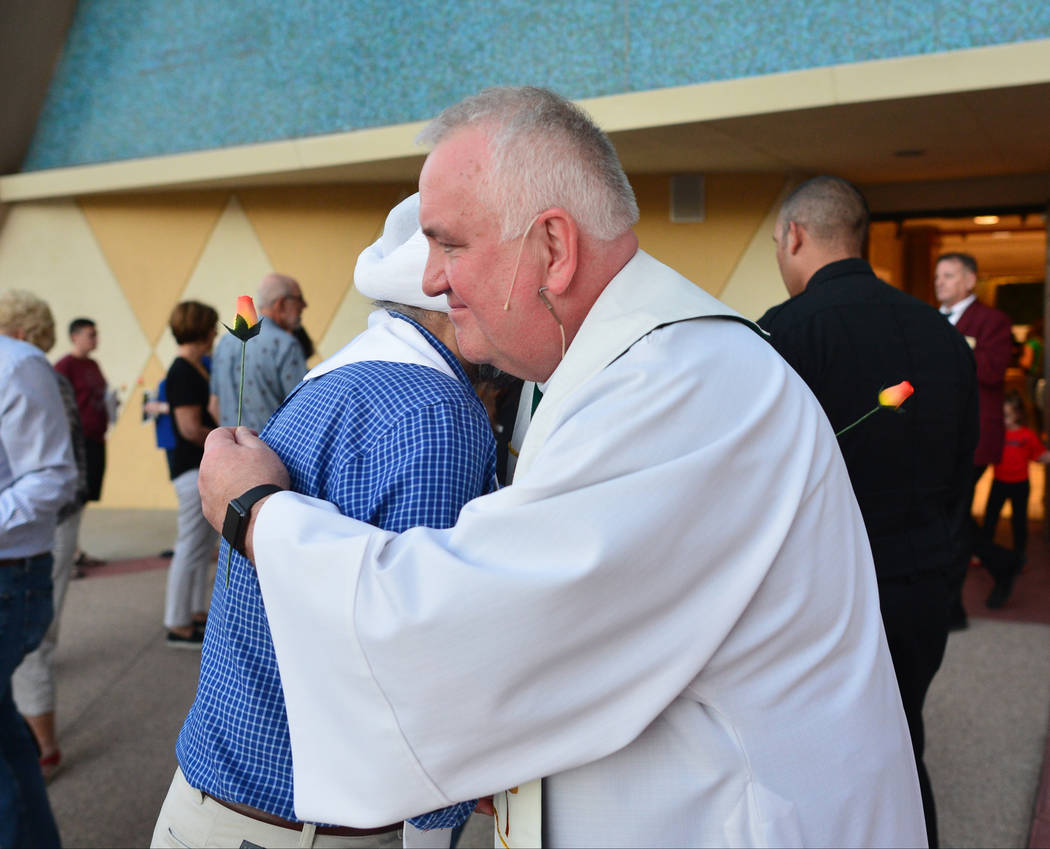 Hundreds of people wearing bright blue "Vegas Strong" shirts walked and ran down Fremont Street on Sunday morning.
It was a way to heal, participants said, a day shy of a year after 58 people were killed and hundreds more were injured in a shooting at the Route 91 Harvest festival.
"It's like putting an end to the year of tragedy and figuring out how to start moving on and to celebrate," said Tracy Szymanski, 51. "We just want to come out and support all of the other survivors and kind of reconnect."
The Vegas Strong 5K/1 mile was one of several events held throughout the Las Vegas Valley on Sunday to honor the memory of Oct. 1 mass shooting victims and to support the survivors.
Szymanski, director of guest services at Sunrise Hospital and Medical Center, worked the night of the shooting. Her job was to assist families.
"I made sure they had clean clothes and cellphone chargers, and I organized the service dog visits over the course of the next few weeks."
Szymanski's group wore black shirts Sunday that read "Some days it's tough just getting up" on the front. The back read "Fighter … a person who does not easily admit defeat in spite of difficulties or opposition."
The people in the group made the shirts because they didn't think the word "survivor" aptly described them.
"In our minds, a survivor is somebody who was physically hurt," said Jennifer Schuette, 46. "We would focus on 'warrior' or 'fighter.' It's still a push and a fight everyday to continue to move forward. You still struggle emotionally and mentally."
Courtney Redsull, 40, who was at the festival, said she ran to show support for first responders and others who helped that night.
"I never really thought of Vegas as a strong and close-knit community before," Redsull said. "After Oct. 1, I was just blown away by how people came together, how people showed love and support for people they didn't know.
"I think it was the worst night of a lot of people's lives for a variety of different reasons, so it's good to be here to support all of those people, no matter what their reasons for feeling like it was a difficult time."
Dear Love: A Ceremony of Hope, Healing and Transformation
They were of different faiths and backgrounds, but they worshipped together Sunday evening as Las Vegans.
Faith leaders, first responders and residents gathered at the Guardian Angel Cathedral just off the Strip to share a simple but powerful message: Love will win.
Worshippers filled the church pews — some in "Vegas Strong" shirts, others in religious garb and some in uniform — dabbing tissues to their eyes as faith leaders honored those who risked life and limb to help one another inside the festival grounds last October. They spoke of the healing power of community and the necessity of love, even in the most trying of circumstances.
Pastor Charlotte Morgan asked the crowd to live peacefully and to love one another. As the evening light dimmed the ornate stained glass, she said that to appreciate its beauty, people must gather together inside the church and wait for the light to illuminate the patterns.
"Let the light shine through," Morgan repeated.
Teji Malik, a Sikh leader of the Interfaith Council of Southern Nevada, said interfaith efforts like Sunday's represent "a bridge that passes over the gorges and walls that are constructed by the religions."
Comparing the people of Las Vegas to a rose he was handed on his way out of the service, Malik emphasized a message of love.
"How can you weed out the weeds with the 'Roundup?' You don't," Malik said. "You plant more beautiful flowers that kill the weeds."
Cantors Jesica Hutchings and Dan Smythe performed the song "Dear Hate," written by musician Maren Morris and released shortly after the Oct. 1 shooting. Fifty-eight candles flickered nearby as they sang the chorus, "Love's gonna conquer all," from the pulpit.
After the service, Bishop George Leo Thomas said he saw the spark of God in the eyes of those worshipping in the pews.
"I felt very blessed tonight to be part of something that is so powerful and obviously so healing," Thomas said.
During the service, Thomas had asked the servicegoers how to mend a broken heart. His answer: Look to those who helped, healed, loved and stood together since Oct. 1.
"Standing strong together with faith in God, we can live and love again," Thomas told the crowd.
They responded in unison.
"Amen."
Beautiful Lives Lost Project
Portraits of the 58 people killed in the Oct. 1 shooting were displayed Sunday afternoon at the JW Marriott Las Vegas in Summerlin. Quin Sweetman, an artist from Portland, Oregon, had asked 54 artists to paint the victims.
Sweetman painted Charleston Hartfield, the off-duty Las Vegas police officer killed at the festival, after she heard his story on NPR. She was struck by the way Hartfield's story made her think of her husband, who she said is the type to help others before thinking of himself.
"I didn't even know what he looked like," she said of Hartfield. "It was a blessing later to learn that he was a handsome man with these beautiful greenish-blue eyes and a nice smile."
Sweetman also was inspired by a portrait she painted of her mother a few years after her death, she said. She captured the qualities she loved about her mother in a way that photographs couldn't, she said.
"I want to make that happen for them," Sweetman said of the victims' families. "I want to capture his likeness, but I also want to capture the feeling I got from him."
The paintings were gifted to the victims' families at a private event Sunday afternoon.
Cynthia Garcia, 53, of Fillmore, California, was at last year's concert, too. She and her husband traveled to Las Vegas to see the portraits.
"They're absolutely beautiful. I'm so glad we came," Garcia said. "We didn't know any of the 58, but it seems like we know them. It's hard to explain. Just reading a little bit about them and doing some research about what they liked, I feel that I know them."
Garcia called the anniversary of the shooting "overwhelming" and "heartbreaking." She got a Route 91 tattoo shortly after the shooting.
"It's a remembrance of those 58, another way not to forget," she said. "We were all impacted, all differently. But we're still here; we're blessed. We have to live life to the fullest."
Sweetman said it is easy to become paralyzed by fear and anger after a tragedy. But she wanted to do something to help people heal.
"We can help each other without complicated acts," she said. "You feel better, and you help others."
Contact Kimber Laux at klaux@reviewjournal.com. Follow @lauxkimber on Twitter. Contact Mike Shoro at mshoro@reviewjournal.com or 702-387-5290. Follow @mike_shoro on Twitter.