A month later, Las Vegas shooting crime scene still frozen in time
October 31, 2017 - 6:20 pm
Updated October 31, 2017 - 10:50 pm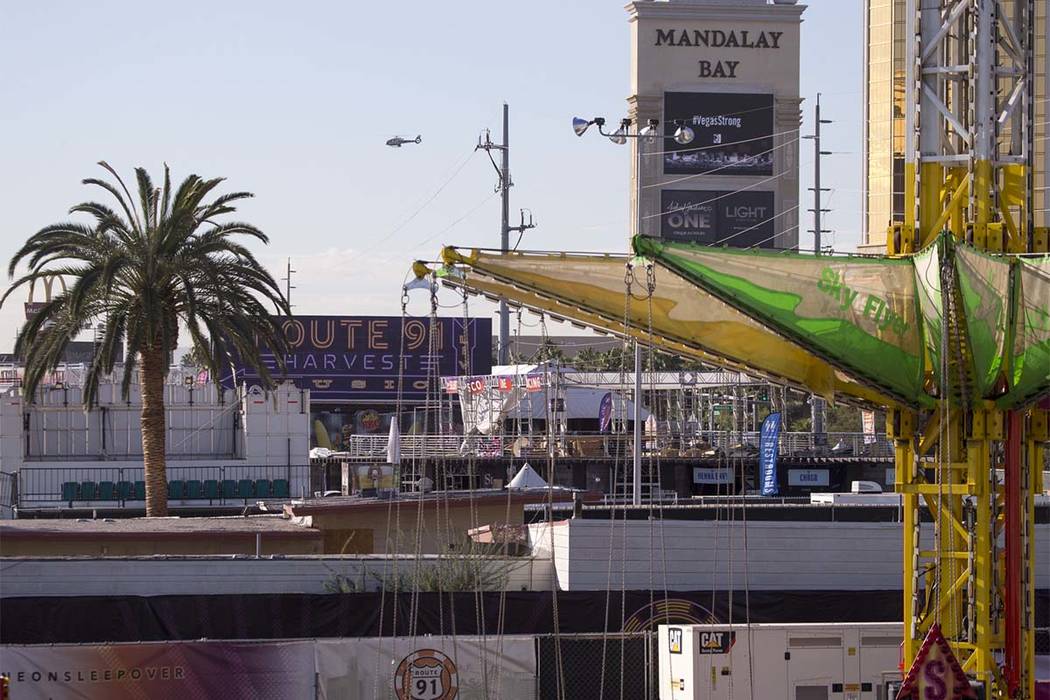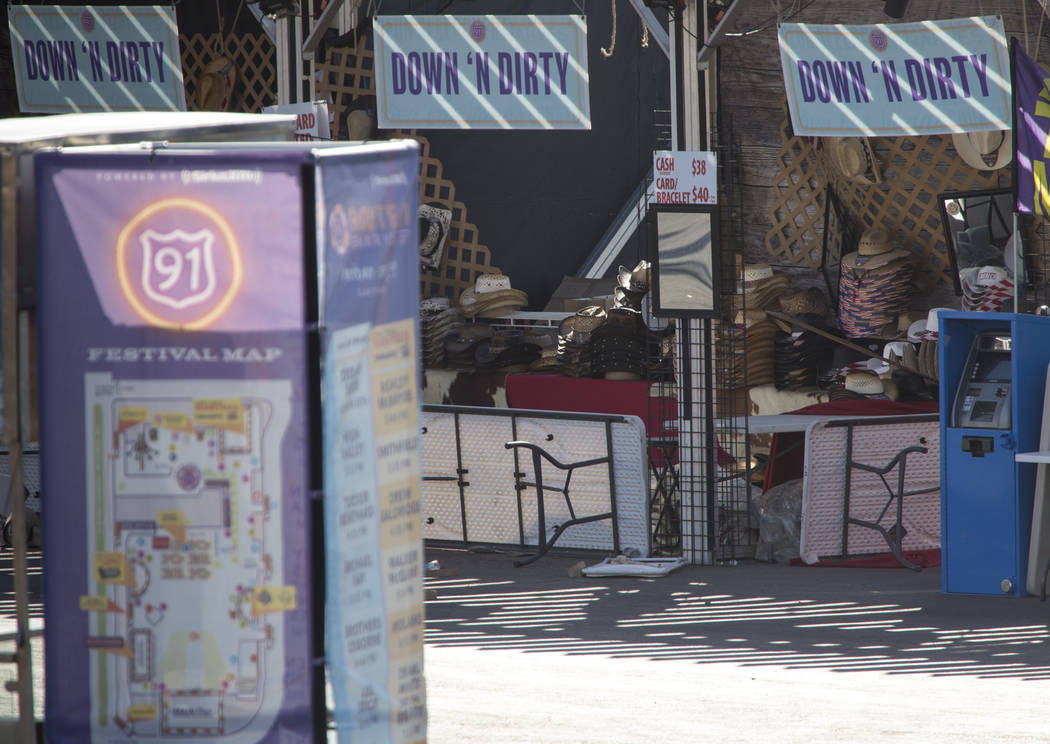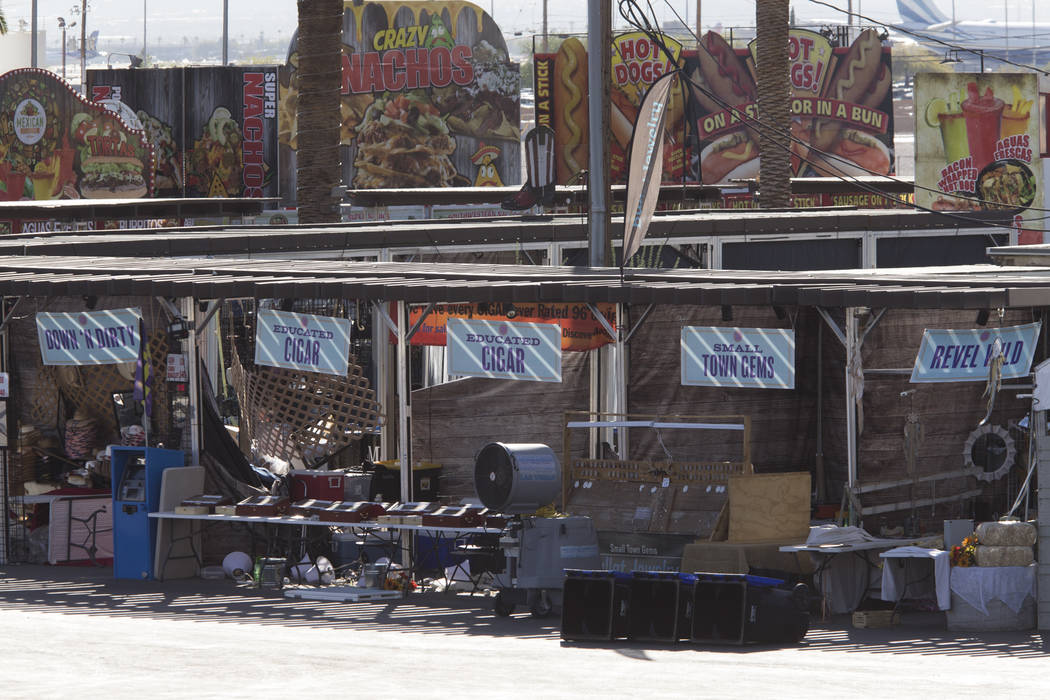 Signs still beckon fans inside to join the "three-day neon sleepover" despite police cars posted at entrances and the reams of caution tape ringing the site.
It's been a month since a gunman aimed a hail of automatic gunfire toward thousands of country music fans on the Strip, killing 58 and injuring over 500 more, but the concert grounds have sat as if frozen in time as a large and public crime scene.
The shell of the Route 91 Harvest music festival main stage is still standing at the Las Vegas Village fairgrounds; signs tout Sam Hunt, Jason Aldean, beer tents and burgers. Orange '91' flags flutter in the wind while a poster promotes the festival "this weekend."
Randy McCammack stopped in his tracks just in front of the Luxor on Monday. His eyes were drawn across Las Vegas Boulevard to the site of the massacre.
"I didn't know it would still be intact," said McCammack, who is visiting from Plainfield, Indiana. "But they've got a lot of ground to cover."
McCammack and his companion, Debbie Roberts, were on their way back from the Welcome to Las Vegas sign. They were determined to see the memorial set up there for the 58 victims.
"It's sad. It's heart-wrenching. I have goose bumps," said Roberts, raising an arm.
Return to normalcy
The state of the Las Vegas Village fairgrounds will begin to change this week. Vendors who were manning booths when the shooting started have been waiting for a month to retrieve merchandise and equipment that's been stuck — the condition of the site frozen by a court order. Vendors will be able to collect their merchandise in stages, beginning Wednesday.
Attorneys and forensic experts scoured the concert venue Tuesday, after reaching an agreement in court Monday to allow them to inspect and photograph the property. The future of the open-air venue is unclear.
But scenes of normalcy are returning to the Strip. Double decker buses breeze past the site. Tourists stroll with beers from one resort to another. People pose for pictures in front of the Luxor's giant sphinx, right across from the festival grounds.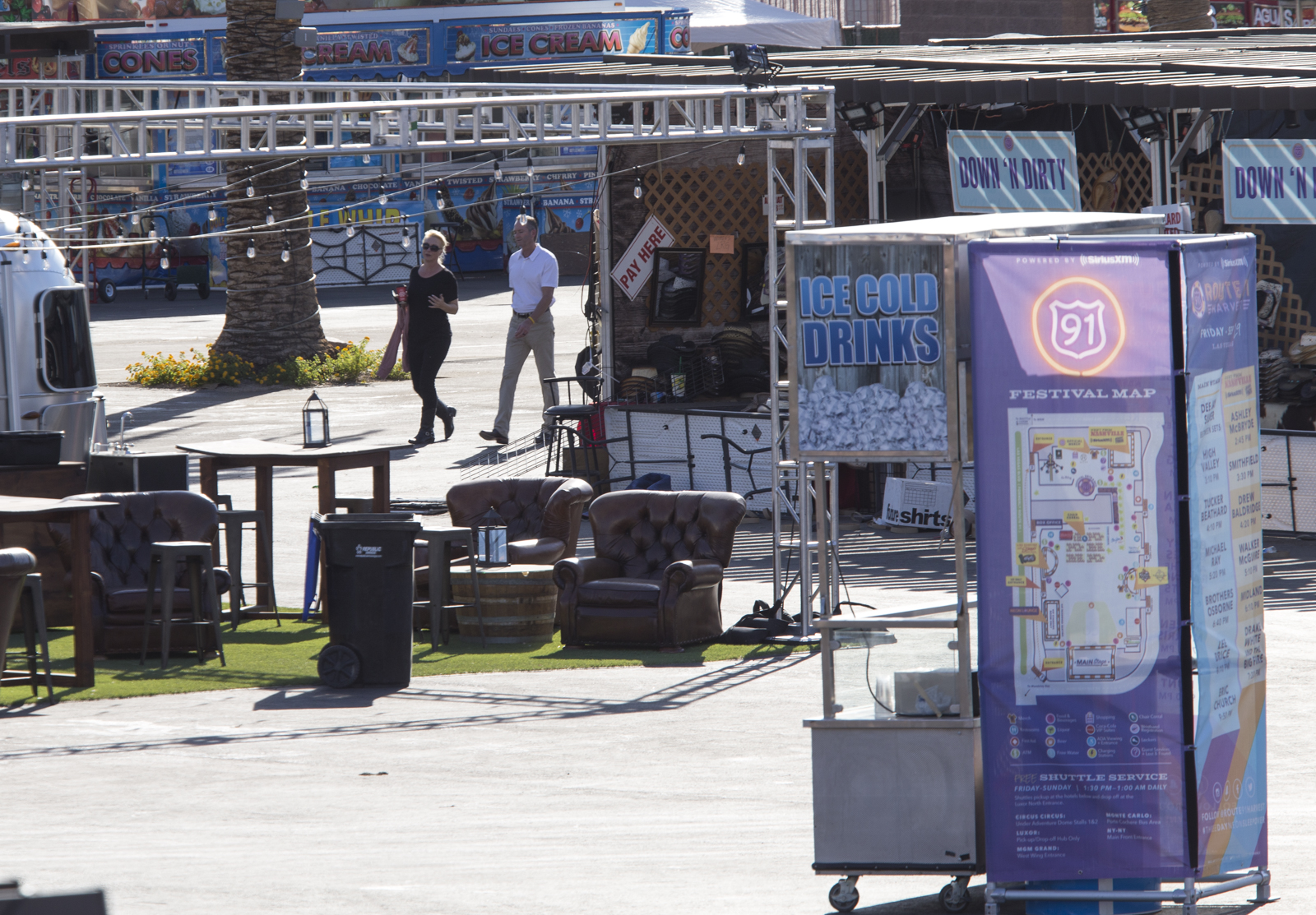 For some on the Strip, it's impossible not to stop and stare at the morbid monument.
A fedora-clad man stopped Saturday to take a photo near the festival's "Next From Nashville" tent, the stage where on-the-rise country musicians performed during the Route 91 festival. A tangle of caution tape blocked Reno Avenue from traffic, and Mandalay Bay's golden tower rose behind the festival grounds.
Other groups point and crane their necks toward the corner of Mandalay Bay, where the gunman holed up in a 32nd-floor suite and opened fire.
A week to the minute after the shooting, a remembrance walk along the Strip passed the concert site. A hush fell over the once talkative walkers as they took in the signs and the stage in the darkness.
Even when the site is cleared, it could be an open wound for people who were there that night — and for the 58 families whose loved ones were killed, Jessica Watts said.
Watts knows this because every day she drives past the Aurora, Colorado, movie theater where her cousin was shot to death in 2012.
"With an outdoor venue it's open to a lot more scrutiny — planes passing over and gawkers," Watts said. "It's a very morbid scene and it's very sacred to those whose lives were affected that night. It's going to be harder because it's an outdoor venue."
'Just horrific'
Watts' cousin, Jonathan Blunk, is buried in Reno, where he went to high school and where his father and children live.
The theater reopening six months after the shooting was traumatic for Watts. Many find it a place to escape into a new film, but for her it brings back memories of "sirens and screams."
"I find it hard to see cars in the parking lot. People who decide to go back to that theater and enjoy movies there — I can't even fathom it," Watts said.
There was healing in restoration for the Sikh community in Wisconsin where a white supremacist killed worshippers in a temple.
Having to go by the killing ground, it's just horrific. It's reliving the moment that life stops.
Amar Singh Kaleka's father was one of the six victims killed at the temple he founded. Kaleka acknowledged there can be trauma associated with returning to the shooting site. Half of the families of victims returned to the temple; many others did not.
But hundreds of people worked during that week in August 2012 to have the temple reopened the following Sunday.
"We took this as a direct attack on the type of people we are. He wanted us to stop praying and meditating," Kaleka said. "We took it upon ourselves as kind of a challenge to come back and get the temple up as quickly as possible."
The open space concert venue leaves nothing to be razed and rebuilt, said Anita Busch, whose cousin was also a victim in the Aurora theater shooting. Busch and surviving family members from other mass shootings traveled to Las Vegas days after the Oct. 1 shooting to offer support. They've traveled the country following mass shootings to help guide surviving family members through their grief.
"In Newtown, they knocked down the school. You can't knock down a fairground," Busch said. "Having to go by the killing ground, it's just horrific. It's reliving the moment that life stops."
Contact Jamie Munks at jmunks@reviewjournal.com or 702-383-0340. Follow @JamieMunksRJ on Twitter.