Businesses say Las Vegas shooter 'does not reflect' Mesquite
October 4, 2017 - 8:00 am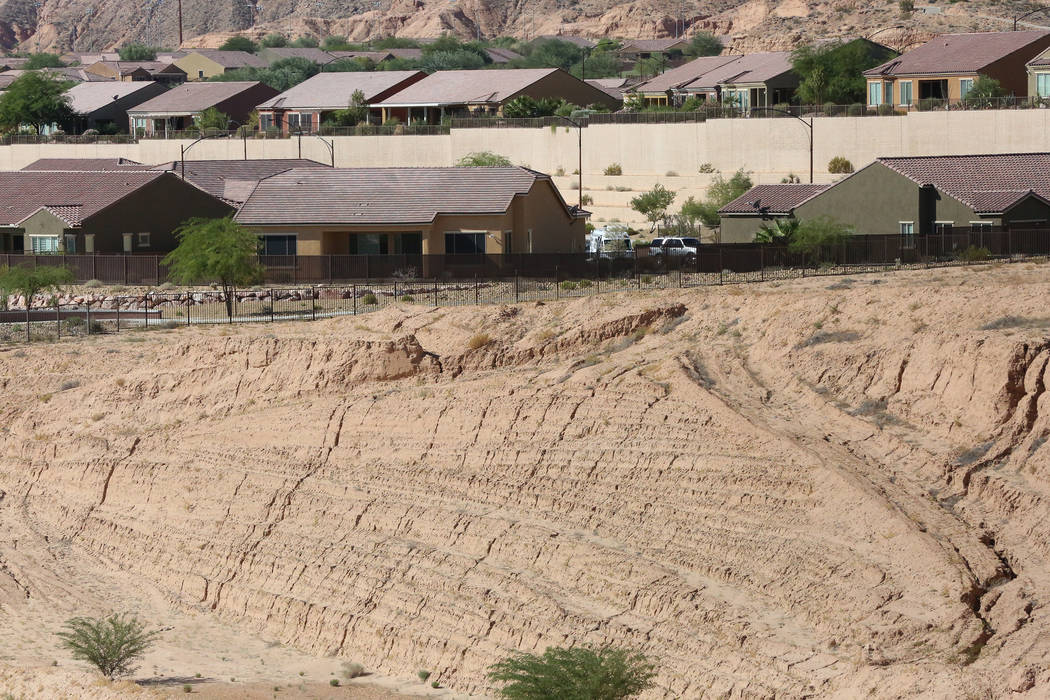 Stephanie Lawrence couldn't contain herself any longer and let the tears fall near her coffee cup.
Like most people in Mesquite, Lawrence, a crew trainer at a McDonald's fast-food restaurant near the home of accused Las Vegas Strip shooter Stephen Paddock, couldn't say she knew the man or had even seen him around.
But for the 29-year-old mother of two, hearing the details come out about Paddock's carnage raised troubling questions.
What if he had done something in town? How had something that happened elsewhere in the world come to the valley?
"It's kind of sad," she said. "It's a beautiful city. I love it here."
An outsider
Paddock was a ghost in the place he called home before killing at least 59 and injuring at least 527 people during a country music festival Sunday night.
Most managers and staffers at businesses around Mesquite declined to talk about Paddock, lest they be associated with the man who perpetrated the deadliest shooting in modern U.S. history.
But Paddock did not belong to the community, Mesquite Chamber of Commerce CEO Brenda Snell said.
Though Paddock had been seen around town, Snell said the reported millionaire never appeared at any events, from a fundraiser for the high school choir to a recent gifting of a customized truck to a longtime coach in the Virgin and Moapa valleys who is paralyzed from the waist down.
"Mesquite people are caring people," the lifelong Mesquite resident said. "He does not reflect the community."
Snell grew up in the city when it was known for farming and dairy. Paddock was one of about 2,500 people to move into the city between 2011 and 2016. At its 1983 incorporation, the city housed 800.
In August, 115,500 people visited Mesquite, an increase of 14.7 percent year over year, according to the Las Vegas Convention and Visitors Authority. About 76 percent of rooms were occupied in August, a 6.6 percent increase year over year.
Chamber members have been talking about what Paddock's residency will mean for the city. Will house building slow? Will tourists still play the city's golf courses, visit the casinos?
Buck Schaeffel, a Mesquite real estate agent, said he expects the Mesquite association with the Las Vegas Strip shooting to disappear from the public conscious.
Schaeffel said he's shown houses in Sun City. Potential residents are taken in by the clubs, golf courses, pools and clubhouse. He said he predicts the part of the community where Paddock lived will continue to develop.
"It's not the community's fault the guy chose to move here," he said.
Not in gun club
In September, R&R Partners announced that Mesquite and other places outside the Strip would become a greater part of its $15.5 million annual advertising and marketing contract with the Las Vegas Convention and Visitors Authority.
The city houses about 20,000 people during the winter months, when "snowbirds" from colder states take up residence in Mesquite's warmth.
Paddock had purchased a home in Sun City, a 55-and-up community, in 2015 for $369,000, according to county records. The home had been built the year before, overlooking a sandy ravine with a skyline of mountains and the rest of town.
Sun City had been opened in 2007 and survived the recession. Paddock's Prominence subdivision still had undeveloped plots of land with houses under construction nearby.
On Monday, a citizen volunteer patrol checked the IDs of residents before letting them drive in while Mesquite Police cars stood guard and other officers searched Paddock's house for evidence.
Chris Sullivan, owner of Guns & Guitars, said Paddock bought guns at the store but didn't appear to show instability. It was unclear if those guns were used in Sunday's attack.
"We mourn for this tragedy and our thoughts and prayers are with the families of the lost and injured," Sullivan said in a statement.
"All necessary background checks and procedures were followed, as required by local, state and federal law," he continued.
Nathan Shaw, whose family runs The Smokin Gun Club in Mesquite, said he'd never seen Paddock and hadn't heard Paddock had visited the range.
Many questions
James Thompson said he works as a cashier at a Mesquite Taco Bell restaurant and has served Paddock and his companion Marilou Danley.
A friend of Thompson's always served them at Eureka Casino in the city, he said.
Thompson said he only saw the couple twice in the year since Thompson had worked there. Paddock did the ordering. Danley seemed quiet. Both seemed normal.
Thompson, 18, said he's lived in the town for 10 years and never thought it'd be associated with such a figure. He didn't like to think about whether Paddock thought about targeting a local event, like a big homecoming game.
"It does scare me somewhat," he said. "At the same time, I don't want this to leave a lasting impression on Mesquite."
Contact Wade Tyler Millward at wmillward@reviewjournal.com or 702-383-4602. Follow @wademillward on Twitter.