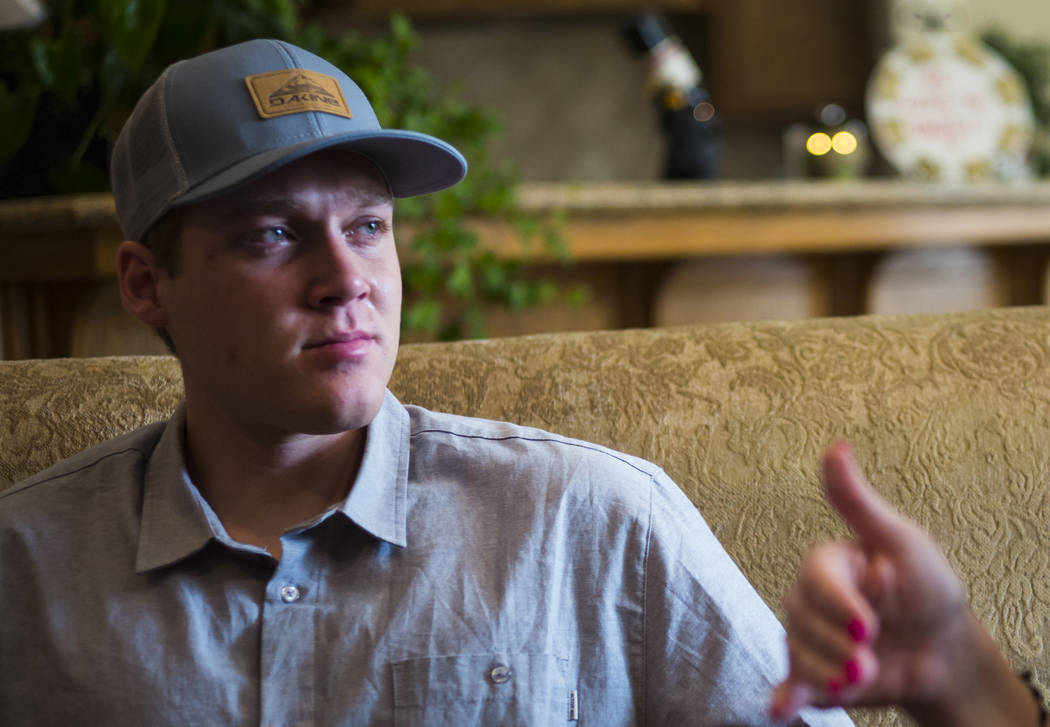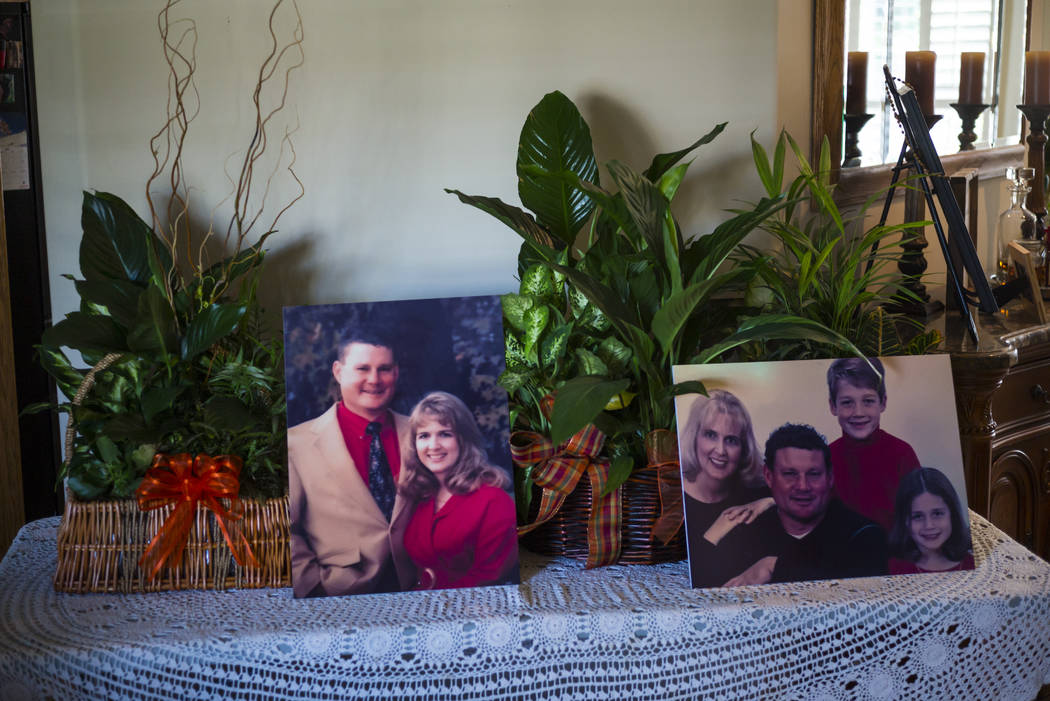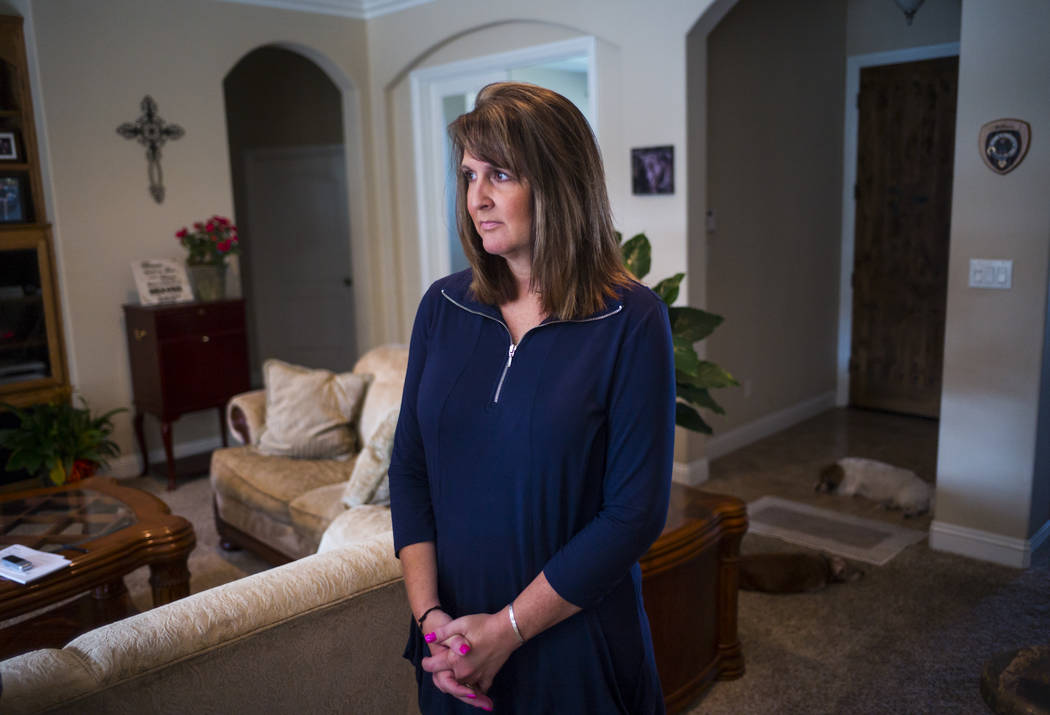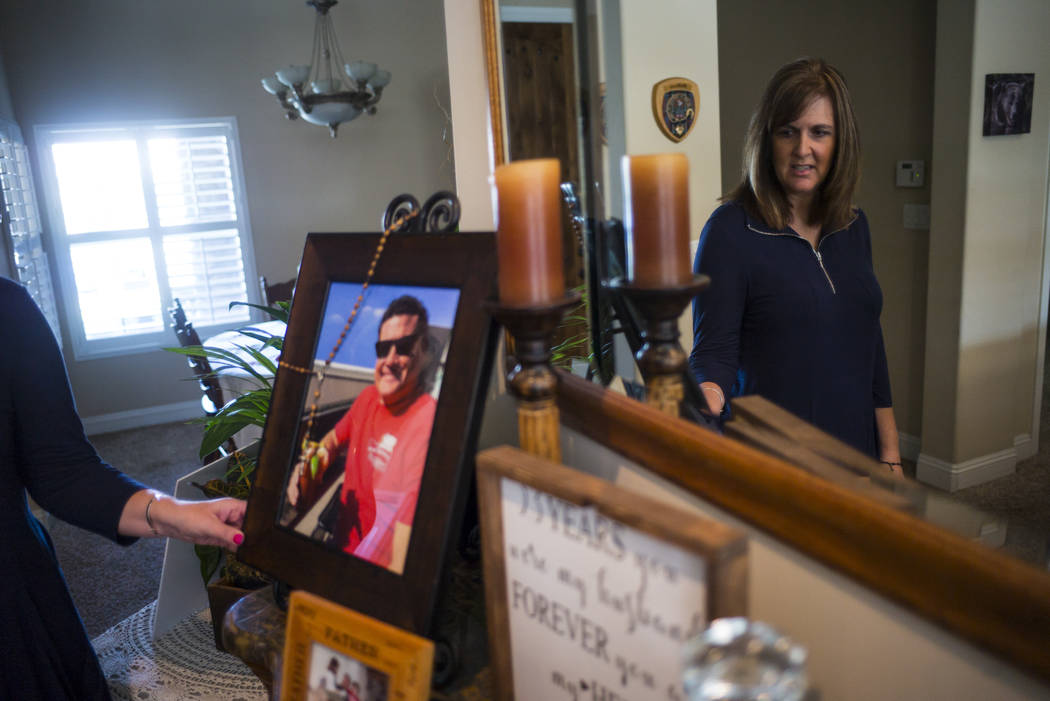 BAKERSFIELD, Calif. — Hearing this hurts the heart.
"I just shut down," says the son who is now fatherless, remembering the night of Oct. 1 as it unfolded like a waking nightmare at his California home. "I didn't know what to think. I called my mom and she answered and you could tell she was messed up."
Then his sister phoned from her Arizona dormitory. "She was crying. She kept asking me, 'What's happening? Why isn't Mom answering?' Then I had to tell her."
Knowing it was shattering. Believing it was unthinkable.
"I thought, 'My dad's going to be fine, he's a fighter, he's so strong, he got shot but he'll be fine, he will get help and everything will be all right," says 20-year-old Jake Beaton, sniffles interrupting the tumble of words, the tears dotting his face. "But I guess it didn't work out that way."
Jake and his sister, Delaney, are now deprived of the man they cherished. Why? Because love, horror and excruciating irony collided when their dad, Jack Beaton, departed this world as the ultimate man of his word.
Years before, a pledge he made to his wife, Laurie — prescient of violence then, tragically realized now — still speaks to the invincibility of romance. And the poetry of two souls in love.
Recognizing the crack of gunfire, Jack laid the full weight of his body on top of the woman he had adored for 32 years — 23 of them as her husband — on the night of their anniversary. And on the night that made Las Vegas the epicenter of mass murder as the site of the worst such shooting in modern American history.
"A few years ago we were talking about how much he loved me and I said, 'Jack, you love me so much,'" says Laurie, 49, from the comfort of her buttery-soft sofa nearly two months later. "He said, 'Laurie, I would take a bullet for you.'"
Quickly, emphatically, Jake jumps in: "Even if it wasn't for my mom, he was the kind of person who would have done that for anyone." In hushed tones, Laurie recounts the details of that night:
"I said, 'Jack, honey, those are real bullets,' because I felt something go past my arm, but I didn't think about it entering him. He was shot and he kept it quiet so I would not worry about him. But in hindsight, it seems it went past my arm into his left chest. He bear-hugged me and said, 'I love you, Laurie.'"
Then the rain of bullets erupted anew amid screams and commands to take cover, forcing the mother of two to leave the side of her mortally wounded, 54-year-old husband
"Because of all the blood all over his face and him not moving, I think I knew. I held his arm and told him I loved him. I said, 'I will see you in heaven.' But I knew I had to go because of the children."
'Wish you were here'
Weeks later, Jake struggles to keep his voice from quavering, his tears from forming. Sometimes he succeeds. Right now, he doesn't. Mom pats his hand and, shakily, he gets it out.
"Every day, I wake up and come out of my room, hoping it goes away, but it doesn't," he says, pausing to accommodate the catch in his throat. "Every day I talk to him and ask him to show me signs of advice."
As the national headlines fade, the still-fresh pain and gaping emptiness settles into a daily ache for Jake, Laurie and 19-year-old Delaney. Though away at Arizona State University, where she studies psychology, Delaney emails her mom to be sure her love for her dad is expressed to a reporter, including noting the song that will forever remind her of him: "Wish You Were Here," by Pink Floyd.
"Me and Dad's relationship wasn't like a normal father-daughter relationship — he was my best friend as well," Delaney writes. "He was so easy to talk to, always so happy and positive. He was the dad and man everyone loved and looked up to and that love will continue forever."
Test of strength
How does a tight-knit family, now bereft of its beloved patriarch, carry on after life leaves such an ugly scar on their psyches? How, people ask, can you go on? Frustratingly obvious as it sounds, you go on by going on. By following the advice of a sign among the photographic memories of Jack spread out over the mantelpiece: "You never know how strong you are until being strong is the only choice you have." By coping with the cruelties. As this family with two children on the cusp of adulthood reconfigures itself, one cruelty is the irony of an "empty-nest" syndrome turned upside-down, haunting Laurie. Nests aren't supposed to be emptied like this.
"I had a very full household," Laurie says, quietly, in the tastefully appointed Beaton home in an immaculate neighborhood straight out of Hollywood's suburban fantasies. Inside, however, resting royally in the center of a table, is a testament to tragedy, but also to love: a black urn, inscribed, "Jack Beaton," containing his ashes.
"Jack was a family man who wanted to have dinner at the table, the four of us every night," Laurie says. "When Delaney went away in August (to college), I had a really hard time with that. And Jack would say, 'Honey, that's OK, we had so many years without the kids and then we gave so much to the kids. But now you and I are going back to how it was, doing so many things, just you and I.' It makes me really sad we didn't get a chance to do that. Now it's much quieter around the house. There's no dinner around the table so much anymore."
However, there is still Jack. Each night, before bed, Laurie kisses the urn.
'He was my best friend'
Jack Beaton: construction industry pro who, his widow says, was meticulous in his work. "I would sometimes say, 'How come you spend so much time on this job, how come you're not faster?'" she says. "And he would say, 'Because I'm doing it like it was our home, Laurie.'" Jack Beaton: kindhearted gentleman, even when caring for his neighbors' dog, which, while his owners were away, suffered a seizure and died. "Jack hosed everything down and covered him up so the flies wouldn't be on him, and waited for (the neighbors') mom to come, and sat there with her and listened to stories about him," Laurie says. "She said, 'I barely knew this man and it was so comforting.'"
Jack Beaton: Dad. "He was my best friend, a hundred percent, he was an amazing dude, the best dad I could ever ask for," says Jake emphatically. Breaking into a smile, he recalls how his dad took him to the local skate park, rode dirt bikes with him every weekend, and coached his baseball team, the latter sparking his love of the game — though it didn't begin that way.
"I was playing in the outfield and I'd get bored out there. He'd see me messing with butterflies," Jake says, letting go a laugh that, for the moment, drains away the sadness. "He said, 'All right, we're getting you behind the plate, because as the catcher you'll be in every play.' I fell in love with baseball after that." Even a potentially macabre memory — of preparing to ride mountain bikes down Mammoth Mountain — sparks a grin.
"We were in the gondola (lift) and we thought we weren't coming home again because the wind was so crazy," Jake remembers. "We just hugged each other, we said everything, and we made a little video for my mom. But then we were fine, so we deleted it and just had a good time. It was a really good day."
Fatherly advice also impacted the young man, as Jack urged him to seek an education. And though Jake, who currently works at a local barbecue restaurant, dropped out of Cal State Bakersfield, he plans on returning to study business.
"He was very proud I was going to college," he says. "Growing up, he would tell me, 'I'm preparing you to be a man, I'm going to teach you to do things on your own.' I kind of brushed it off, but he said it was important to him that I would be OK in life without him. It definitely came into play sooner than we thought."
Back home, going on
Certain days are harder than others. "Ever since the incident, I've learned not to enjoy Sundays," Laurie says, referring to the night of the slaughter. Holidays are tough, too. such as Halloween, when Jack would decorate their home in scary style, and the family combined it to celebrate Delaney's Nov. 1 birthday. This year, however, the calendar provided an awful reminder on that day. "It was the one-month anniversary," Laurie says. "That was very hard." Christmas looms next, without Jack.
While she is returning to her job in the human resources department at Aera Energy, a Bakersfield oil and gas company, Laurie says she and Jack had made financial plans "in case something happened." Still, she has her eye on Delaney's tuition at ASU, and then medical school after that, so her daughter can pursue her goal of becoming a psychiatrist. "She had been in a sorority for two weeks before this happened. I didn't know they did a GoFundMe account on her behalf, and they've raised $40,000. That is about a year of tuition, so I am putting it toward that. We will make it work."
Jake prefers to wrestle with this new reality without professional help. "I have plenty of people to talk to. They are not professional but they are my friends," says Jake, whose sense of family, already solid, has strengthened even more. "I'll never take anything for granted, that's for sure."
Jake hadn't been living full time with his parents recently, often staying with his friends or his girlfriend. "My mom and dad would invite me to dinner and I was like, 'Oh, I have too much homework or I've got to work.' Now I will definitely be there anytime my mom asks me to dinner or anything." He has since returned to his old room. "I have to be here. This is where I belong at the moment."
Adds his mom: "This boy has not left my side. I want him to continue to live his life, but I am so appreciative and thankful that I have him. He is my rock and we are going to get through it together."
Though the love and devotion is eternal, Jack is gone. Now the Beatons go on.
Contact Steve Bornfeld at sbornfeld@reviewjournal.com. Follow @sborn1 on Twitter.
RELATED
After Las Vegas shooting, 84 children cope with loss of parent
Shared memories help Las Vegas shooting victim's children cope
Las Vegas shooting victim's kids remember 'tiny, mighty mom'
Family's development stunted when mom dies in Las Vegas shooting
Widower finds comfort in child, faith after Las Vegas shooting