Cop shot in Las Vegas Strip shooting was on his second day
October 9, 2017 - 7:03 pm
Updated October 10, 2017 - 11:16 am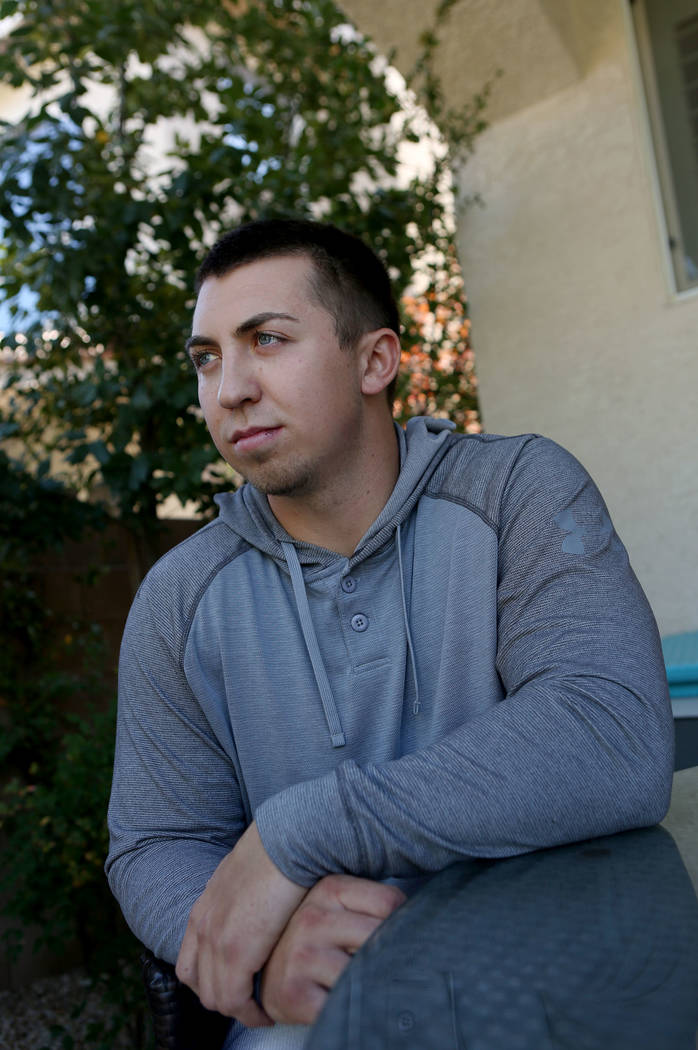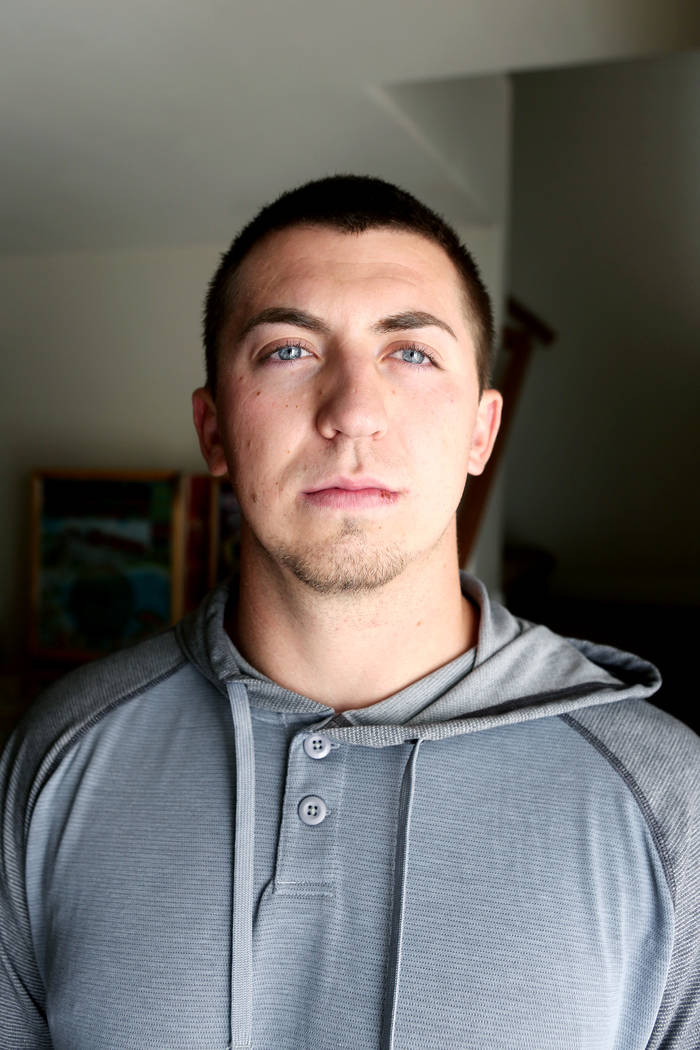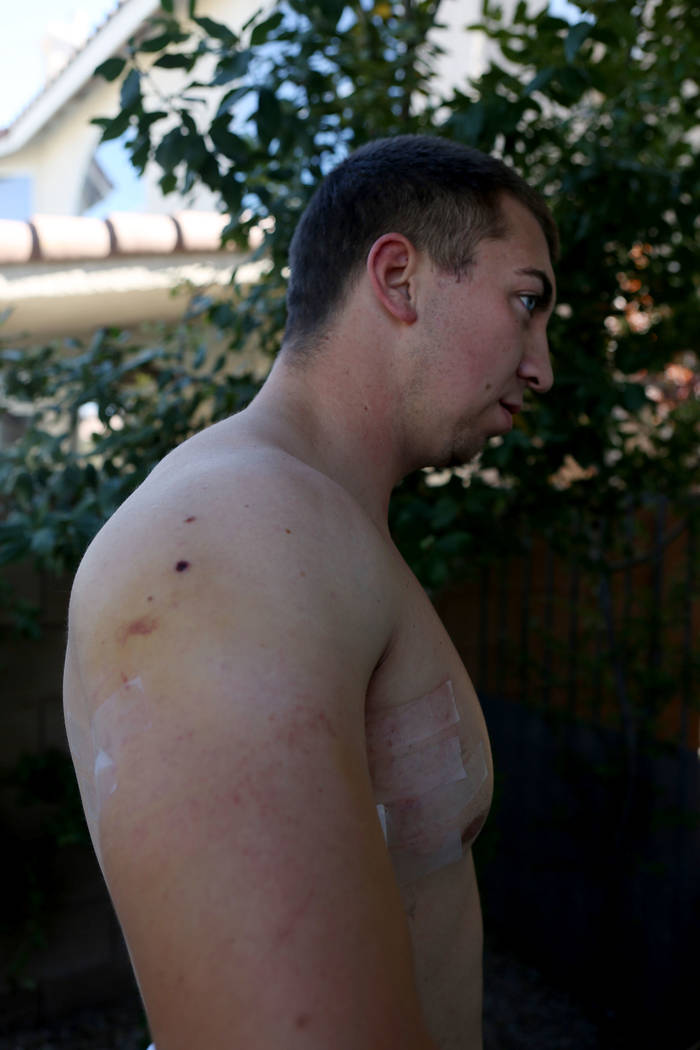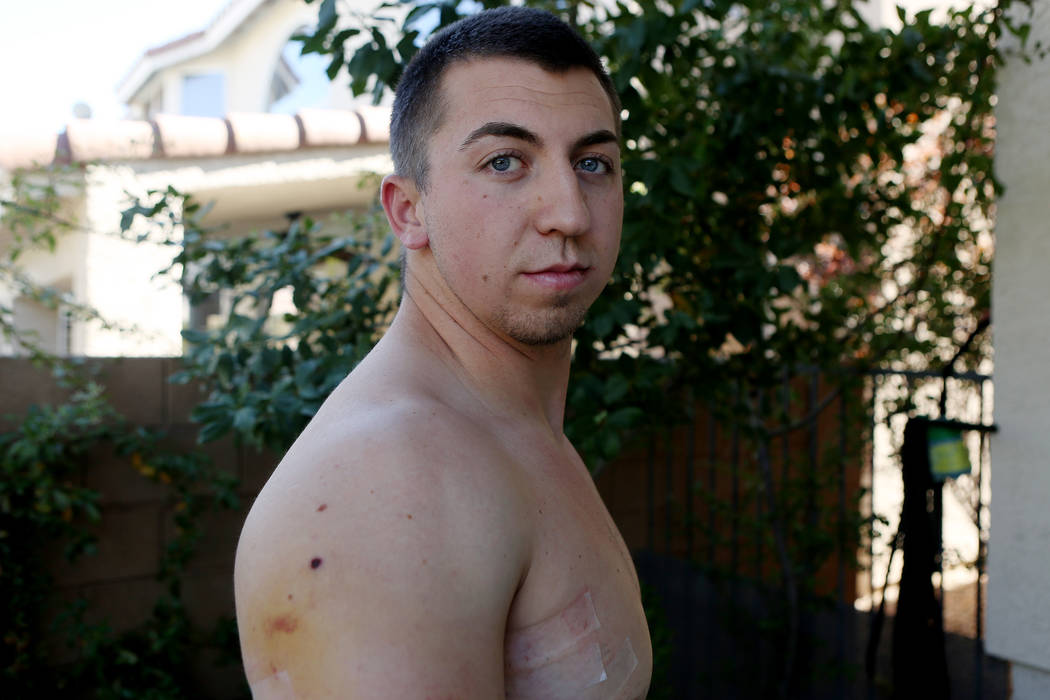 The stolen police vehicle screeched to a stop. Its lights were blinding and its sirens deafening.
They pulled the injured officer out of the front passenger seat and threw him onto a stretcher.
"This is what I signed up for," thought the officer, Brady Cook. "I would do it all again in a heartbeat."
It was only his second day on the job.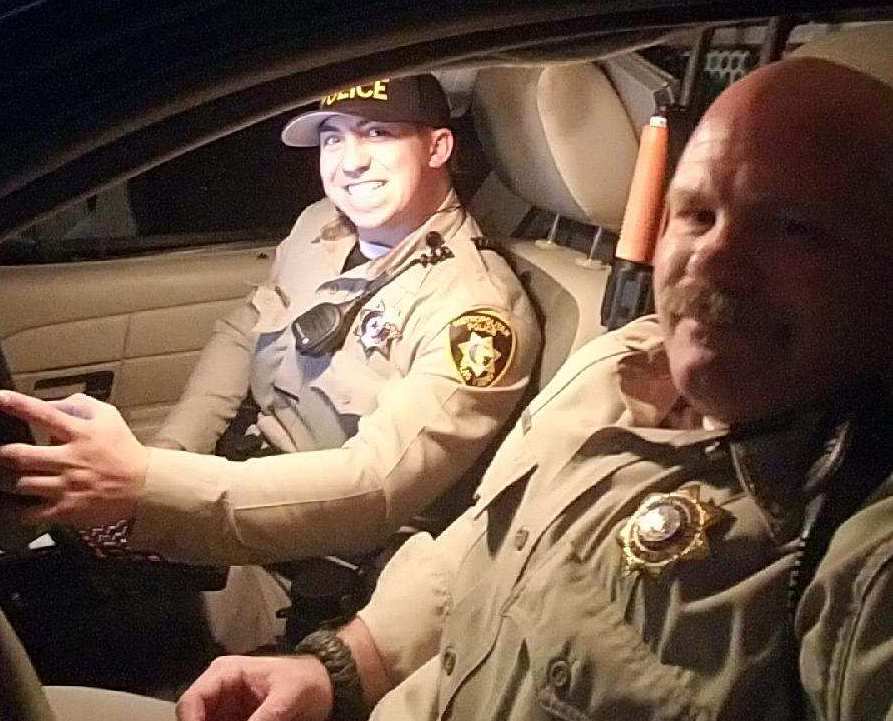 Everyone around him was in a panic, but Cook was focused on the buzzing in his ears and his limp right arm. He couldn't move his fingers.
They pushed him through the double doors of University Medical Center's emergency room, shoving past doctors and nurses readying themselves for the flood of victims the only Level 1 trauma center in Southern Nevada would soon see.
'We've got shots fired'
Less than 24 hours prior, the Metropolitan Police Department officer had been patrolling the Route 91 Harvest country music festival during his first shift since graduating from the police academy nine days earlier. He was lucky enough, he thought, to be assigned to the same area command as his father, Metro officer Matt Cook.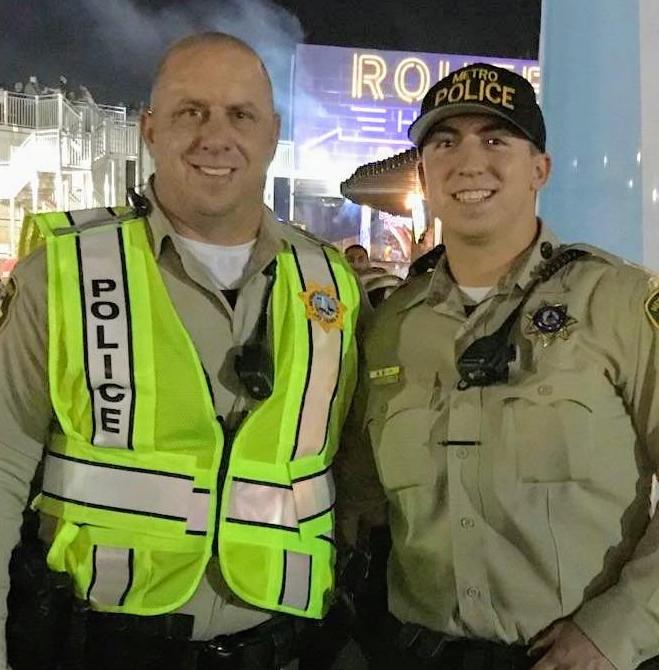 "I never imagined the second night would end this way," he told the Las Vegas Review-Journal on Sunday. "It all just happened so fast."
The young officer, shirtless with his wounds exposed, squirmed in his chair as he spoke about the attack a week earlier. He was soaking up some sun in the backyard of his childhood home, where he was staying with his family until he regained full mobility. Struggling to lift his right arm as he examined his wounds, Cook shut his eyes, thinking back to Oct. 1.
Just after 10 p.m. on the last night of the music festival, the 22-year-old officer and his field training officer, Josh Haynes, were stepping out of their vehicle to patrol the Strip near the Flamingo. Their night was just starting.
But then the call came in.
"We've got shots fired," a panicked officer's voice emerged from the radio. "It sounded like an automatic firearm."
The next 15 minutes were a blur for Cook.
It was about 10:08 p.m. when the newly minted police officer caught a bullet below his right shoulder. No one knew it yet, but the gunfire was raining down from Stephen Paddock's 32nd-floor Mandalay Bay suite.
Cook and his training officer were among the first to arrive on the scene of what eventually would be named the deadliest mass shooting in modern U.S. history. They joined three other patrol units stationed just outside the festival grounds, near Las Vegas Boulevard South and Mandalay Bay Road.
Cook, Haynes and a handful of other responding officers took cover behind their vehicles on the south end of the Strip. It was during the second or third volley of gunfire, Cook recalled, that they were trying to pinpoint where the shooter was and form a strike team.
Instead, the lights from their patrol cars attracted the brunt of Paddock's gunfire. Cook thinks, at least for a minute or so, that they were able to pull the gunfire away from the crowd of more than 22,000 concertgoers.
"That gave people an opportunity to get out," he said.
One bullet, four wounds
Cook doesn't know when he was shot.
"The gunfire," he explained, "it felt like it was coming from everywhere. It was coming from above, left, right, even from the bottom up."
At one point, Cook said, he just knew. He looked down where his right arm was supposed to be and only saw blood on his sleeve.
That's when Cook and Haynes bolted down Las Vegas Boulevard. A parked car near the Luxor served as temporary protection for the two officers as Haynes ripped his trainee's shirt and bulletproof vest off.
"He was thinking to do a tourniquet on me if I was hit in the arm, but he saw I had a chest wound," Cook said.
The bullet had blown through his bicep and into the right side of his chest. It traveled down, grazing his rib cage, before ripping through his skin again.
"He knew he had to get me to the hospital," Cook said of his field training officer.
But it was an active scene, and Paddock was still firing down. The two kept running.
Every time Cook looked down at his feet, he said, he could only see smoke poofing up from the street.
"As we're running, all we see is bullets chasing us," he said, "just bouncing off the ground."
They didn't stop running until they found two more officers taking cover behind an abandoned patrol vehicle. The car didn't belong to them, but the keys were in the ignition.
"We ended up stealing this patrol car and we get in," Cook said.
Minutes later, the stolen police vehicle screeched to a stop near the emergency room entrance.
"This could happen on day one, or it can happen in your 30th year," Cook said, pulling on the fabric of his shorts. "It just happened for me on day two. You're there to do a job, so when stuff hits the fan, you go and you do your job."
Contact Rio Lacanlale at rlacanlale@reviewjournal.com or 702-383-0381. Follow @riolacanlale on Twitter.