Coroner says Las Vegas officer's bullet killed driver in confrontation
August 4, 2017 - 10:07 am
Updated August 4, 2017 - 3:31 pm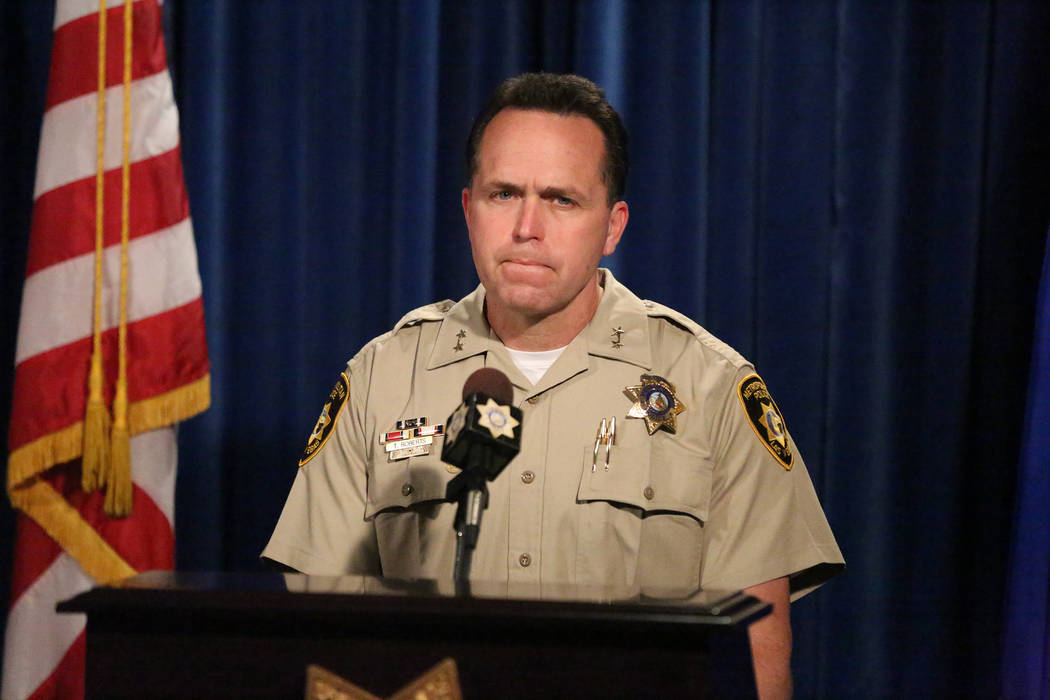 A man who died in his truck Tuesday during a confrontation with Las Vegas police was shot by an officer and not himself, the Clark County coroner's office said Friday.
Metropolitan Police Department Assistant Sheriff Tom Roberts briefed reporters on the agency's 15th police shooting of the year and played bodycam footage Friday afternoon.
"It's been a tough month for us," Roberts said of the recent spike in police shootings.
At the same time last year, Metro had been involved in six shootings, two of which proved fatal. Seven Metro-involved shootings this year have been fatal.
Tuesday's shooting occurred after two police officers approached Miguel Salas, 25, in his truck in the 4100 block of West Tompkins Avenue after stolen cellphones were tracked to the location. Police asked Salas multiple times to get out, but he refused, twice starting the truck in an attempt to drive away, Roberts said.
The incident escalated, and Salas fired nine rounds toward the officers, who scrambled for cover in different directions. Officer Richard Nelson, 33, jogged backward away from the truck and fired 10 rounds, striking Salas in the head.
Nelson was struck by a round in an area near his armpit that was not protected by his bulletproof vest. He was treated at University Medical Center and was released "a few days ago," Roberts said.
"He didn't hit any vital organs, thank God," he said.
Nelson's partner, officer Daniel Demarinis, narrowly avoided injury. A round struck his gun belt, police have said.
Police initially said Salas was struck at least once by the rounds fired by the officer but added that it appeared that he also shot himself. The coroner's office, however, ruled the death a homicide caused by a single gunshot to the head fired by police.
"Although law enforcement thought that it may be self-inflicted after the investigation at the scene, once we were able to have our medical examiner perform the examination and after forensic testing was completed, we have in fact ruled the gunshot wound was caused by the police officer," county coroner John Fudenberg said Friday.
Bodycam footage played at the briefing showed the exchange between Nelson and Salas, with Salas repeatedly refusing to step out of the truck. When Nelson and Demarinis began to try to forcibly remove him, Salas opened fire.
Roberts said Salas was a prohibited possessor and had two firearms in the truck, which had been reported stolen. The truck's license plate was also stolen.
Contact Wesley Juhl at wjuhl@reviewjournal.com and 702-383-0391. Contact Dana Rutkin at drutkin@reviewjournal.com or 702-383-0381. Follow @WesJuhl and @danadrutkin on Twitter. Review-Journal staff writer Rachel Crosby contributed to this report.