Employee accidentally shot, killed by security guard during attempted jewelry store robbery in Henderson
January 22, 2017 - 7:51 pm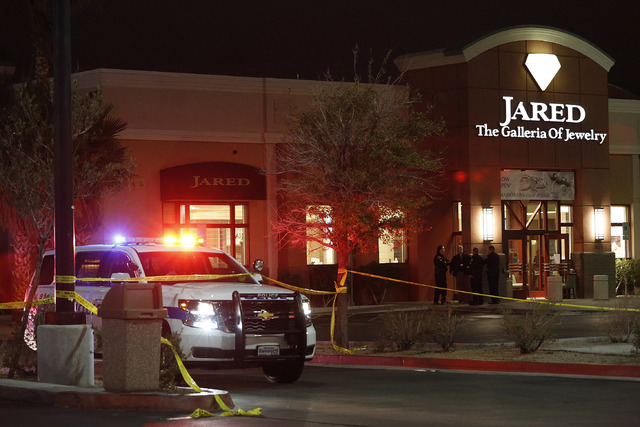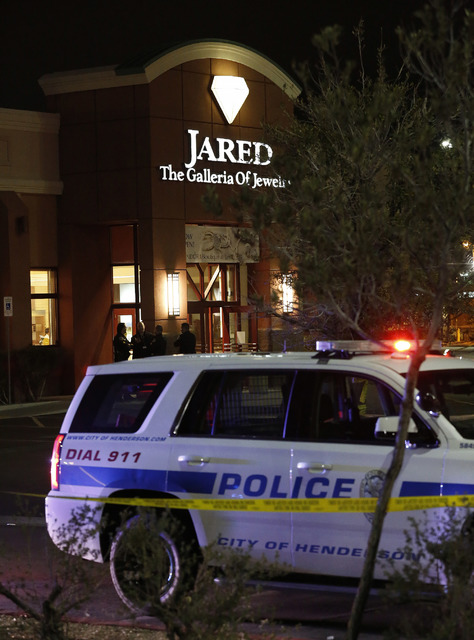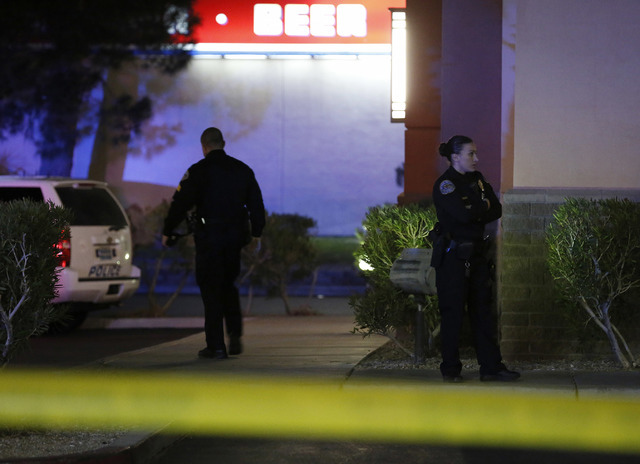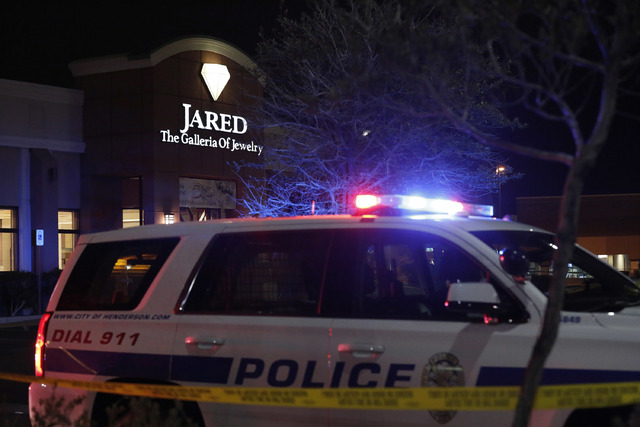 The female Henderson jewelry store employee who died after an attempted robbery Saturday night was shot by a security guard, not the robbery suspect, Henderson police said.
The suspect entered the Jared The Galleria of Jewelry, 1071 W. Sunset Road, near Marks Street, just before 9 p.m. Saturday.
A security guard inside the store saw the man brandishing a gun and tried to shoot him. The security guard's shot missed the gunman and struck the 57-year-old employee, police said.
Henderson police are searching for the suspected gunman, who ran from the scene without taking jewelry or cash. The robbery suspect is described as a black man 5 foot 6 to 5 foot 10, weighing about 140 pounds. He was last seen wearing a red-and-black hoodie, black pants, a black mask and a dark-colored hat or beanie.
Henderson police said the robbery suspect will face murder charges because the woman was killed during a robbery or attempted robbery. The security guard will not face charges in connection with the accidental shooting, Henderson police spokeswoman Michelle French said Sunday.
The Clark County coroner will release the woman's name after her next of kin has been notified.
Flowers were arranged outside the closed jewelry store Sunday night to honor the employee who died. A pink, heart-shaped wreath was placed around a handicap parking sign.
Workers at businesses neighboring the Jared reported receiving visits from detectives and seeing strong police presence after the attempted robbery.
On Sunday, Daniel Orta, 61, a cashier at the Terrible's gas station at 1101 W. Sunset Road, said 10 to 15 police cars were around the Jared after the incident and that two officers came into the gas station before 10 p.m. looking for security footage.
Orta said, and French confirmed, that the gas station's video showed the suspect running behind the gas station's car wash toward Marks.
At Wendy's, 1131 W. Sunset Road, shift supervisor Sara Middleton, 34, said Sunday that detectives also asked her for security footage on Saturday night. She said a white sport utility vehicle was parked in the back of the restaurant's parking lot with police tape around it from about 9:15 p.m. Saturday to about 12:30 a.m. Sunday. French said Henderson police checked the vehicle, but whether it is connected with the attempted robbery is under investigation.
Middleton said police towed away the SUV on Sunday morning.
On Twitter on Sunday, Jared posted a statement about the employee who died: "We are shocked and saddened to learn of the loss of our team member and extend our sympathies to her family, friends and colleagues."
Kim Kanary, an Akron, Ohio-based spokeswoman for Jared's parent company, Signet Jewelers, wrote in an email that the company has reached out to the employee's family and is cooperating with Henderson police.
"We will continue to do everything possible to support those impacted by this tragic situation," she said.
Anyone with information about the robbery can call the Henderson Police Department at 702-267-4911 or Crime Stoppers at 702-385-5555 to remain anonymous.
Saturday's incident is the second local jewelry store robbery in just over a week. On Jan. 13, a man armed with a handgun made off with an undisclosed amount of jewelry from the MJ Christensen Diamond Center at 8980 W. Charleston Blvd. No one was injured.
Contact Max Michor at mmichor@reviewjournal.com or 702-383-0381. Follow @MaxMichor on Twitter. Contact Blake Apgar at bapgar@reviewjournal.com. Follow @blakeapgar on Twitter.