Exam of Las Vegas shooter's brain unlikely to unlock 'why'
October 19, 2017 - 5:56 pm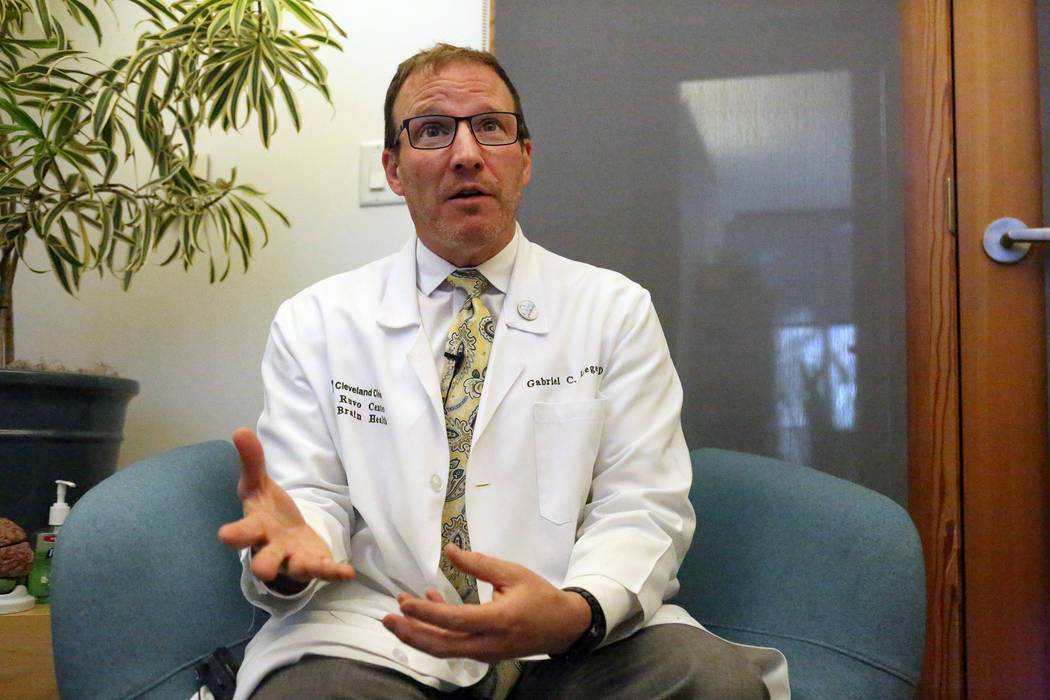 Scientists poring over the remains of the Las Vegas mass shooter Stephen Paddock's brain may uncover clues about his medical history, but they are highly unlikely to pinpoint a cause for his seemingly random rampage, experts say.
"I don't think 'why' could ever come out of a brain autopsy itself," said Dr. Gabriel Leger, a behavioral neurologist with the Cleveland Clinic Lou Ruvo Center for Brain Health in Las Vegas.
Clark County Coroner John Fudenberg said last week that Paddock's brain tissue was sent to Stanford University School of Medicine's Department of Pathology for a neuropathological examination. An autopsy on the body of the 64-year-old gunman blamed for killing 58 concertgoers and wounding 546 others on Oct. 1 was done in Las Vegas.
At a loss for why his brother would commit such an unconcionable act, Eric Paddock said he hoped his brother's brain could be studied for a possible cause.
Researchers at Stanford wouldn't comment for this story. But Leger and Dr. Joshua Sonnen, a neuropathologist at the University of Utah, offered their insights into what a neuropathological examination of a brain entails and what it could uncover.
While Leger said it's possible that the microscopic examination and chemical analysis of Paddock's brain could reveal the existence of a small tumor, signs of a small stroke or evidence of some trauma from an accident capable of influencing his behavior, he noted that "millions of people have these things and don't plan out events or things like this."
Brain's condition problematic
The condition of Paddock's brain also could be problematic. Police have said only that Paddock killed himself as officers closed in on his 32nd-floor room at the Mandalay Bay. But leaked crime scene photos that Clark County Sheriff Joe Lombardo has said were authentic showed that the loner from Mesquite shot himself in the head.
That means that while some of Paddock's brain tissue was available for study — probably preserved in formaldehyde before being shipped to Stanford — key parts may be gone, Leger said.
"That could reduce our chances of finding anything at all," he said.
Sonnen, who said a thorough examination could take up to two months, noted that pathologists will dissect the brain, looking for degenerative conditions such as dementia, or chronic traumatic encephalopathy (CTE), the neurodegenerative disease often found in retired football players who suffered multiple head injuries.
"They want to see if it's present," he said. He was quick to add that while dementia, CTE and even epilepsy can sometimes result in aggressive anti-social behavior, it's difficult to see them causing highly planned violent behavior.
"It's not something I want to worry the public about," he said. "The truth is that anything that can damage the brain — lead in the water can affect behavior. … It is possible that he has some abnormality that gives us a hint to his behavior."
Leger said he is doubtful that remnants of a neurodegenerative disease — one that affects planning and memory — will be found in Paddock's brain.
"Because of all his planning and his ability to maintain appropriate behavior to act out what he was planning, it just doesn't seem logical," he said. "He had to carefully plan how he brought an arsenal to his room."
Paddock's ability to organize and carefully think things through, Leger said, also make him doubt speculation that the killer could have suffered from "frontotemporal lobar degeneration," a disease that results in deterioration of two lobes of the brain, the frontal and the temporal.
If those two regions of the brain, which underpin much of the decision-making and emotion that make us social creatures, had badly degenerated, Leger said it's highly doubtful he could have negotiated his way through everyday life while maintaining control.
Tumor in gunman's brain
The gold standard for brain pathology when it comes to killers was established more than 50 years ago.
Charles Whitman — a 25-year-old Marine Corps veteran who had been complaining of headaches and irrational thoughts— carried ammunition and a stockpile of rifles to the top of the University of Texas tower and began shooting indiscriminately at people below. He killed 15 people, including an unborn child, and wounded more than 30 others on that sweltering Aug. 1, 1966, morning, before Austin police took him down. He left behind a note asking that his brain be examined.
An autopsy would later show that Whitman — he killed his mother and wife before going to the UT campus — had a brain tumor the size of a pecan burrowed between his thalamus, hypothalamus and amygdala, regulatory components within the center of the brain.
A report released by the Baylor College of Medicine — one hotly debated by experts to this day — hypothesized: "The highly malignant brain tumor conceivably could have contributed to his inability to control his emotions and actions."
But both doctors interviewed for this story said that Whitman's case has proven to be an outlier.
"I want to warn you," Sonnen said. "The likelihood of an explanation coming from a study of Paddock's brain tissue is very low. … Psychological disorders don't show up on this type of study."
A previous version of this article had an incorrect date for Charles Whitman's shooting rampage.
Contact Paul Harasim at pharasim@reviewjournal.com or 702-387-5273. Follow @paulharasim on Twitter.