First responder recalls 'overwhelming' night at Las Vegas shooting
October 6, 2017 - 9:07 pm
Updated October 8, 2017 - 1:32 pm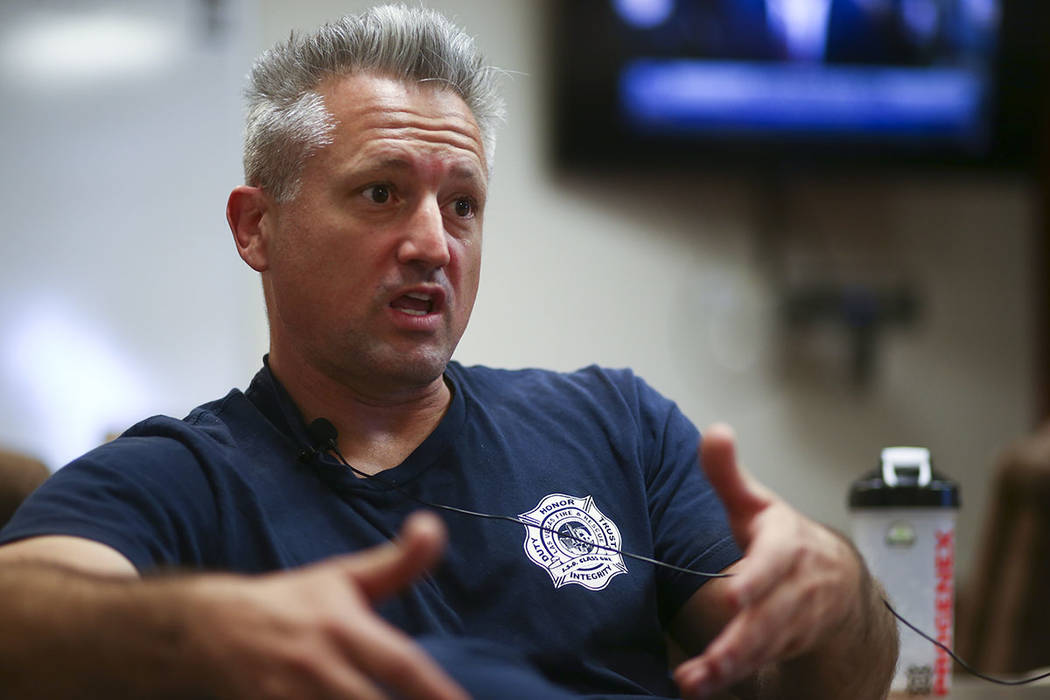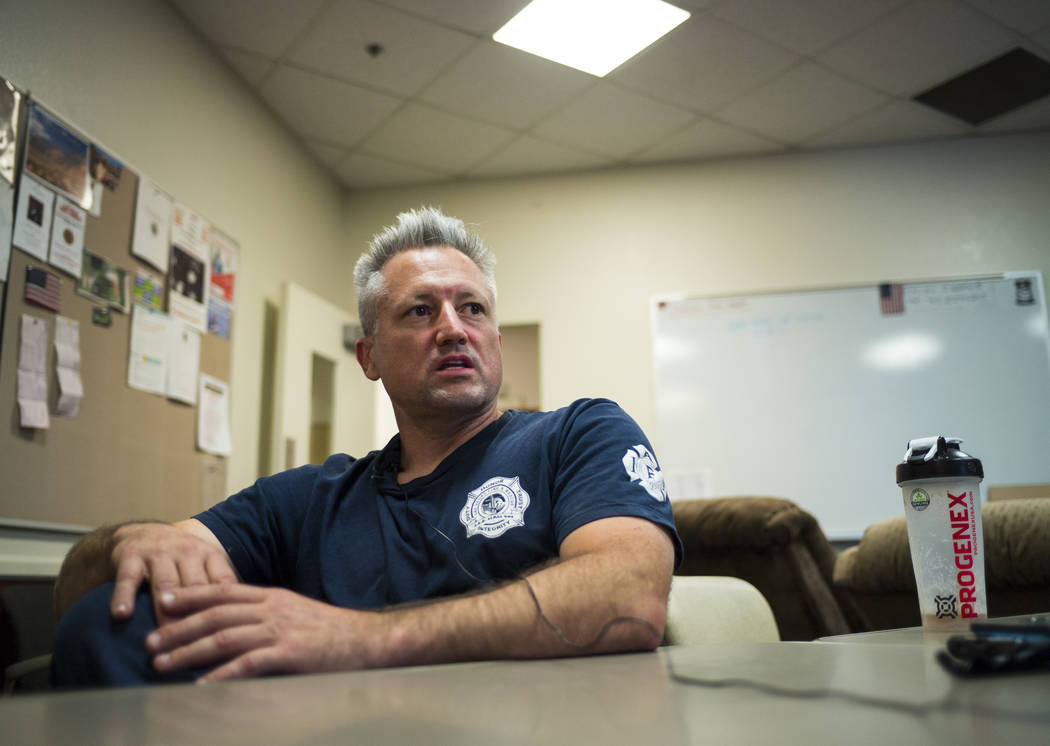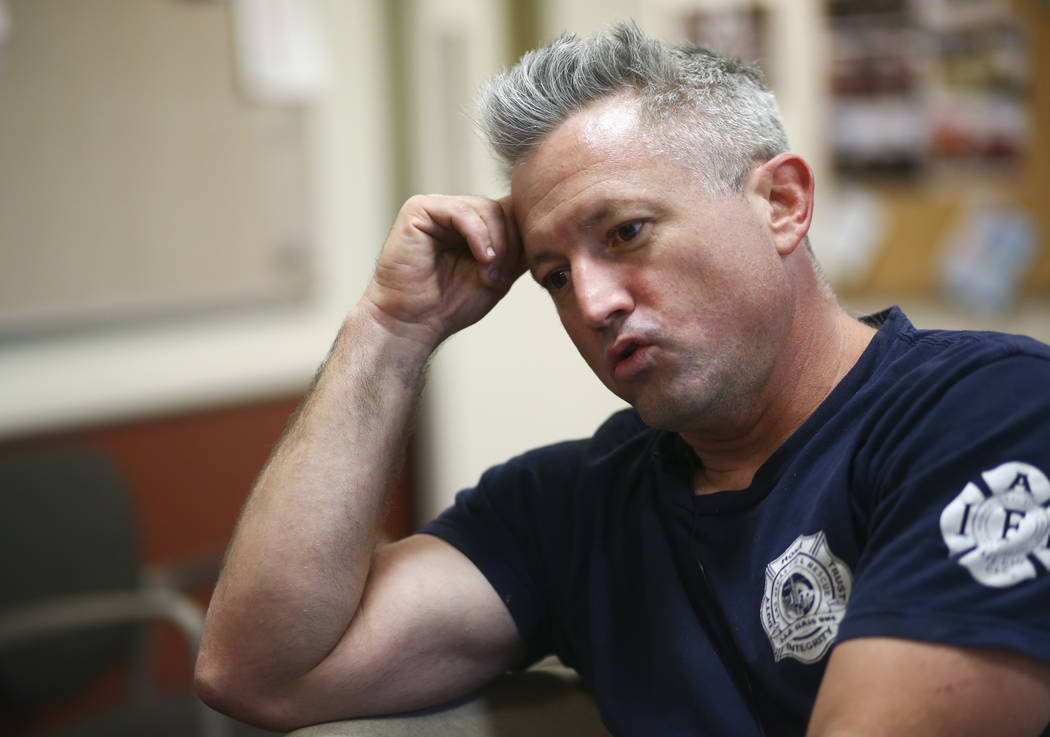 Joe DiGaetano parked his SUV on Russell Road, just south of the Route 91 Harvest festival, at about 10:20 p.m.
The shooting that would eventually kill 58 and wound 489 others had just ended, and DiGaetano, the only 24-hour EMS coordinator working for Las Vegas Fire Department on Sunday night, was the first city responder at the scene.
"I was here at the station, just about ready to go to bed," he said. "Then the call came in about 10:08." Hundreds of people had already fled the scene — on foot, in strangers' cars — when DiGaetano arrived. The radio lines were flooded, so the 21-year Las Vegas fire veteran called dispatch on his cellphone.
Over the next seven hours, a series of logistical steps followed. Those critically injured — the woman in the back of a car, for example, who one minute was talking despite a gunshot wound to the chest and passed out the next — were rushed into ambulances. A bullet wound to the arm or broken bones from being trampled had to wait.
On a normal call, DiGaetano acts as boss. High in authority, he only responds to mass casualty incidents and other large-scale incidents, and directs other responders from the time of his arrival until the minute he signs off.
Sunday wasn't a normal call. Sunday's call is one he's never going to forget.
"In theory, if we have this kind of call, I'd be one of the guys in charge of it, running the EMS portion of how people get treated and triaged and transported to the hospital," DiGaetano said. "Ultimately, that was done by civilians."
DiGaetano began triage around 10:20 p.m. on the south end of the concert venue near Mandalay Bay. At about 11 p.m., he moved to the east side, where most concertgoers had fled the scene.
That night, he said, he didn't skip a beat.
Grim scene
But he took one minute to peer into the concert venue. From the entrance, DiGaetano said he saw 30-some bodies with bullet holes in their heads and bloodstained extremities, lying still amid ringing phones and empty beer bottles.
The stage lights, he remembered, were bright, and for a moment, DiGaetano wondered if that aided the shooter's aim.
"It's overwhelming, in a way," DiGaetano said, "that you knew they were dead and you knew there was nothing you can do, but you still want to go in and try."
He remembers the silence on the Strip. The Las Vegas native wasn't used to quiet on the city's busiest street.
He remembers the stares of tourists gambling at the MGM Grand casino as he walked down a seemingly endless hall in the hotel toward a storage room where two wounded festival attendees ran and hid. Onlookers lowered drinks from their mouths as they parted like the Red Sea for officers in armor, DiGaetano said.
He remembers the heavy breathing of 20-some exhausted responders, huddled in a circular hallway at the top of Mandalay Bay around 5 a.m. Monday. They'd finally finished checking every door. No second shooter. No more wounded.
Coffee and a hug
DiGaetano cleared the call about 5:40 a.m. and drove to a nearby Starbucks. He ran into a crime scene investigator, bought her a coffee and gave her a hug.
"I said good luck, and then I went home," he said.
A 9-month-old mixed-breed puppy greeted DiGaetano at his home Monday morning. Seeing the black-and-tan fuzzball filled with joy after a night of terror was all it took to bring the 42-year-old man with spiked, graying hair to tears.
"I feel like evil punched us in the face," he said. "And I feel like we punched it back."
Contact Jessie Bekker at jbekker@reviewjournal.com or 702-380-4563. Follow @jessiebekks on Twitter.
In a tweet Friday afternoon, Sen. Catherine Cortez Masto, D-Nev., commended American Medical Response for deploying more than 200 emergency responders and 100 ambulances to Sunday's shooting.