Fleeing suspect hit by truck, killed on 95 near Flamingo
September 29, 2016 - 10:37 pm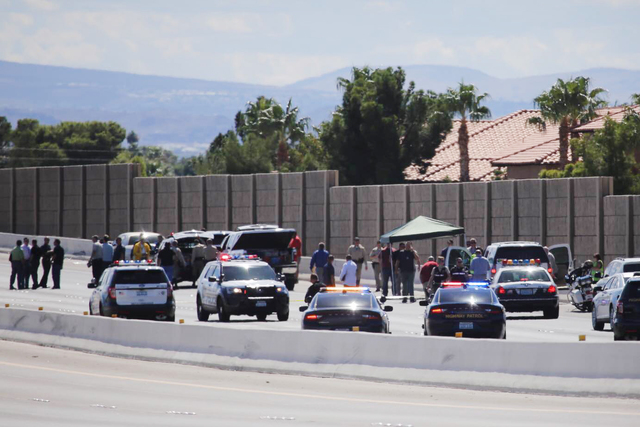 Most lanes on U.S. Highway 95 were closed between Flamingo Road and Boulder Highway for nearly eight hours Thursday after a shooting suspect fled his vehicle and was hit by a semitrailer.
Las Vegas police said the suspect was pronounced dead at the scene. He has not been identified.
The Regional Transportation Commission of Southern Nevada announced at 3 p.m. that one southbound lane had reopened, and by 7:45 p.m., all lanes of U.S. 95 between Boulder Highway and Flamingo Road had been reopened.
During the shooting investigation, Metro officers attempted to stop a vehicle traveling north on U.S. 95 near Boulder Highway. The driver of the vehicle did not comply and exited the freeway, then got back on U.S. 95 southbound.
Metro officer Laura Meltzer said the vehicle got a flat tire, and the suspect exited the vehicle. He then ran across the freeway and was struck by the semitrailer in a northbound lane about 11:20 a.m.
"The suspect is believed to be connected to a shooting that occurred Sept. 22 at the Miracle Mile Trailer Park at 3600 block of Boulder Highway," Metro said in a statement.
The shooting at the trailer park resulted in a man's head being grazed by a bullet. The man was able to drive himself to the hospital, but bullet fragments were discovered in his head during an examination. An ambulance took the man to the trauma center at University Medical Center, Metro Lt. Charles Jenkins said.
Contact Lawren Linehan at llinehan@reviewjournal.com or at 702-383-0381. Follow @lawrenlinehan on Twitter.