Henderson police ID officers who fired guns during fatal shooting
Updated September 15, 2018 - 8:44 pm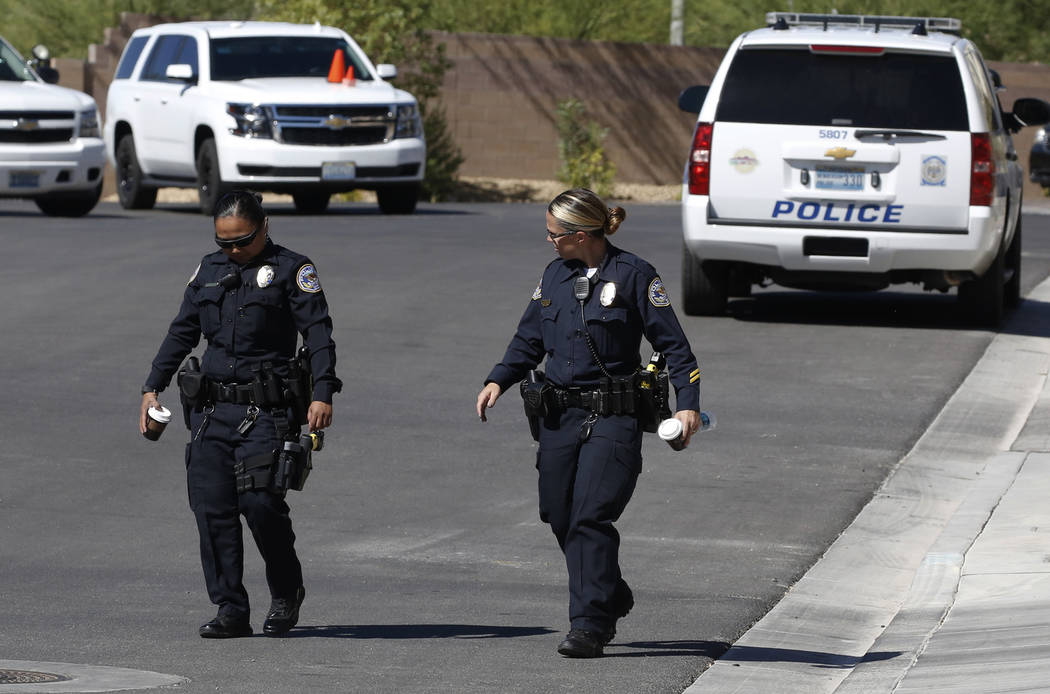 Henderson police on Saturday released the names of four officers who fired their weapons in a police-involved shooting that left one man dead Thursday.
Of the four officers, one was shot in the foot, the Henderson Police Department said. The shooting happened after police, hearing a woman's screams, forced their way into a home to find a man wielding a box cutter.
Police arrived to the home, on the 1500 block of Point Vista Avenue in a gated community, at 4:15 a.m. Thursday and heard a woman's calls for help, police said. The officers found a man in the home inside a closet, armed with a box cutter, and a woman "in obvious distress."
The man "charged" at officers after they ordered him to drop the weapon, police spokesman Lt. Kirk Moore said during a news briefing Thursday. "Officers responded with deadly force," and the man was pronounced dead at the scene, Moore said.
Moore declined to take questions at the news briefing.
The woman who called for help was taken to Sunrise Hospital and Medical Center for unspecified but survivable injuries, police said Thursday. The man's name and cause and manner of death were pending from the Clark County coroner's office.
The officers who fired their weapons were Haven Tillmon, employed with the department since August 2004; Matthew Brown, employed since March 2006; Bridget Ward, employed since August 2008; and Zachary Winningham, employed since December, according to Henderson Police Department news release.
Police did not specify which officer was shot in the foot or what led to the officer being injured. The wounded officer was taken to a local hospital, underwent surgery for the wound and was released, police said.
The release did not detail how many times the officers fired, which officers hit the man and how many times the man was shot. All officers were wearing cameras during the shooting, and the footage from the cameras was not released Saturday.
All of the officers, who were assigned to the department's North Patrol Division, were placed on routine paid leave pending the department's investigation.
Thursday's shooting was the second time Henderson police fired their weapon at suspects this year. The first shooting happened about a month ago, when a team of federal and local authorities tried to take a man into custody after, authorities said, he hit two officers with a car the day earlier.
The 27-year-old man, Larry Calvert, was struck by two gunshots and survived. He faces two counts of battery with a deadly weapon against officers, police said last month.
Contact Katelyn Newberg at knewberg@reviewjournal.com or 702-383-0240. Follow @k_newberg on Twitter.