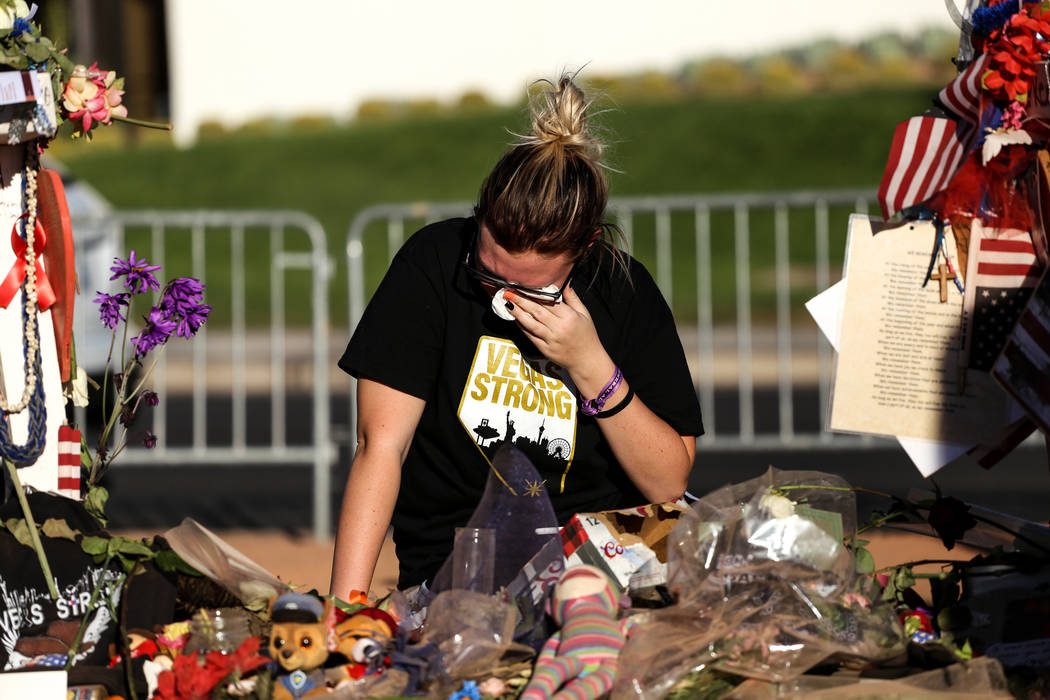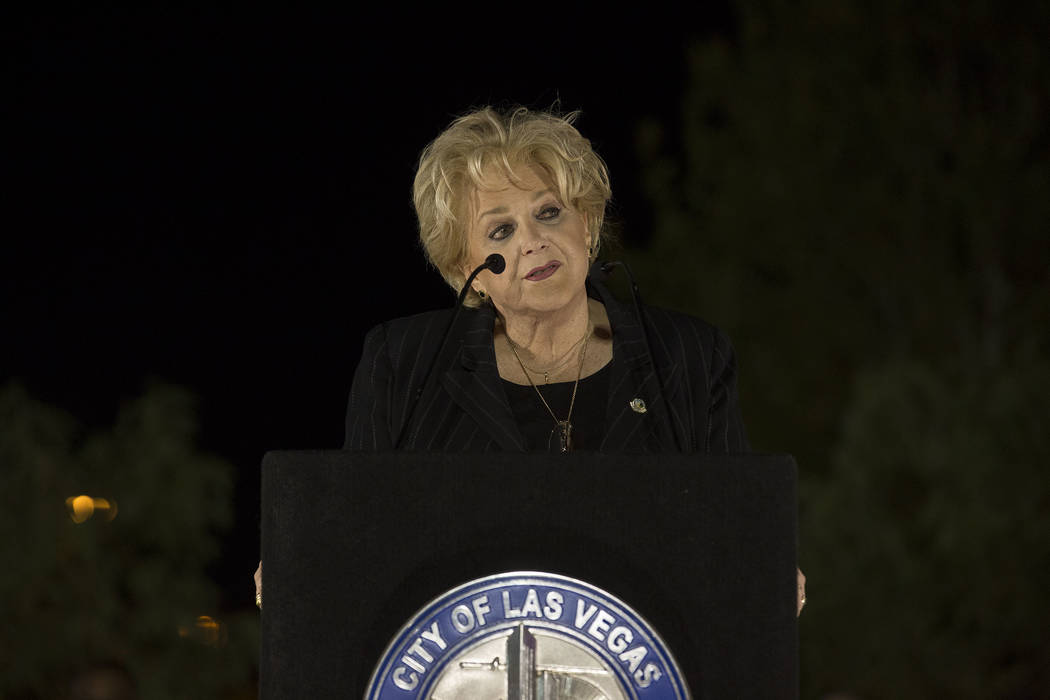 Las Vegas Mayor Carolyn Goodman appears to have extracted a lesson from the way Clark County is handling the collection and management of funds for victims of the Route 91 Harvest musical festival, telling the Review-Journal she is is exploring the creation of a "crisis fund."
The Oct. 1 shooting on MGM Resorts International property left 58 victims dead and more than 500 injured. The shooting occurred in Clark County's jurisdiction, but the county did not have a mechanism or process in place for people to donate in the shooting's aftermath.
Instead of donations pouring into some sort of county entity, there is currently one main GoFundMe crowdfunding campaign and two bank accounts set up by different entities to collect funds for shooting victims and their families.
"Every city in the country should establish a crisis fund that has monies in it to help offset the immediacy of a disaster, whatever kind it is," Goodman said.
Emergency preparedness
Jeff Dion, deputy executive director of the National Center for Victims of Crime, is helping Clark County to manage and distribute funds raised for shooting victims. He said he would be happy to help the city of Las Vegas become prepared for a mass casualty event.
"Very, very few communities have thought about dealing with this ahead of time," he said.
Dion has helped to distribute funds to victims after several mass casualty events, including the Boston bombing and the Pulse nightclub shooting in Orlando, Florida.
Orlando was one of the few communities that already had a 501(c)(3) in place, called Strengthen Orlando, Inc., Dion said. Strengthen Orlando has been in place since at least 2012, according to GuideStar, an information source and directory for nonprofit organizations.
"Other communities used other existing nonprofits, but they were controversial because it (the funding) was not 100 percent for victims," Dion said.
Process forms in Clark County
Clark County is working with a group to create a nonprofit 501(c)(3) on its behalf. County spokesman Dan Kulin said Wednesday that the county does not have the statutory authority to create its own 501(c)(3).
The process to create a 501(c)(3) and a process to manage the finances for such a tragedy is "time consuming," Dion said. It also involves setting up a board of directors, a committee to manage the distribution of funds and a mountain of paperwork to be filed and approved by the IRS.
Clark County management is currently working to get a local committee formed to manage the process of distributing funds to victims.
County spokesman Erik Pappa was not able to give any additional details Monday regarding the process that will dictate who is on that committee, nor regarding any names that have come up in relation to the committee.
'Substantive people'
Kenneth Feinberg, a victim-compensation expert, has volunteered to help draft the protocol for the local committee. He said he is currently working on that draft but that it is too soon to share details of what it entails.
He said he did not have any details about who would be on the committee, but said "you want very substantive people."
"You want a diverse group that is prepared to make important decisions," Feinberg said. "You want to make sure they adequately represent the community and the victims and that they want to serve the community as best they can in a pro bono capacity. You want people who can represent the various interests in the local community."
Dion said figuring out who will be on the committee, and the process for dictating who will be on the committee is "the type of thing we'd like to see considered ahead of time."
City of Las Vegas spokesman Jace Radke said the "crisis fund" would be a nonprofit 501(c)(3) "should the city experience an incident like this in the future."
Contact Nicole Raz at nraz@reviewjournal.com or 702-380-4512. Follow @JournalistNikki on Twitter.
Donations for Las Vegas shooting victims
— GoFundMe
Clark County Commissioner Steve Sisolak and Clark County Sheriff Joe Lombardo set up a GoFundMe crowdfunding account for victims and their families early on Oct. 2, which currently holds the majority of donations.
That account reached more than $11 million Monday
— Las Vegas Victims' Fund at Nevada State Bank, managed by Chris Young.
Young is the director of the Direct Impact Fund, which is an independent, registered 501(c)(3) nonprofit group associated with GoFundMe. Details of the relationship between the Direct Impact Fund and GoFundMe are unclear, as Chris Young, who is also the head of GoFundMe's legal department, did not return a request for comment.
The account reached $253,442 as of Monday
— National Compassion Fund Las Vegas hosted by EagleBank in Washington, D.C., and managed by the nonprofit National Center for Victims of Crime
The account reached more than $1.3 million as of Monday