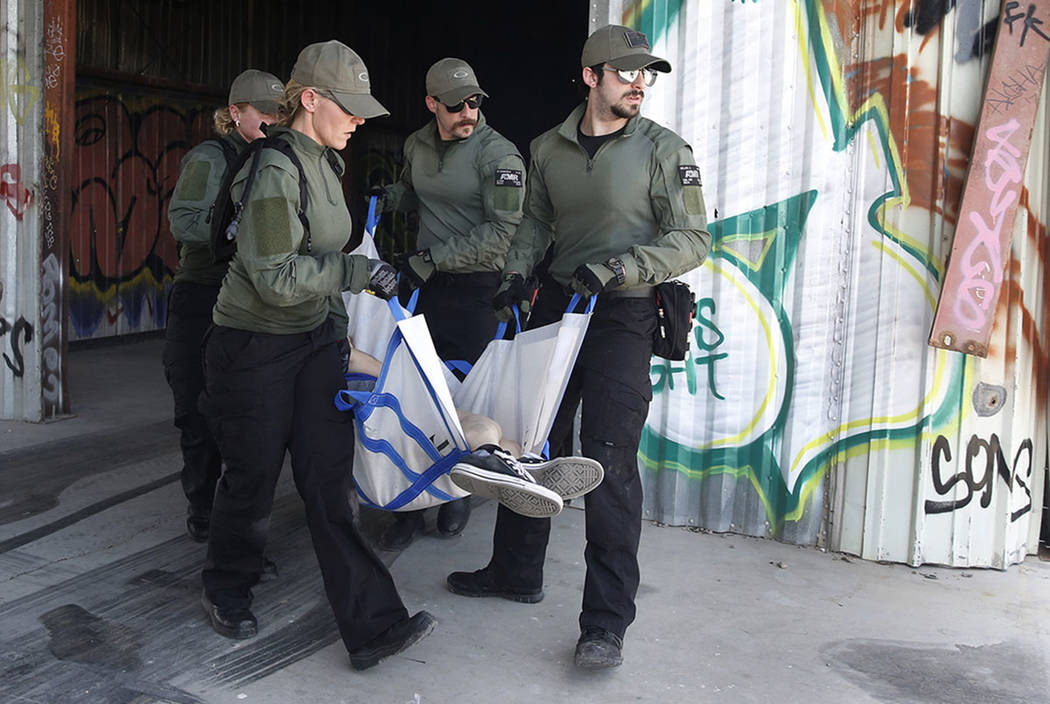 Paramedics have long been trained to wait on the sidelines as police clear an active crime scene of danger, but that traditional model is falling by the wayside.
Eight paramedics with Las Vegas American Medical Response and MedicWest on Friday completed a weeklong classroom and field training that certified them as "tactical paramedics."
The training, developed in response to mass shootings like the Oct. 1 tragedy on the Las Vegas Strip, will allow them to leave the traditional "safe zone" and accompany SWAT teams to active shooter calls, hostage situations and high-risk warrant searches.
That could make a life-or-death difference, said Steven Carter, a critical care paramedic with AMR who handles most of the department's training and helped design the curriculum for the new course.
"Let's face it — our country has become a battlefield," Carter said Friday after demonstrating how to enter an environment with tear gas. "With the onset of increase of active shooter scenes across the country, we're kind of changing that (traditional) role with certain types of paramedics and EMTs to be able to go in and pull victims out."
Paramedics also demonstrated Friday the proper methods for recovering gunshot victims from the scene and applying tourniquets.
"Most of your victims are going to be dead within the first five to 10 minutes" if they don't get help, Carter said. But with the certification, paramedics can administer medical care faster if needed, he said.
Of the 900 AMR first responders, about 60 applied for the position, said AMR's regional director for Nevada, Scott White. Applicants for the first training were chosen based on qualifications including fitness level and tenure.
Ultimately, White said, he'd like to train an additional three or four teams of eight responders, so a team is on the clock 24/7.
"Then I would have enough people spread out amongst the schedule," he said. "So I could pull those folks off, marry them up with law enforcement and go to work."
White said the private ambulance company will start to partner with area law enforcement to make them aware that this medical resource is now available to them.
Contact Jessie Bekker at jbekker@reviewjournal.com or 702-380-4563. Follow @jessiebekks on Twitter.