Las Vegas police arrest two men in connection with fatal shooting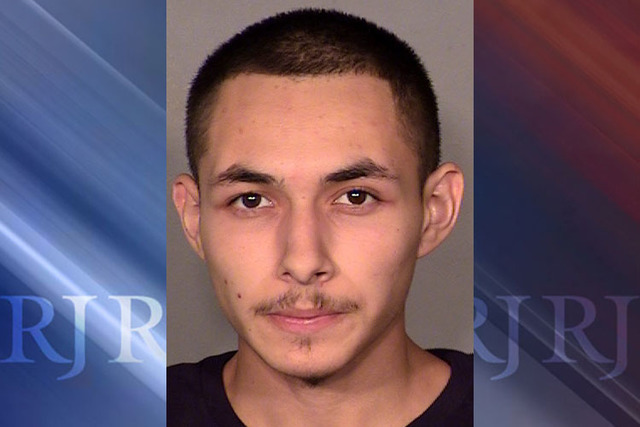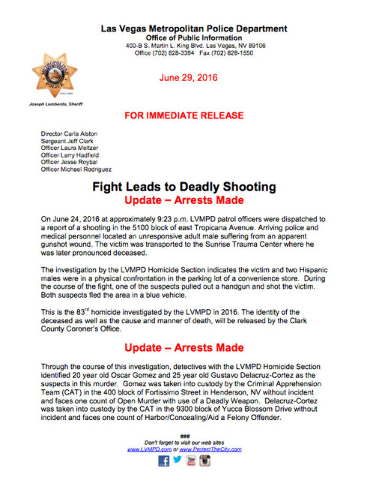 Police have arrested two men in connection with a fatal shooting Friday.
Oscar Gomez, 20, and Gustavo Delacruz-Cortez, 25, were arrested Wednesday, the Metropolitan Police Department said.
According to police, Gomez was arrested in the 400 block of Fortissimo Street, and Delacruz-Cortez was arrested in the 9300 block of Yucca Blossom Drive. Both were taken into custody without incident, Metro said.
On June 24, Metro responded to a report of a shooting in the 5100 block of Tropicana Avenue, where they found an unresponsive man suffering from an apparent gunshot wound. He was taken to Sunrise Hospital and Medical Center, where he later died, police said. Police said the man was involved in a fight in a convenience store the parking lot when two men shot him.
Gomez faces one count of open murder with use of a deadly weapon, Metro said; Delacruz-Cortez faces one charge of harboring, concealing, or aiding a felony offender.
This is a developing story. Check back for updates.
Contact Christian Bertolaccini at cbertolaccini@reviewjournal.com or 702-383-0381. Follow @bertolaccinic on Twitter.