Las Vegas police confident Paddock was only shooter, but still no motive
October 6, 2017 - 2:03 pm
Updated October 6, 2017 - 9:08 pm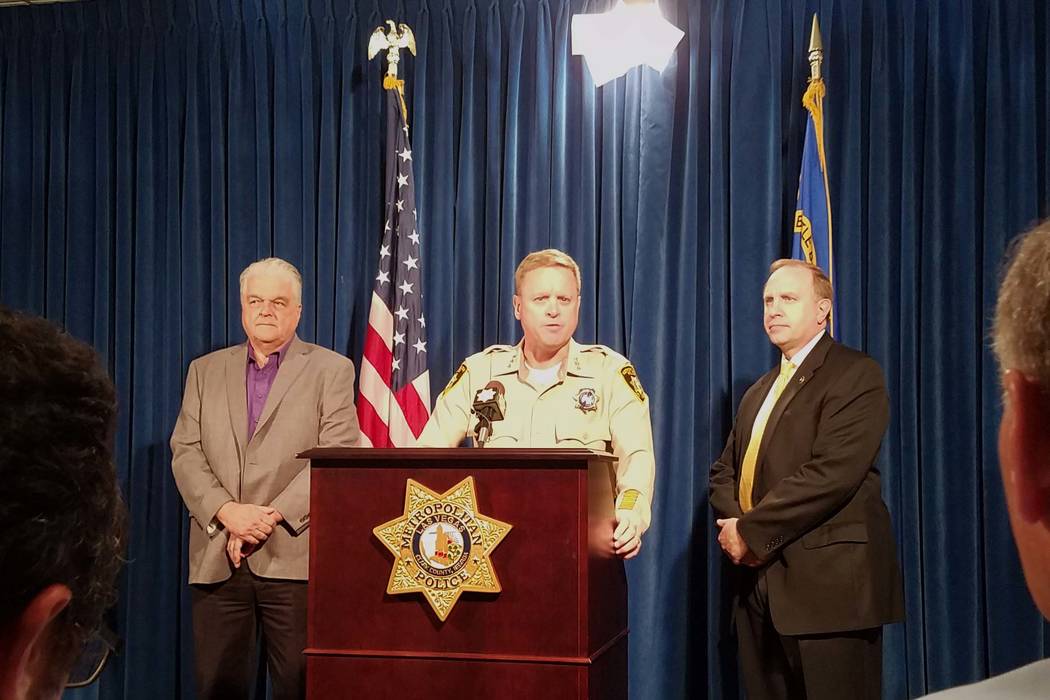 Las Vegas police think Stephen Paddock might have shot at an aviation fuel tank near a Strip country music festival before opening fire on the crowd but have yet to find a motive behind the mass shooting, Clark County Undersheriff Kevin McMahill.
"We don't know 100 percent, but I do believe it was prior to (into the crowd)," McMahill said after a Friday press briefing.
A request for further clarification on what led police to think that wasn't immediately returned Friday evening.
The Las Vegas Review-Journal first reported that two of Paddock's bullets struck one of two fuel tanks during the massacre that left 58 dead and 489 wounded Sunday night at the Route 91 Harvest Festival near Mandalay Bay.
Officials with McCarran International Airport, which owns the land where the two fuel tanks sit about 1,100 feet east of the concert site, said a bullet penetrated the inside of the tank, but caused no fire or explosion.
McMahill also said a small yellow note found in Paddock's 32nd-floor hotel room at Mandalay Bay had numbers written on it.
He said the writing wasn't code, adding he wasn't sure what the numbers meant. McMahill said he thought the numbers could've represented the distance between Paddock's Mandalay Bay hotel room and his shooting target. He said he didn't want to turn what he said was a nonstory into a story.
"The note is not a note," he said. "It's a piece of paper with numbers on it."
More than 1,000 leads
At the press conference, McMahill said Metropolitan Police Department has "run down well more than a thousand leads" in the investigation, yet still hasn't determined what prompted Paddock to fire at concertgoers attending the country music festival.
"While some of it has helped create a better profile into the madness of this suspect, we do not still have a clear motive or reason why," he said.
McMahill said the Metro has looked into "everything," including Paddock's personal life, political affiliations, economic situation and social behaviors while trying to determine a motive. Police said Paddock had no known connection to ISIS.
"We are looking at every aspect from birth to death of this suspect in this case," McMahill said.
Public speculation and conspiracies have hindered the investigation, he said. McMahill encouraged people to continue providing tips to Metro for its investigation, but added the proliferation of rumors "doesn't help."
"Just because you think you know something doesn't necessarily mean that you do," he said.
On Wednesday, Sheriff Joe Lombardo said he saw evidence Paddock planned to survive his "meticulously" planned attack, but didn't elaborate. McMahill also declined to expand upon the sheriff's words after Friday's press conference.
"I understand why he said it," McMahill said.
The undersheriff reiterated at the briefing that Paddock was the only person shooting at the festival from the hotel room. Police, however, continue to investigate whether anybody knew of his plans prior to the shooting.
'If you know something, say something'
FBI Special Agent Aaron Rouse also briefed media about a new partnership with Clear Channel Outdoor on a public information campaign to seek new leads in the case.
Billboards across the Las Vegas Valley will carry the message "If you know something, say something" and the phone number 1-800-CALL-FBI.
"This is critical for us," Rouse said, adding, "We have not stopped. We will not stop until we have the truth."
McMahill said somebody may have seen something suspicious Sunday night or in the months and years prior to the shooting.
He urged people to call the FBI number with any information they have that could assist with the investigation.
"There are still a number of people out there that know that something looked out of place," McMahill said.
'An absolute hero'
He also praised the actions of Mandalay Bay hotel security guard Jesus Campos, who Paddock shot in the leg as the guard neared Paddock's hotel suite.
"This was a remarkable effort by a brave and remarkable man," McMahill said.
There was a door alarm going off on the 32nd floor, he said. Campos went to investigate the open door several doors away from Paddock's room.
"We really got lucky," McMahill said.
Paddock, 64, who had two cameras set up outside of his room, must have seen Campos in the hallway and shot him through the door, he said.
After he was shot, Campos alerted officers to the shooter's location.
"He's an absolute hero," McMahill said.
McMahill also mentioned the Tannerite, an explosive compound, discovered in Paddock's car at Mandalay Bay. He said it was a "finished product" but wasn't found in a condition that resembled an improvised explosive device.
"I don't know what he was going to be doing with all that Tannerite. I wish I did, and we continue to try to find that information out," he said.
Addressing a report somebody else used Paddock's room key, McMahill said police don't think that happened.
He also provided information about items concertgoers left at the festival grounds. He said people may be available to retrieve them in about four days.
Contact Mike Shoro at mshoro@reviewjournal.com or 702-387-5290. Follow @mike_shoro on Twitter. Review-Journal staff writer Jeff German contributed to this story.