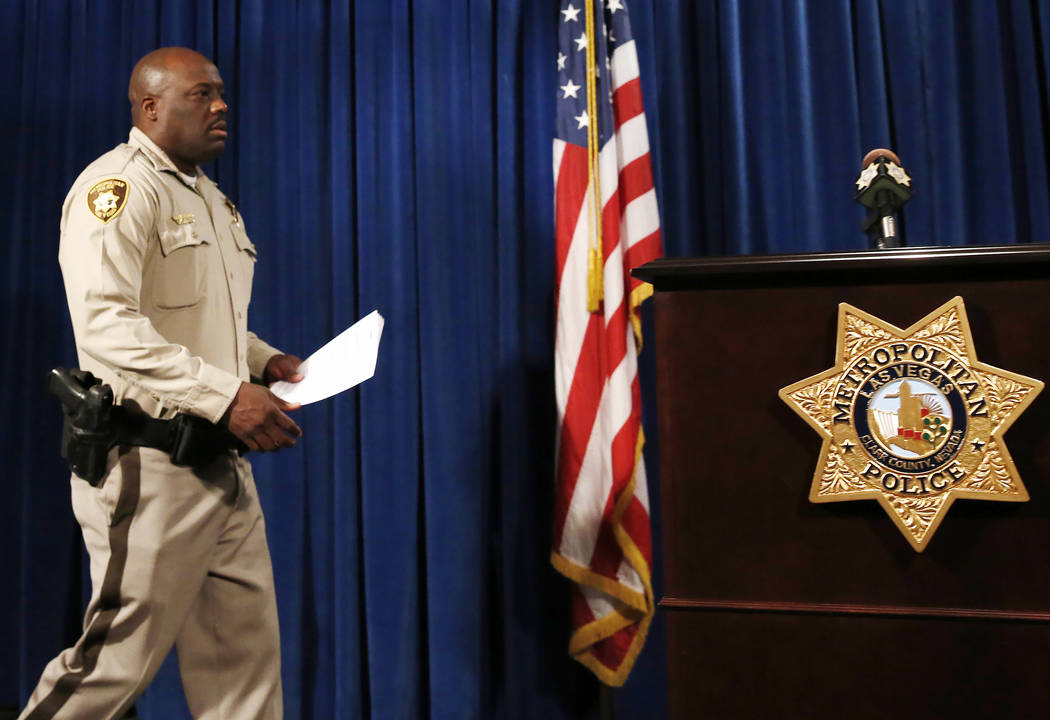 Las Vegas police officers fired more than 43 shots in two gun battles last week that left one suspect dead and a second in custody, officials said Tuesday.
At a briefing on the two officer-involved shootings, Metropolitan Police Department Assistant Sheriffs Tom Roberts and Tim Kelly said the suspect who died wanted police to kill him. In the other case, a woman with a warrant out for her arrest shot at officers before surrendering.
Shootout with police
Arvella Barber, 33, was arrested Wednesday after Las Vegas police said she exchanged fire with officers in the northwest valley. Nobody was injured in the incident.
Officers responded about 4:10 p.m. Wednesday to the Budget Suites at 2219 N. Rancho Drive after a security guard at the complex reported a group of women trying to steal a vehicle.
As patrol officers canvassed the area, one officer noticed a woman who matched the security guard's description walking near Vegas and Silver Lake drives. Officer Luis Vidal, 26, asked the woman to step in front of his patrol car several times, but she refused, police said.
The woman then reached into her purse and pulled out a small black revolver and engaged the officer in a running gun battle. Vidal fired 18 rounds at the woman from between 21 feet and 130 feet away, the Police Department said.
The woman fired a total of four shots at Vidal and other arriving officers. She then ran into a nearby backyard, where she tried to ditch the gun before surrendering.
Kelly said the other women were questioned and released after it turned out the car belonged to one of them. He said Barber likely ran only because she had an outstanding warrant on a child abuse and neglect charge from 2014. An arrest report shows she asked for a lawyer immediately and was not interrogated.
Barber was booked at the Clark County Detention Center on charges of attempted murder, assault with a deadly weapon, resisting an officer and possession of stolen property. Her criminal history includes marijuana, burglary and robbery charges out of Arizona, Kelly said.
Vidal was injured in a fall during the shootout and was treated at University Medical Center for minor injuries to his shoulder, elbow and leg, Kelly said.
He failed to activate his body-worn camera, a violation of Metro policies. Kelly said the department is looking into that issue as part of its administrative review.
Suicide by cop suspected
Francisco Suarez-Madonado, 27, was fatally shot by Las Vegas police officers the following night. Police say he shot at officers and had told his girlfriend he wanted officers to kill him before the shooting.
He died of multiple gunshot wounds, according to the Clark County coroner's office.
Officers were dispatched to a call about possible gunshots about 11 p.m. Thursday on the 1700 block of Eddingham Court, near Owens Avenue and Mount Hood Street.
Roberts played footage from a home security system that showed Suarez-Madonado arguing with his girlfriend in the front yard before firing four shots into the air and driving off in a pickup.
The woman told arriving officers that he had vowed to return and make the police shoot him.
Suarez-Madonado did return, and the officers on scene — Scott Hinkley, 33, Travis Puana, 37, Frank Rycraft, 41, and Peter Herasimtschuk, 29 — begged him to surrender.
"It's not the end of the line for you. You haven't hurt anyone," one officer is heard saying on bodycam footage. "Just step out of the car and talk to us."
The man stayed in his truck and fired at least two rounds toward the officers, who returned fire. The officers together fired more than 25 rounds, Roberts said.
Each officer has been placed on routine paid administrative leave pending the outcome of the investigation of the incidents.
Contact Wesley Juhl at wjuhl@reviewjournal.com and 702-383-0391. Follow @WesJuhl on Twitter.