Las Vegas police: Man shot by officers a suspect in 9 robberies
Updated June 3, 2019 - 7:23 pm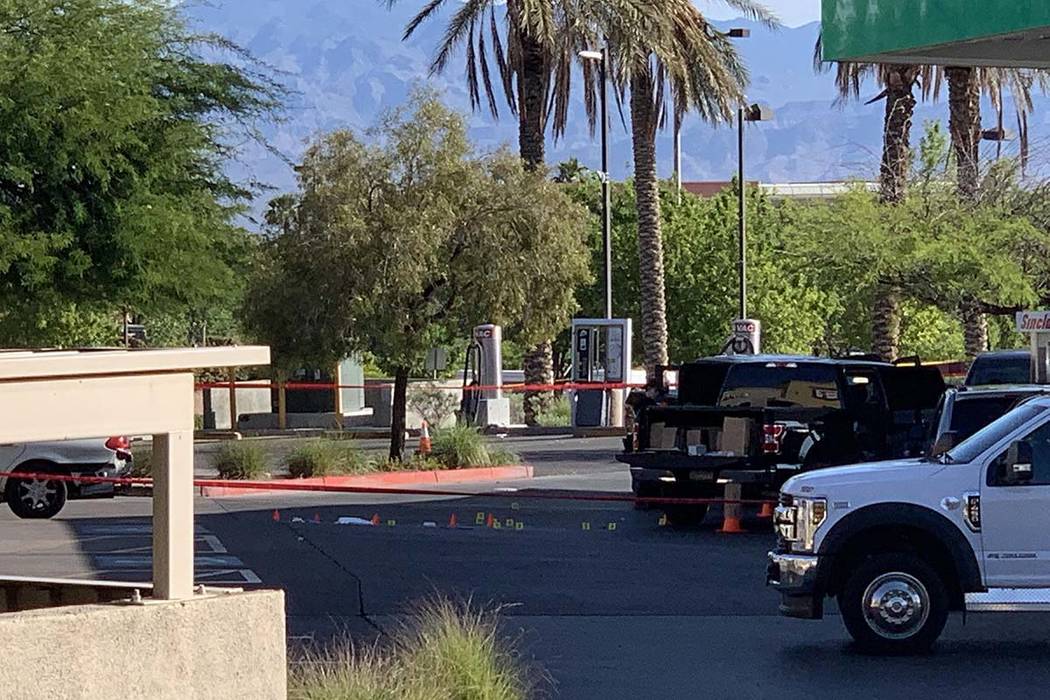 Las Vegas police announced Monday that a man detectives shot last week in Summerlin and a 16-year-old girl were suspected in nine robberies throughout the valley.
The duo's modus operandi: find targets in store or casino parking lots, where the girl would distract their targets while 39-year-old David Randazzo would rob them at gunpoint, Clark County Assistant Sheriff Brett Zimmerman said Monday at a news conference. In some of the robberies, the first of which was reported May 21, the pair would box in the target's vehicle to prevent an escape, he said.
An investigation led Metropolitan Police Department detectives to Randazzo and the girl, Zimmerman said, adding that the nature of their relationship wasn't clear. They staked him out as he drove to a gas station at 1200 N. Town Center Drive, near Covington Cross Drive, where three detectives shot Randazzo 12 times early Friday after he pointed an empty Ruger .380-caliber handgun at police, Zimmerman said. A piece of shrapnel hit the girl, whom Zimmerman declined to name.
Police didn't change their tactics to apprehend the pair just because Randazzo's accomplice was 16, Zimmerman said.
"In the best-case scenario you could think that, but she's a willing participant in these robberies," he said. "She's just as violent hanging out with an individual that's doing robberies."
Randazzo and the girl were taken to University Medical Center, where Randazzo is recovering. The girl was treated for a shrapnel wound to her left forearm and released, Zimmerman said.
Randazzo will face several counts, including armed robbery with a deadly weapon and kidnapping. The girl was taken to juvenile hall, although her charges weren't clear.
The stakeout began Thursday and ended at the gas station, when Randazzo parked a stolen silver Nissan Murano at one of the pumps and detectives pinned it in with their vehicles.
He pointed the empty handgun at 12:17 a.m. Friday at police, prompting detectives Zachary Ivins, 42; Michael O'Halloran, 39; and Marlon Magsaysay, 26, to fire a total of 30 rounds at Randazzo, Zimmerman said.
A warranted search of the car's interior turned up items taken in the robberies, he said.
The plainclothes detectives at the stakeout were not required to wear body cameras. Instead, police showed footage from a helicopter monitoring from above and security footage taken from the gas station.
The three detectives who shot Randazzo have been placed on administrative leave pending the results of Metro's investigation, per department policy.
Magsaysay was one of the officers to enter the shooter's room at the Mandalay Bay after the Route 91 Harvest festival mass shooting in 2017, according to records from Metro.
The shooting was Metro's ninth this year; six were nonfatal.
Contact Mike Shoro at mshoro@reviewjournal.com or 702-387-5290. Follow @mike_shoro on Twitter.