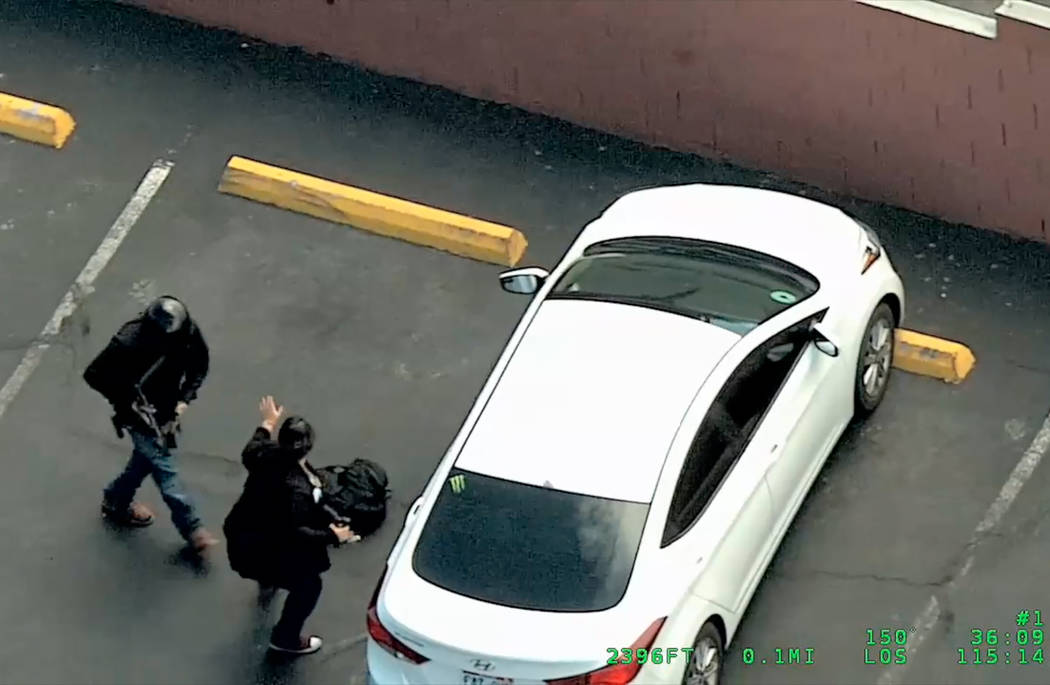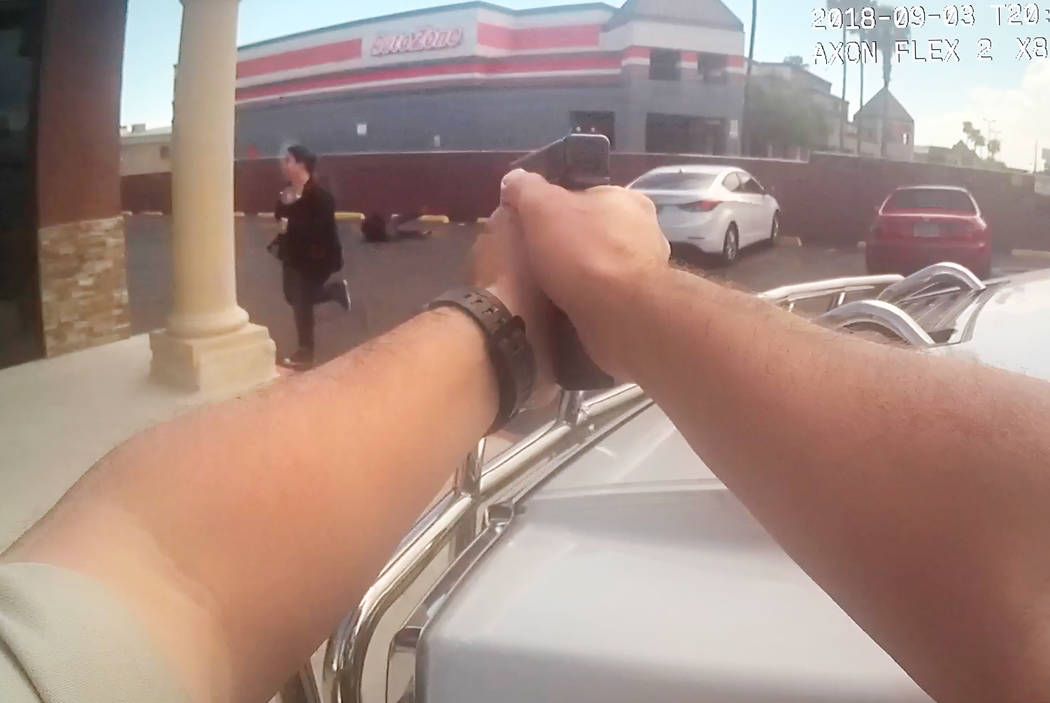 When an armed robber grabbed a pawn shop employee and held her hostage at gunpoint Monday afternoon, he got more than he bargained for, Las Vegas police said Thursday.
A Metropolitan Police Department official praised the actions of a woman who disarmed the robber and escaped his clutches before police shot him earlier this week.
Footage from a Metro helicopter played during a Thursday press conference showed a man wearing a motorcycle helmet, identified by police as 27-year-old Mario B. Trejo, who had wrapped one arm around the woman's neck and held a handgun to her head Monday afternoon outside of SuperPawn, 1150 S. Rainbow Blvd.
"The suspect in this event was violent, well-armed and showed no regard for human life," Clark County Assistant Sheriff Brett Zimmerman told reporters. "He selected a victim intending to use her as a hostage to affect his escape. However, he selected the wrong person."
He walked her toward his car parked outside the business, but as he extended a Glock handgun toward officers, the woman grabbed the gun and pulled it toward the ground, causing it to fire. She wrestled the gun from his hand, ejected its magazine, threw the gun to the ground and ran back toward the pawn shop.
The woman was familiar with weapons and knew how to eject the magazine from Trejo's Glock, Zimmerman said. Her doing so made the police officers's work easier, he said.
"This would-be victim showed tremendous poise and bravery in an extremely volatile situation," he said. "Her actions may very well have saved her own life."
Trejo reached toward a second gun slung on his body, prompting three different officers to fire toward Trejo at 1:15 p.m., shooting him once in the chest. A K-9 service dog bit Trejo as he laid on the ground. Police then took him into custody, and he was hospitalized at University Medical Center.
Employees and people within the pawn shop called Metro about 1:10 p.m. to report the robbery was in progress, including one person who called from beneath a store counter. Trejo had tried to get into the safe and had taken jewelry and cash.
Body-worn camera footage shown at the press conference showed Trejo leave the shop with the woman as officers arrived at the scene. As the woman freed herself and ran back toward the business, the footage shows one officer who had pointed his gun at Trejo raise the weapon so that the woman could run by and into the pawn shop.
"(Our) officers demonstrated the heroism we expected from them," Zimmerman said.
The officers who fired were identified as 48-year-old Brian Farrington, 23-year-old Keenan Graham and 36-year-old Thomas Carrigy. They are on paid leave while the department investigates the shooting.
Trejo faces charges of robbery, burglary, assault on a protected person and first-degree kidnapping.
Contact Mike Shoro at mshoro@reviewjournal.com or 702-387-5290. Follow @mike_shoro on Twitter. Review-Journal staff writer Blake Apgar contributed to this report.