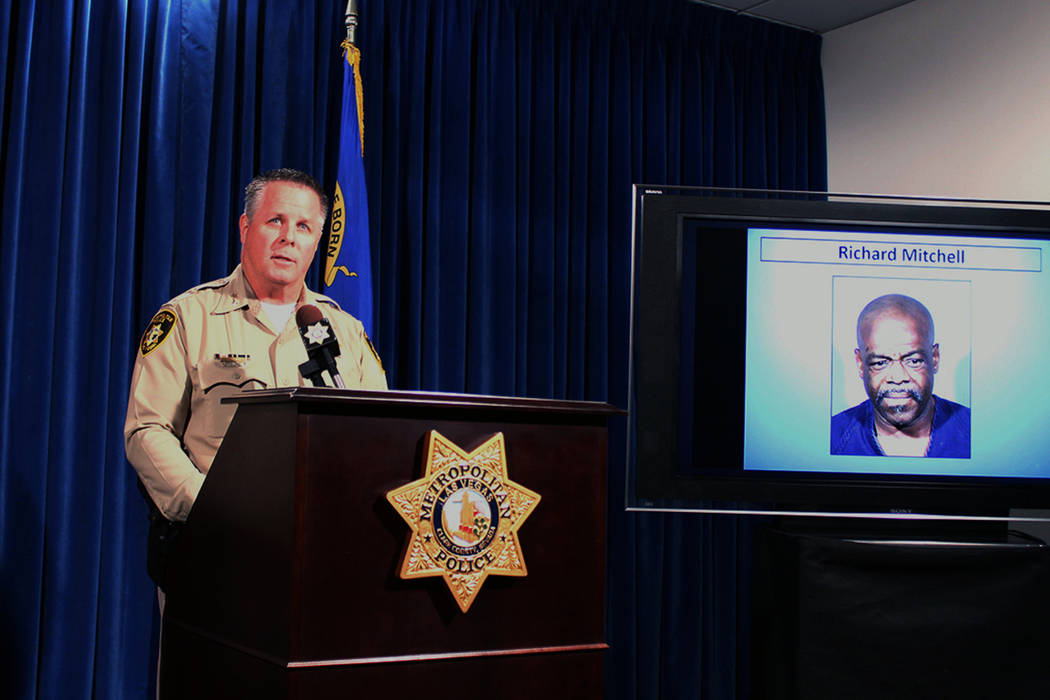 Before a Las Vegas man was shot by a police officer at a gas station, he continued to swing a baseball bat and smashed the business's windows, police body camera footage shows.
Las Vegas Metropolitan Assistant Sheriff Todd Fasulo briefed reporters on the incident Wednesday morning, saying officers were searching Saturday for Richard Mitchell, 54, in connection with two attempted robberies that had occurred in a 3-to-5-mile radius of the Terrible's gas station at 1591 N. Decatur Blvd.
The officer who fired the shots has been identified as 39-year-old Sgt. Miguel Garcia, a 16-year veteran of the force.
At about 10:40 a.m. Saturday, police noticed the suspect's dark green Honda at the gas station. When officers approached the car, Fasulo said, Mitchell emerged with a silver baseball bat.
In body camera footage shown Wednesday, officers could be heard repeatedly telling Mitchell to relax.
"Drop it down, man," one officer said. "We don't want to hurt you."
For several minutes, officers pleaded with him to drop the bat.
One officer fired beanbags, striking Mitchell.
Mitchell became enraged and started striking the glass doors at Terrible's, shattering the doors with the baseball bat, the video showed. He then opened the doors and began entering the business.
That's when Garcia fired his .45-caliber handgun, striking Mitchell once in the right leg.
"To prevent Mitchell from entering the store and to prevent patrons and the clerk from being injured, Sgt. Garcia fired four rounds from his pistol," Fasulo said.
Mitchell was taken to University Medical Center and now is in custody at the Clark County Detention Center.
Fasulo said Mitchell has an extensive criminal history out of California and a record in Nevada. His history includes robbery, assault with a deadly weapon, drug-related offenses, domestic violence and battery on a police officer, he said.
"I think the video speaks for itself," Fasulo said. "It shows the amount of time it takes to get him to comply with our orders and de-escalate the situation."
Mitchell's charges include attempted robbery, malicious destruction of private property and resisting a police officer with a deadly weapon.
The incident marked Metro's 22nd officer-involved shooting this year, and the 12th that was not fatal.
Garcia is on paid leave pending an internal investigation.
Contact Briana Erickson at berickson@reviewjournal.com or 702-387-5244. Follow @brianarerick on Twitter.