Las Vegas police using new technology to help pinpoint gunshot locations
November 16, 2017 - 9:23 pm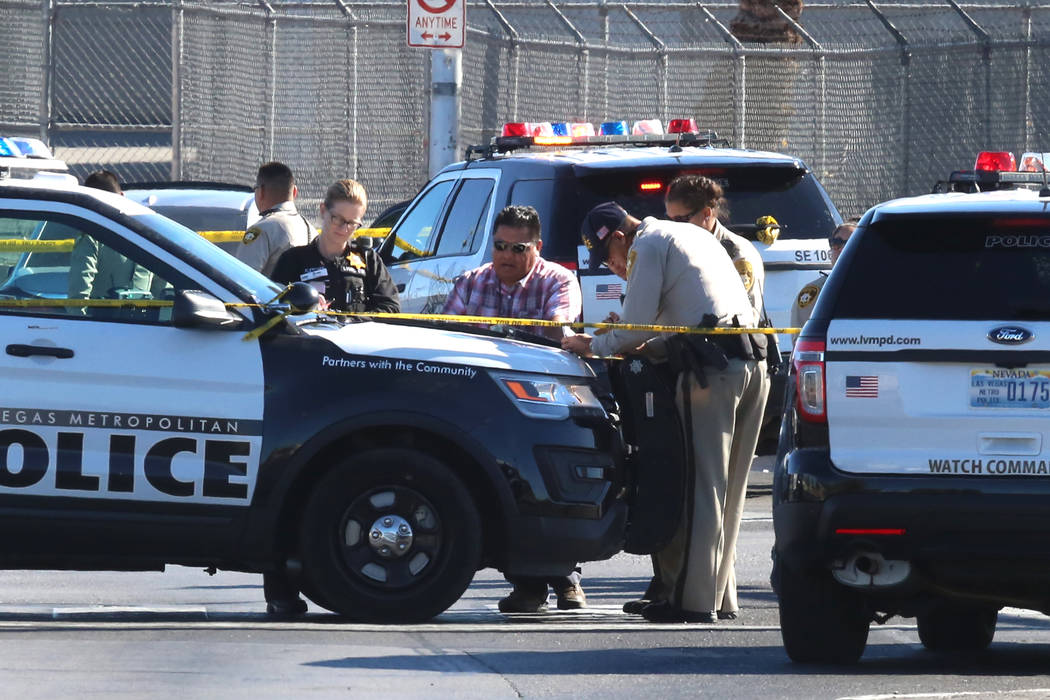 In an effort to deter gun violence, Las Vegas police have implemented acoustic technology that alerts authorities to gunshots.
Metropolitan Police Department officials are testing the technology in a yearlong pilot program at an undisclosed location in northeast Las Vegas, Deputy Chief Chris Jones said at a Thursday news conference. Citing reduced response times, more accurate reported gunshot locations and better officer situational awareness, police said they hope the technology will help reduce violent crime in the Las Vegas Valley.
"We as a community cannot be apathetic to gun violence," Capt. Jim LaRochelle said.
LaRochelle heads Metro's Northeast Area Command, where police have installed multiple acoustic sensors sensitive to the sound of gunshots. LaRochelle said the sensors' locations, which were not disclosed Thursday, were determined based on areas where police receive high numbers of reported gunshots. Plans are in places to add sensors in the southeast and south-central command areas.
Through the company ShotSpotter, the sensors listen for loud pops or booms to indicate gunshots, and if enough sensors are activated, a notification is made to an acoustic expert at the ShotSpotter headquarters. The expert determines whether the gunshots detection is legitimate, and if it is, alerts Metro with the time, number and location of the shots.
Metro said the system can reduce response times for police heading to the reported gunshots to about 45 seconds, faster than it takes for somebody to decide to pick up the phone and try to determine where the shots were fired.
The sensors triangulate the location of the shots, which Metro said increases accuracy of the reported gunshots.
According to a ShotSpotters 2015 study of 46 cities using the technology, year-over-year shooting rates declined about 13 percent.
They've been placed in spots above the ground, such as buildings, and shouldn't be able to pick up conversations, LaRochelle said.
Police will determine the equipment's effectiveness after the year is up, he said.
According to the company, its technology can filter gunshots from fireworks, although LaRochelle said it can struggle on days like New Year's Eve or Independence Day, when there are high volumes of fireworks and gunshots.
Police hope the system alerts officers of gunfire regardless of whether anybody calls police.
"We have come to learn that many people do not call 911 when they hear gunfire in our most challenged neighborhoods," LaRochelle said.
People who do call 911 are often doing so long after the fact or provide inaccurate locations, LaRochelle said. Police tested the gunshot sensors at one point, and only a handful of people called in the gunshots, with one caller providing an inaccurate location, he said.
He encouraged people to continue calling 911, as the sensors are meant to help police, not replace people calling in shootings.
LaRochelle said police have spoken with local community members where the sensors were placed and assured them the technology couldn't pick up conversational speak.
Driving force
Clark County Commissioner Marilyn Kirkpatrick was the driving force behind the pilot program in Metro's Northeast Area Command, which includes an area she represents, officials said. It's part of her Pathway From Poverty initiative, which seeks to provide economic, educational and social support to impoverished areas of the northeast valley.
She said the ShotSpotter system came together in the past six months and was a final piece to the initiative.
The commissioner representing District B said the cameras and audio sensors can address community members' concerns about unreported gunfire.
She said the area with the initiative has a low average income and little home ownership.
Kirkpatrick said she appreciates the community policing aspect of the system, where police later return to the area of reported gunfire and explain to local community members why officers were there.
"So that they know how we're following up, because that's important to see," Kirkpatrick said.
The technology was funded through $500,000 in grant money from the Friends of Las Vegas Metropolitan Police Department Foundation and the University of Nevada, Reno's Cooperative Extension program. Some of the money was used for additional cameras, monitored by Metro's counterterrorism center, bought to supplement the audio sensors.
The decision to implement the gunshot sensor system wasn't a result of the Oct. 1 mass shooting on the Strip, LaRochelle said, later adding police could examine the viability of expanding the sensors to the Strip and Fremont Street, depending on the pilot program's success.
Other jurisdictions
The technology is used in more than 90 cities or counties in the United States and its territories. Among them are Chicago, San Francisco, Kansas City and Denver.
Denver Police Department implemented the "ShotSpotter" system more than two years ago, Lt. Aaron Sanchez said. Sonny Jackson, with Denver police's public information office, said officers used the system in two neighborhoods and have since expanded their usage.
Like Metro, Denver's system was started in an area with high amounts of gunfire. Jackson said "ShotSpotter" gives officers a head start on where to look for evidence, not to mention find possible gunshot victims or shooters.
Sanchez said the system doesn't work without additional resources like a crime lab, detectives and ballistics analysis.
"If those pieces aren't in place, it's just capturing sound," Sanchez said.
He said police will often find casings from guns used in more than one crime, which can help solve other crimes, even if no person was shot in a reported shooting. Denver police find casings after "ShotSpotter" notifications about 30 percent of the time, Sanchez said.
He said police received some backlash about installing the system without speaking to the community members it impacted, but the feedback has mostly been positive.
"We love it," Sanchez said.
Contact Mike Shoro at mshoro@reviewjournal.com or 702-387-5290. Follow @mike_shoro on Twitter.
Lt. Aaron Sanchez with Denver Police Department said there was a shooting last year where two teenagers burglarized a man'sbackyard, which had an outdoor marijuana grow. Both teens were shot, one fatally, and Sanchez said the technology helped policeidentify the man as a suspect based on the triangulated location.
The acoustic gunshot sensor information helped police identify the man as a possible suspect, Sanchez said.
Police said a similar shooting involving the man had happened a year before, the Denver Post reported.