Las Vegas shooting survivors reunite at park for healing, closure
Updated September 29, 2018 - 5:04 pm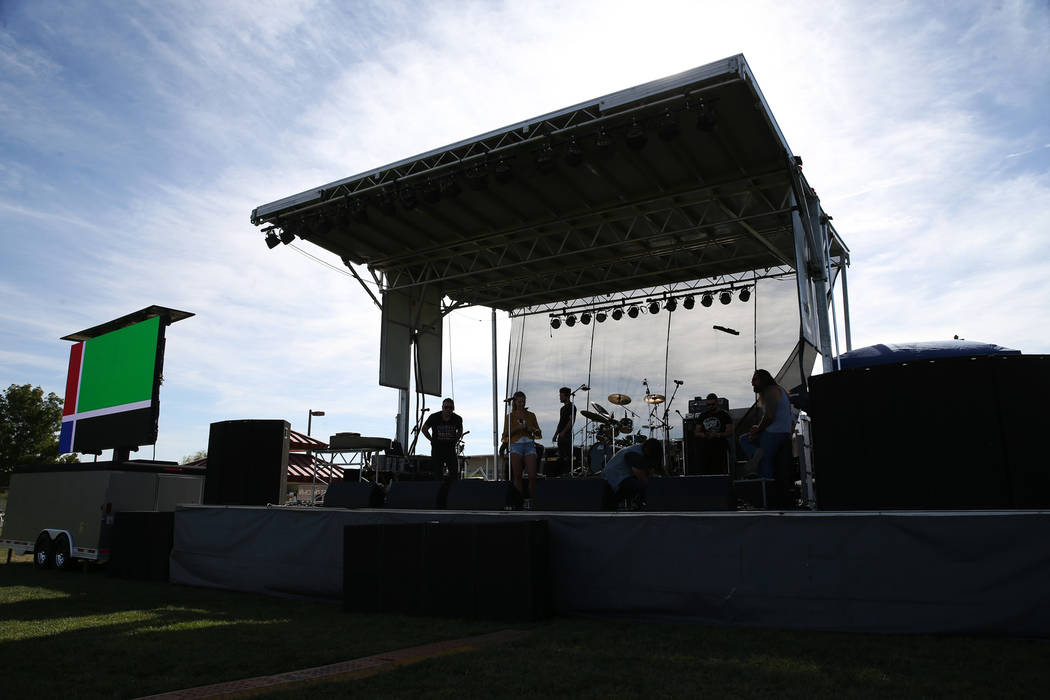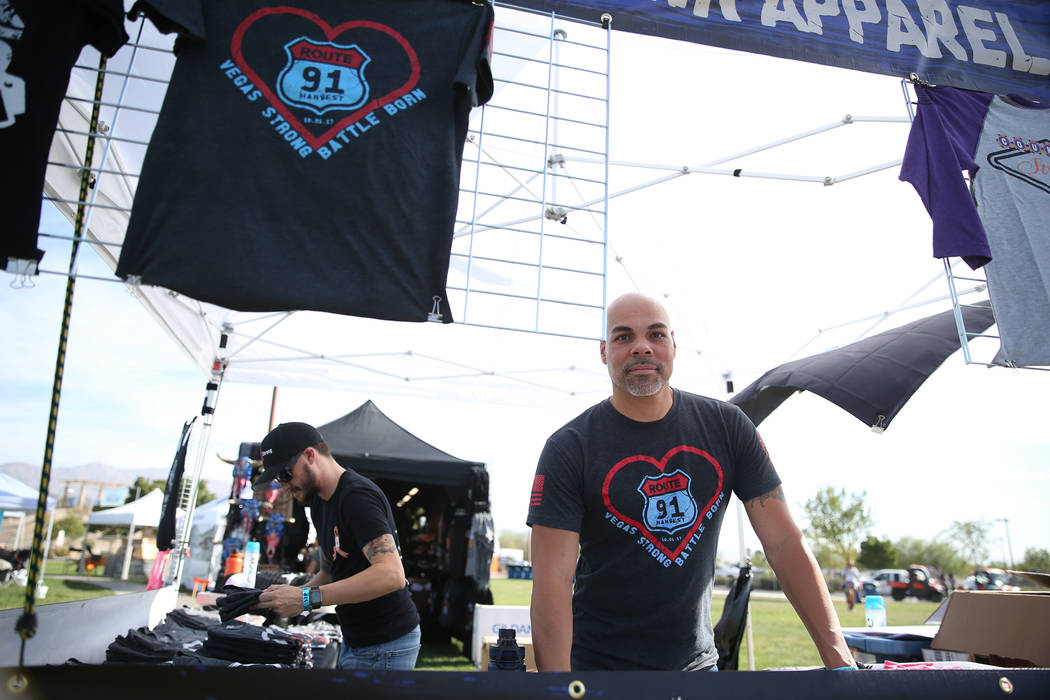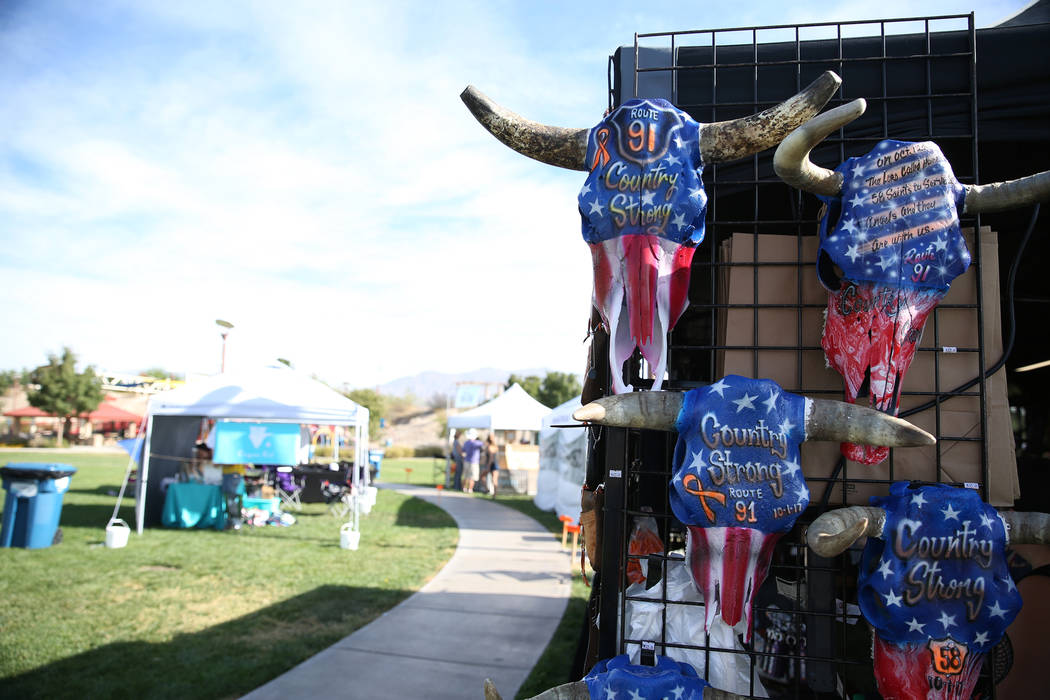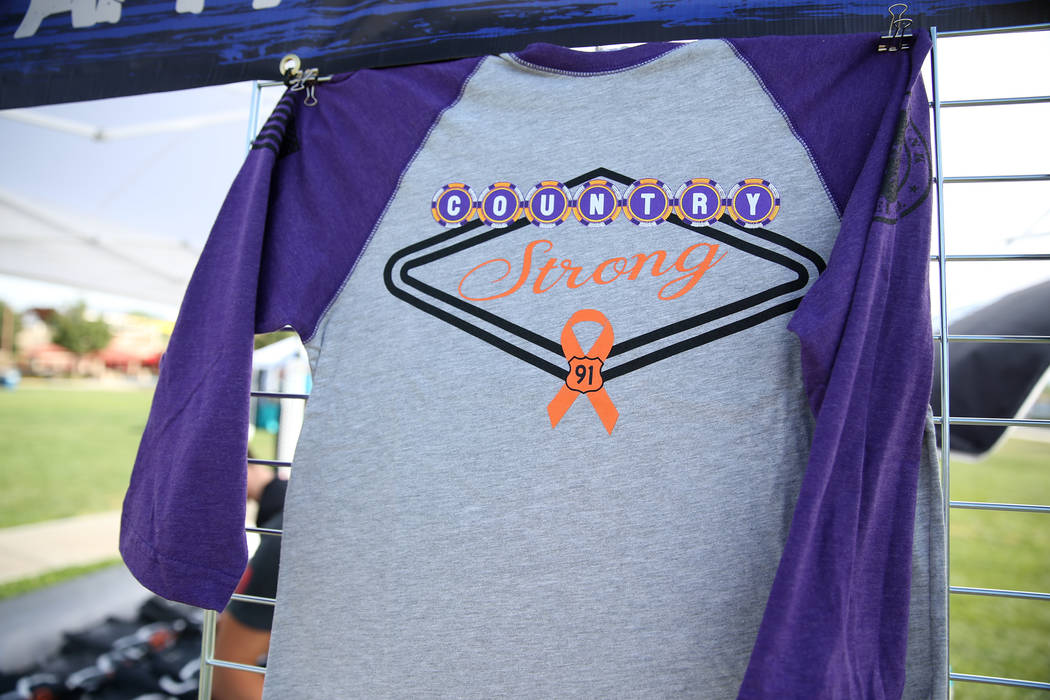 No, this was not a concert. It was a family reunion.
And it was invite-only.
On Saturday, Centennial Hills Park in the northwest Las Vegas Valley held the largest Route 91 Harvest festival shooting reunion for survivors, first responders and families of the 58 people killed and hundreds more injured Oct. 1, 2017, on the Strip.
"We are a family, a community that's come together in the last 11 months," said co-organizer and survivor Connie Long, who struggled to hold back tears during an interview Saturday morning.
Planning for the get-together began just a month after the attack but was kept secret from the public until this week. Invitations were shared in private Facebook groups.
Clark County officials said more than 3,500 people showed up Saturday, including at least 3,200 survivors. For many, this weekend marked their first time in Las Vegas since the attack.
The reunion, near North Buffalo Drive and West Elkhorn Road, seemed worlds away from the site of the shooting, the Strip's skyline invisible from the park.
Earlier this week, Long's co-organizer and fellow survivor Shawna Bartlett told the Las Vegas Review-Journal that creating a safe space for the reunion was important from the beginning, because "so many" survivors reached out to them to express fears about returning to Las Vegas.
"We're really hoping that the event brings some closure to a lot of people, to really help them face their fears," Bartlett said Thursday.
With the help of Clark County and city of Las Vegas officials, the two were able to provide survivors with more than just country music, beer and food on Saturday. The 12-hour event, which began at 11 a.m. with a two-hour opening ceremony, also offered therapy dogs and resources from the Vegas Srong Resiliency Center.
According to Bartlett, many of the vendors, bartenders, artists and volunteers who attended Saturday were at Route 91 last year, including veteran Steven Michaels.
The 45-year-old Henderson man was among the first responders who were dispatched to the shooting. A year later, his apparel company, Combat Punk Apparel, was the reunion's official shirt vendor.
On the night of the shooting, Michaels said, he led an armed-response team dispatched by the Metropolitan Police Department. His team assisted in looking for what they thought at the time were multiple shooters, Michaels said.
At about 9:45 a.m., just over an hour before survivors and other first responders would be allowed into the park, Michaels turned to look at Bartlett and Long for a moment.
"It means everything to me to be able to continue to be a part of this community, to be able to give back," he told the Review-Journal, noting that a portion of his company's sales Saturday would help pay for the reunion.
Meanwhile, standing next to Long in front of a miniature replica of the Community Healing Garden built by a survivor's father, Bartlett said, "We're really hoping today will be a day for all of us to take back what was taken from us, to hold each other, to thank each other."
It was a day not to focus on the gunman, but instead on "hugs, healing, loving and remembrance," Long added.
Nearly a year after the shooting, Bartlett and Long still struggled to talk about that night. But they have found friendship and support in each other, they said.
On Saturday, they extended their friendship to other survivors.
"Reach out to us," Bartlett said. "Reach out to your survivor family because we understand what you're going through, and we don't expect anything from you."
Contact Rio Lacanlale at rlacanlale@reviewjournal.com or 702-383-0381. Follow @riolacanlale on Twitter.