Man dead, officer injured after shooting in central Las Vegas
Updated August 1, 2017 - 11:29 pm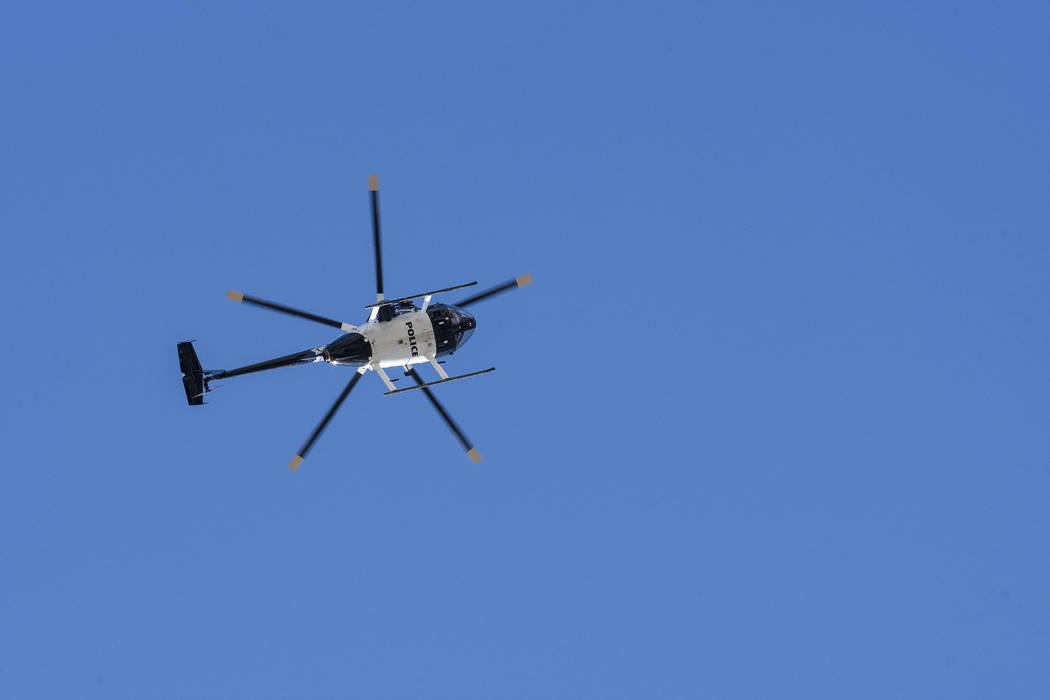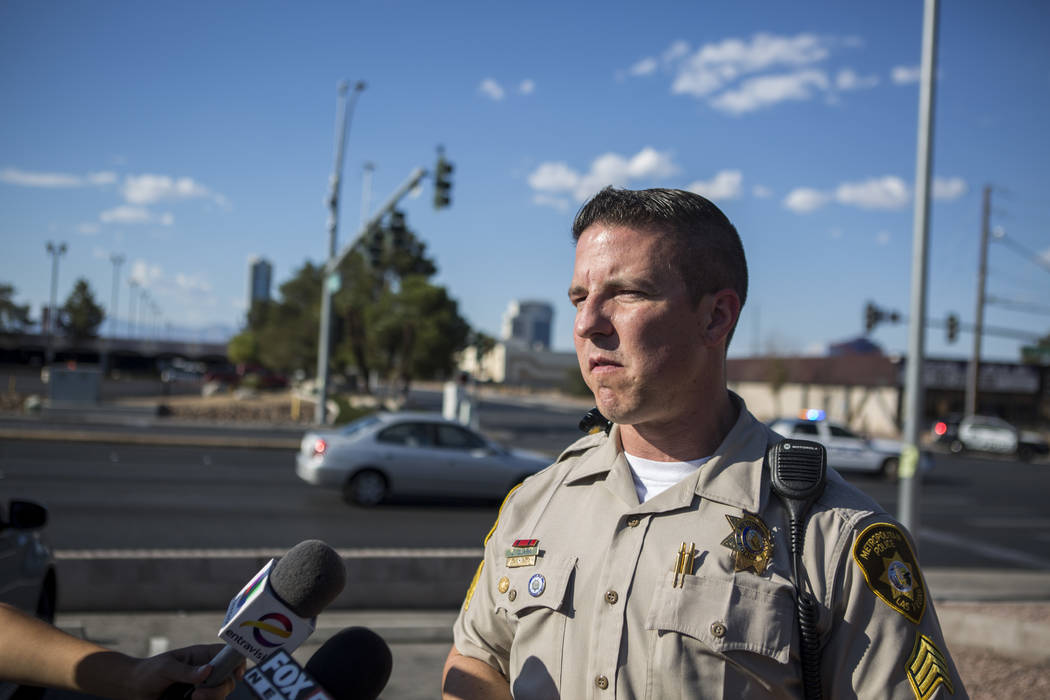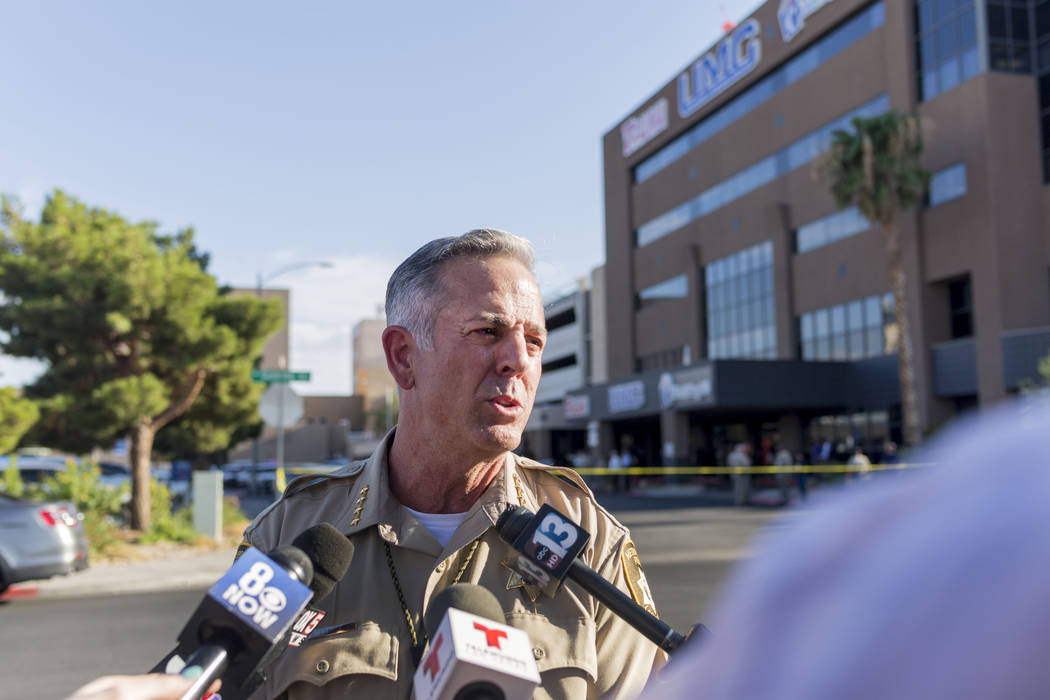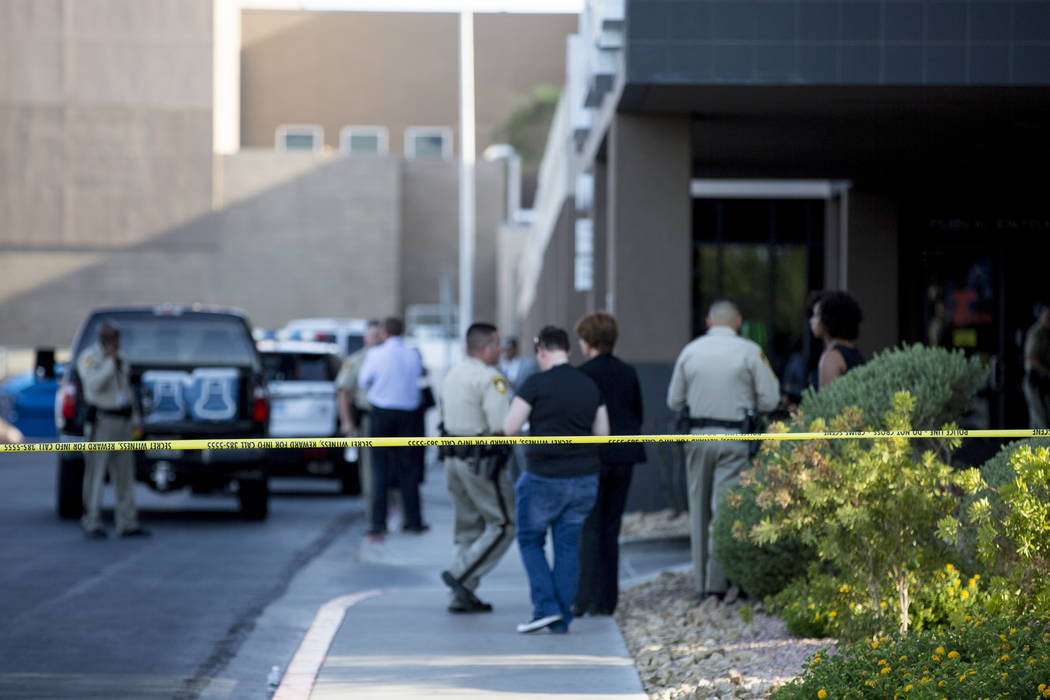 An exchange of gunfire in the central valley left a civilian dead and a Las Vegas police officer injured Tuesday afternoon.
The incident came amid a sharp increase in officer-involved shootings for the Metropolitan Police Department in 2017 that has included four over the past four weeks.
Las Vegas Review-Journal records show that there have been 15 officer-involved shootings so far this year. There were 10 in 2016.
"It's happening all across the valley, and now individuals are taking it upon themselves to fire at police officers," Clark County Sheriff Joseph Lombardo said Tuesday, outside of University Medical Center, where the injured Metro officer, who has not been identified, was in stable condition.
"I'm happy to say he's doing OK, as good as to be expected," Lombardo said of the officer. "He's in good spirits, but, obviously, he's going through the trauma."
Tuesday's shooting stemmed from a Sunday incident in which a man had several cellphones stolen from his vehicle while he was in a grocery store, Metro Capt. Kelly McMahill told reporters Tuesday night.
"That very savvy victim went home, and, at some point today, he was able to track his cellphone to the area of where the officer-involved shooting occurred," she said.
The tracking feature pinned the stolen cellphone to a pickup truck on the 4100 block of West Tompkins Avenue. That's where two officers responded to reports of a suspicious vehicle at about 4:15 p.m. Tuesday.
The officers talked to the driver, who was alone in the truck, for several minutes, McMahill said. They asked him multiple times to get out of the truck after he started the vehicle. He refused to leave and, without warning, pulled out a semi-automatic handgun and began firing at the officers.
Both officers were shot in the exchange of gunfire. One was shot in his gun belt, which did not result in injury.
The other officer, who was injured, returned fire and struck the shooter at least once. Police said they think the shooter had one self-inflicted gunshot wound.
The injured officer was wearing a bulletproof vest when he was shot. The bullet entered the lower left side of the officer's chest and exited his lower back, Lombardo said.
A sergeant who responded to the scene loaded the injured officer into his vehicle and took him to UMC.
"I got to watch some of the body-worn camera from this incident tonight, and as I stand before you today, I can tell you we are extremely lucky," McMahill said. "And I feel very blessed that our officers are able to go home tonight and be with their families."
The person in the vehicle continued to refuse to come out, so police treated the incident as a barricade situation, Metro said. He later died.
Police taped off the entrance to the UMC trauma center Tuesday night. Metro and North Las Vegas officers were at the hospital to support the injured officer.
"They have a concern for what we're going through," Lombardo said.
The officer's parents, four children and fiancee were with him at the hospital.
"This is the situation we're put in quite often," Lombardo said, reflecting on the situation. "And this is what we signed up to do," he said. "But we didn't sign up to get shot.
"It's going to be a long road. We have to worry about the mental state, too, after something like this," Lombardo added. "And for the rest of the police department, it's up to myself and the rest of the executive staff to get out and talk to the troops to make sure that they're watching their back."
Contact Blake Apgar at bapgar@reviewjournal.com or 702-387-5298. Follow @blakeapgar on Twitter. Contact Briana Erickson at berickson@reviewjournal.com or 702-387-5244. Follow @brianarerick on Twitter. Review-Journal writer Wesley Juhl contributed to this report.